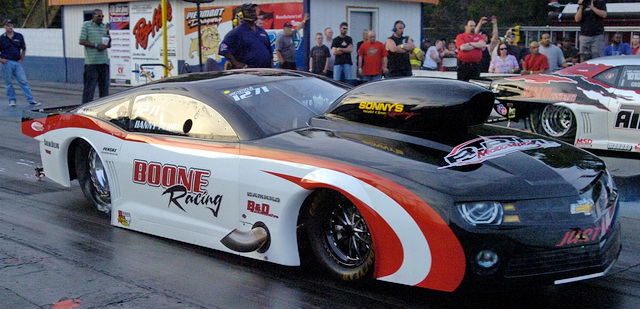 For the second-straight month, bad weather delayed Piedmont Dragway's ZDD-sponsored Big Dog Shootout by one week from its traditional first-Thursday-of-the-month date. Under perfect skies May 9, 12 cars were on the property to qualify for the eight spots that make the Big Dog Shootout so competitive and the porcelain dog trophy such a coveted piece in drag racing competition.
Qualifying was touch and go as several competitors didn't hook up at all with only one round left. In the end, Jason Harris in his Pat Musi-tuned, Robert Hayes-built Pontiac "Warbird" sat on the pole with a very impressive 3.882-seconds pass at a whopping 192 mph in the eighth mile. Second was Keith Floyd's blown Camaro at 3.890 and 189 mph, while third was last month's winner Chris Rini in his nitrous-fed ATI Camaro at 3.90 and 188 mph.
Fourth was the Jerry Bickel-built 2012 Camaro with Sonny Leonard power driven by Danny Perry to a 3.91 at 189, with Ed Hoover's blown Paul Trussel-owned Camaro fifth at 3.933 and 191 mph. Matt Giangrande's brand-new Rick Jones '13 Camaro was next at 3.946 and 188 mph, while seventh was Todd Tutterow protégé Kevin Rivenbark in the blown Galot Motorsports Firebird. The final spot went to Tutterow himself with an off-the-pace 4.022 in his blown Camaro. That left Brian Teachman, Travis Harvey, Jeff Blasi and Andy Beal on the outside looking in as the field was set with four nitrous and four supercharged combinations.
In round one, Perry began his march to the final with a 3.87 over Hoover's 3.93, with Giangrande going 3.93 to take out Rini's 3.99 effort. Floyd used a 3.88 to eliminate Rivenbark's red-lighting 3.91, and number-one starter Harris held off Tutterow's much-improved 3.93 with a 3.87-seconds blast.
In the semis, Giangrande got a free pass to the final after Floyd's Camaro refused to start and Perry used a 3.89 to defeat Harris, who managed only a 5.69 run.
In a final-round battle of nitrous-boosted, late-model Camaros, Perry unloaded a bracket-like 3.90 to defeat Giangrande's off pace 6.15-seconds effort.
In the Renegade class, 12 competitors showed up, with Tim Lawrence unloading a whopping 176-mph charge in qualifying on the pole with a 4.12 elapsed time. In the final, though, it was John Lassiter defeating Billy Albert.
Other winners included William Charles in the 4.90 Extreme eliminator, Rick Whaley in the OReilly Auto Parts Outlaw Doorslammer class, Billy Bakere in Mickey Thompson 6.00 and Jeff Faucette in Deep Creek 7.49 Rico's Real Street eliminator.
In front of a record crowd, Graham, NC's Roger Ausley picked an excellent time to be the presenting sponsor for the May edition of the ZDD-sponsored, Big Dog Shootout, held every month at the "Doorslammer Capital of the World," Piedmont Dragway.
(Story and photos by Greg Burrow; Click to enlarge)