The Pep Boys NHRA Top Fuel All-Star Callout is back in 2023 to help kick off the season at the 54th annual Amalie Motor Oil NHRA Gatornationals at Gainesville Raceway, and with it comes a trio of first-time competitors in the specialty race.
Austin Prock, Josh Hart and Clay Millican are in the Callout field for the first time, joining a loaded eight-car lineup that also includes reigning Top Fuel world champ Brittany Force, defending Pep Boys NHRA Top Fuel All-Star Callout winner Steve Torrence, Justin Ashley, Mike Salinas and Doug Kalitta.
It presents a golden opportunity for the first-time Callout drivers to start the 2023 NHRA Camping World Drag Racing Series on a strong note, but also win the big money on the line at the specialty race.
"There's some elite drivers in here and to be in that same group in this Callout, that's really special," Prock said. "We worked hard to get in here and it's going to be a blast. I'm looking forward to it and I'm excited for a little bit of the smack talk. I like that it's at the first race of the year. It's going to show who did their homework in the off-season."
The one-day shootout takes place on Saturday, March 11, with the first-round selections being made on Friday in the Top Eliminator Club at the famed Gainesville Raceway. Force gets the first selection and with Hart, Prock and Millican making up the final three spots, each will likely be called out.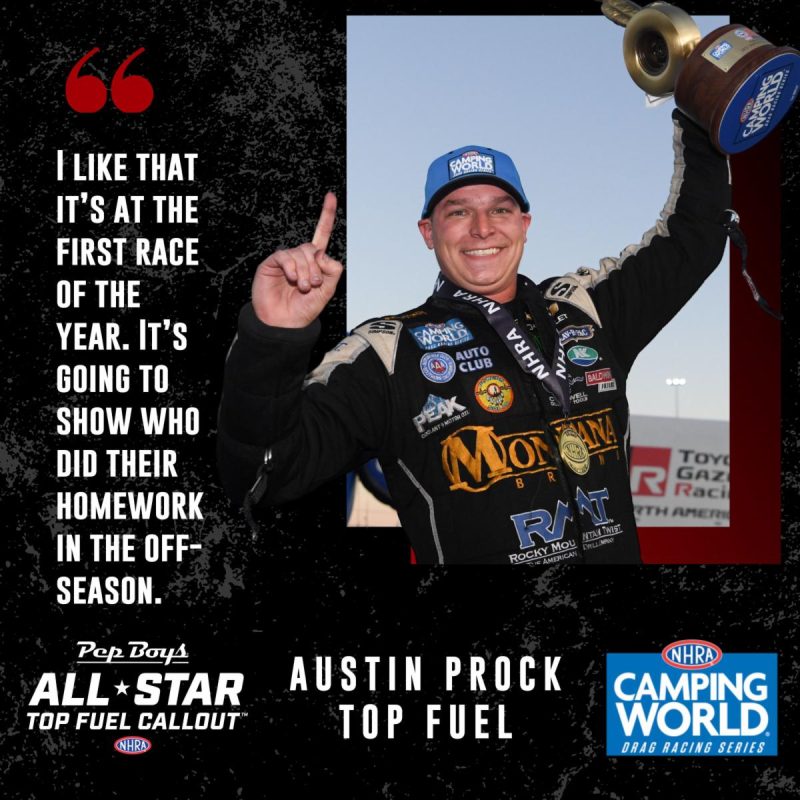 That's fine for Hart, who is ready for a big year in his 11,000-horsepower R&L Carriers dragster. He's already had one magical moment in Gainesville, winning the Gatornationals in his Top Fuel debut in 2021 – one of just eight drivers in NHRA history to win their first event – and he wouldn't mind another one.
"We've got a little bit of confidence and I'm more comfortable in the car than I've ever been before," said Hart, who advanced to two final rounds in 2022. "It's going to be an awesome Callout and I'm super stoked. I learned a lot last year and I'm ready to roll. I'm proud to be a part of this group."
With big money and bragging rights on the line, as well as a special broadcast on Fox Sports 1 (FS1) leading into NHRA Gatornationals eliminations on FOX on Sunday, March 12, Millican will try to grab the spotlight in his 11,000-horsepower Parts Plus/NurtecODT/Rick Ware Racing dragster.
He joined Rick Ware Racing as part of a new Top Fuel team at the tail end of 2022, bringing considerable momentum in 2023. Knowing he'll be called out, Millican is eager to play the spoiler in his first appearance in the specialty race.
"I'm just proud to be a part of it. I'm sure it's going to be exciting," Millican said. "I think it's really cool. I'm hanging in there at No. 8, but I'm excited to see who's going to call us out and what we'll be able to do on that first run. It's a lot of money on the line and I'm excited just about the chance to do it."
Prock has plenty of reasons to be excited in his 11,000-horsepower Montana Brand/Rocky Mountain Twist dragster. He won twice in the Countdown to the Championship last year, including the finale in Pomona, picking up the most round wins of any playoff driver in Top Fuel. A strong performance in the Callout – as well as raceday in Gainesville – would go a long way in continuing that momentum in 2023 and Prock figures to be ready no matter who his first-round opponent will be.
"We've got a great group of people going here on this team," Prock said. "I think we're in the best shape we've ever been going into the season, and I think we'll be really strong in Gainesville."
After the first round in the Pep Boys NHRA Top Fuel All-Star Callout, the driver who makes the quickest winning run will select their semifinal opponent, locking in the other matchup as well. It helps lead into the Sunday eliminations for the Gatornationals, which serves as a thrilling NHRA season-opener in 2023.
In 2022, Tripp Tatum (Top Fuel), Matt Hagan (Funny Car), Dallas Glenn (Pro Stock), and Karen Stoffer (Pro Stock Motorcycle) all picked up victories during a record-breaking weekend in Gainesville. Hagan earned the first-ever victory for Tony Stewart Racing, and Karen Stoffer made the quickest pass in Pro Stock Motorcycle history at 6.665 seconds en route to the win. Tatum earned his first career victory, as a first-time winner picked up the victory for a second straight year in Top Fuel.
The Amalie Motor Oil NHRA Gatornationals also will feature thrilling competition in the NHRA Lucas Oil Drag Racing Series, along with the season debuts for the FuelTech NHRA Pro Mod Series presented by Type A Motorsports and Flexjet NHRA Factory Stock Showdown.
NHRA Camping World Drag Racing Series qualifying will feature two rounds at 1:30 and 4:00 p.m. ET on Friday, March 10, and the final two rounds of qualifying on Saturday, March 11 at 12:00 and 3:00 p.m. Final eliminations are scheduled for 10:00 a.m. ET on Sunday, March 12. Television coverage includes qualifying action on FS1 at 10:00 a.m. ET. on Saturday and 9 a.m. on Sunday, leading into live eliminations on FOX at 12 p.m. ET.
The opening round of the Pep Boys NHRA Top Fuel All-Star Callout takes place on Saturday at 1:20 p.m. ET, with the semifinals to follow at 2:45 p.m. The finals are slated for 4:25 p.m., and the callout will be given a featured broadcast on FS1 at 10:30 a.m. ET on Sunday.
To purchase tickets to the 2023 Amalie Motor Oil NHRA Gatornationals, fans can visit www.NHRA.com/tickets. Children 12 and under are free in general admission areas with the purchase of an adult ticket. For more information on NHRA, please visit www.NHRA.com.