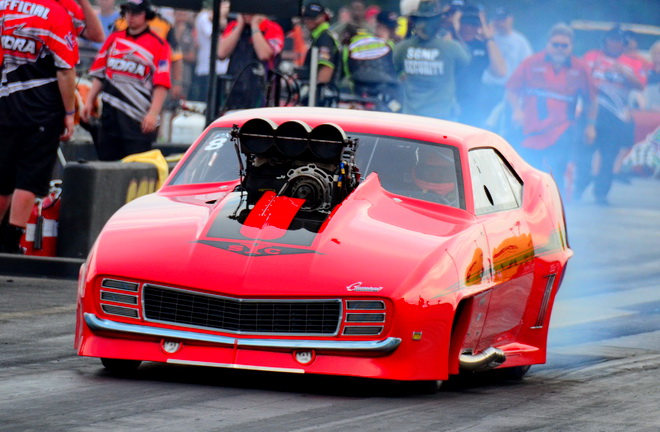 It took a day longer than planned, but Bubba Stanton (above), Jason Harris (top) and Cary Goforth kept their perfect records intact with the new Professional Drag Racers Association (PDRA), as each followed up victories at the season opener last month in North Carolina with wins in their respective classes May 11, at the inaugural PDRA Georgia Drags. For the second-straight event Stanton defeated Mick Snyder in the marquee Pro Extreme category, while Harris prevailed again in Pro Nitrous and Goforth repeated his success in Extreme Pro Stock at South Georgia Motorsports Park (SGMP), near Valdosta.
Also picking up pro-class wins in final rounds delayed to Mother's Day by heavy rain falling the night before were Kevin Fiscus in Pro Boost and number-one qualifier Travis Davis in Pro Extreme Motorcycle. In the bracket racing Top Sportsman and Top Dragsters classes, Dylan Stott and Brian Bednar turned on the win lights, while top qualifier Devin Isenhour won in Pro Jr. Dragster and David Roloff took home the Top Jr. Dragster trophy.
PRO EXTREME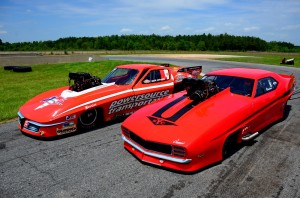 Bubba Stanton, from Potts Camp, MS, qualified his new Jerry Bickel-built '69 Camaro second in NAS Racing Pro Extreme behind only teammate Jason Scruggs, then beat Michael Neal and Wesley Jones on Saturday before rain postponed the semi finals and finals for all PDRA classes to Sunday. After getting past a tire-shaking Joey Martin in the semis with a 3.707 at 212.53-mph run that earned him lane choice, Stanton met number-four starter Mick Snyder for the second-straight time in the final.
At Rockingham (NC) Dragway, Snyder's '63 Corvette failed on the starting line, allowing Stanton to make a solo pass for the win. For a moment it looked like it might have been payback time at SGMP as Stanton's car started, then fell silent on the line while Snyder performed his pre-race burnout. But after Stanton's car finally refired he made a short burnout and staged while Snyder and his Powersource Transportation crew waited patiently.
"I'm just thankful we were racing guys that don't mind waiting and let you do your thing and we got it. But I do want to thank them for waiting on us; they didn't have to do that," Stanton pointed out after running a traction-challenged 3.881 at 194.30 to beat Snyder's off-the pace 4.696 at just 112.96 mph. 
"I had my fingers crossed, just hoping it would go," Stanton said. "It took off and it was shaking, but I didn't ever see him; I was just trying to get to the other end."
Snyder actually got away first with a .036 reaction time to Stanton's .052, but said that advantage quickly disappeared when his car also went into tire shake.
"Once I saw him out in front of me and I started heading toward the wall I just got out of it because it's definitely not worth wrecking the car," he said. The Demotte, IN-based driver then joked it was his turn to win and Stanton obviously hadn't learned his "sharing" lessons very well.
"I can't afford to (share)," Stanton responded. "The bad thing about it is if we keep meeting in the finals I can't ever get more than one round (per race) ahead of him in the points."
PRO NITROUS
Just as he had at Rockingham in April, Pittsboro, NC's Jason Harris qualified his '68 Firebird on top of the 16-car Switzer Dynamics Pro Nitrous field. He did it in convincing style, too, running 3.779 at 200.68 mph, representing the lone pass of the weekend in the 3.70s for the nitrous class. Then, just like last time, Harris mowed through the field to set the early example for the eight-race series in 2014, the PDRA's first year in operation.
"My crew deserves all the credit," Harris insisted. "We've struggled to get it all together the last couple of years but they've got it all sorted out now with Robert Hayes Motorsports, Hoosier tires and Pat Musi horsepower. I have the easy job; I just let go of the button and hang on."
Harris set low ET in each of four rounds of racing spread over two days, as he beat George Williams III and Chris Patrick on Saturday, then defeated fellow North Carolinian Travis Harvey in the semis before taking on number-two qualifier Bob Rahaim and his Michigan-based '69 Camaro in the final.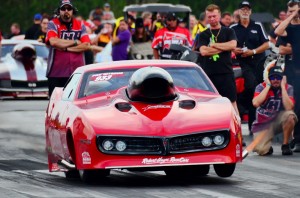 Harris led stripe to stripe against Rahaim, leaving with a sizable .053 holeshot before posting his "slowest" pass of the event at 3.914 at 196.67 mph on a very hot and still somewhat "green" racing surface after overnight rains thoroughly washed the SGMP eighth mile. Meanwhile, Rahaim lost traction early and coasted through in just over five seconds and less than a hundred miles an hour.
"We ran an .83 at 200 (mph) again in the semis, but the track was getting really hot so we left it alone for the final," Harris explained. "We knew it was probably going to slow up a little in the heat and it rattled a little about halfway, but I just stuck with it and I'll take a .91 with a win all day long."
While still early in the season, Harris admitted he's already cautiously aware of his championship potential this year.
"I know we got a good jump on everybody in the points, but right now I just want to concentrate on things race to race. If we can keep going good like this, the points will be there at the end."
EXTREME PRO STOCK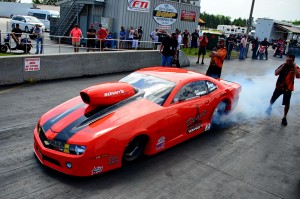 John Montecalvo edged out Cary Goforth by just five-thousandths of a second with a 4.092-seconds pass in Aruba.comExtreme Pro Stock qualifying to take the number-one spot into eliminations, but when Montecalvo bowed out in round one it cleared the way for Goforth to post his sixth win in seven finals since debuting his Jerry Haas-built 2013 Camaro last fall.
"I've got very good, capable hands working on this thing, but it seems like every car we get is just a little bit better than the last one, which is really amazing because they've all been great cars," Goforth said after beating John Pluchino, Lester Cooper and Trevor Eman in the final to post his second consecutive PDRA win. "This car almost dares you to try and shake the tires, it's that good and that smooth."
Eman started his 2011 Mustang from the fifth position in the eight-car field to beat Goforth's teammate and crew chief Jeff Dobbins in the opening round. He then got past Richard Penland in a side-by-side pedalfest in the semis before running a 4.167 at 175.30 that just wasn't enough to hold off Goforth's 4.153 at 175.84 mph.
"You know, I really appreciate the PDRA sticking around today and getting this race finished here; they really didn't have to do that," Goforth said while waiting in victory lane.
"It would've been real easy for the backers and the people that run it and they'd have been money ahead if they'd just called the thing when it rained last night and split up the points and the purse and sent everyone home. I think about the financial side like that and I really appreciate that they wanted to get the race finished up and hand out the money and trophies here so we can win the Georgia Drags while we're still here in Georgia."
PRO BOOST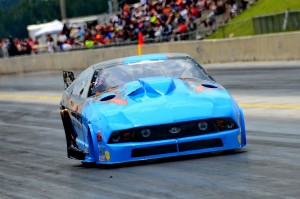 Just as he had at the previous PDRA event in Rockingham, NC, Todd Tutterow took the top spot in Precision Turbo/Proline Racing Engines Pro Boost qualifying for the PDRA Georgia Drags, running 3.892 seconds at 193.24 mph in his roots-blown '68 Camaro. Just six-thousandths back in second-place, though, was Kevin Fiscus of Jacksonville, FL, with his twin-turbocharged 2012 Mustang.
Tutterow made short work of Tony "Sandman" Williams in round one of racing, but had to pedal the car in round two, allowing Joe Baker to advance and eventually beat Kevin Rivenbark and face off against Fiscus in the final.
Fiscus, meanwhile, ran low ET (3.940) of round one to beat Canada's Jim Bell in the debut of a new twin-turboed '69 Camaro after Bell destroyed his previous ride at the Rockingham race. In round two Fiscus took on Troy Coughlin, who had just scored his career-first round win in eighth-mile competition when he put Clint Satterfield on the trailer. 
Regardless, Fiscus beat Coughlin in the quarter finals, then Larry Higgenbotham in the semis to reach Baker and decide the Georgia Drags Pro Boost champion.
Baker took a slim .003 lead off the start, but his "Medicine Man" '53 Studebaker soon lost traction, while Fiscus pedaled his way to a 4.162-seconds win at 194.72 mph.
"The Traction Twins (Cody and Cale Crispe) did a great job getting the track back into shape after all the rain last night, but there's a little transition about 70 feet out, right where we go from our one-to-two shift, and it spun there, I pedaled it once, and got it to hook back up and got the win," Fiscus said later.
"I could hear him popping and banging in that blower car and then it went away. I think I might have heard him try to get back in it, but by then I was on my way and fortunately got the win." 
PRO EXTREME MOTORCYCLE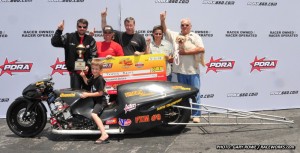 After spending the off season coming up with an all-new tune-up for his nitrous-boosted Timblin Chassis Suzuki, local rider Travis Davis arrived at South Georgia Motorsports Park ready for his first PDRA experience. He turned the experience into a lasting memory by winning from the pole position.
Davis earned the top step on the eight-bike ladder with a 4.096-seconds ride at 172.06 mph. He then took down Christopher Jones, the son of veteran rider T.T. Jones who made his PXM debut at the PDRA Georgia Drags, and past class champion Ashley Owens on Saturday evening shortly before the race was interrupted and the final postponed to Sunday by rain.    
"I would have loved to finish the race last night because I feel certain we could've run in the 4-ohs again because the track was good and tight," Davis said after going 4.113 at 175.14 on a hot Sunday afternoon to take the final over Ron Procopio, who posted 4.198 at 171.93 aboard his own 2010 Suzuki.
"But today with the sunshine beating on it today it got pretty hot and greasy. Last night we had a 1.02 60 foot (time) and that last pass was 1.04, so we definitely lost some there. And then I felt it spin a little too not long after the start, but luckily I had enough to keep it going and get the win. I'm pretty happy."
TOP SPORTSMAN
Dylan Stott's last big win came nearly two years ago, but the Columbus, NC, racer found his way back to victory lane at South Georgia Motorsports Park May 11, when he beat Dan Ferguson in the Magnafuel Top Sportsman final for the PDRA Georgia Drags.
Driving an RJ Race Cars-built '67 Mustang, Stott opened with a big win over veteran driver Bruce Thrift, then followed up with victories over Rick Hord and Billy Albert before rain put a temporary end to the event on Saturday evening and postponed the final to Sunday. 
"We've struggled with this car the last couple of years, but we finally got it figured out to run in the low 4.20s and this thing has been on a string all weekend," Stott said after posting 4.311 against a 4.25 dial in for the final. Ferguson dialed in 4.17 for his '02 Firebird, but ran 4.249 in a runner-up cause.
"I never saw him (Ferguson), so I dived it a little bit at the finish line," Stott said. "Just wanted to be safe."
TOP DRAGSTER    
Brian Bednar of Ocala, FL, could barely contain his excitement as he turned off the end of South Georgia Motorsports Park's long shutdown lanes after winning the Top Dragster final of the inaugural PDRA Georgia Drags. He could be heard hootin' and hollerin' inside his helmet as his '09 Spitzer dragster rolled to a stop.
"We got one; we finally won one," Bednar happily declared after dialing in at 4.25, posting a .021 light and running 4.277 seconds to the SGMP eighth-mile stripe, while his opponent, Danny Payne, dialed in at 4.12 and left with a .020 light that led to a 4.164-seconds pass.
"I'd like to thank PDRA for putting this on; they really did a great job with the track under a little bit of adverse conditions," Bednar said. "I'd also like to thank James Monroe of KillerRons.com for the tune-up, he's awesome, and everybody who came out and was watching at home. This is a big thrill for me!"
The PDRA returns to action May 23-24, with the inaugural PDRA Memphis Drags at Memphis Notorsports Park.
(Photos by Ian Tocher; Click to enlarge)