Ronnie Davis was one of the most prolific Top Sportsman racers the category has ever seen. When Davis succumbed to injuries after a wreck in the final round of qualifying at the PDRA Spring Nationals in early April, the entire racing community felt the shock of his untimely departure.
To honor Davis' contributions to the class he championed many times, PDRA Top Sportsman has been renamed Ronnie Davis Top Sportsman presented by MagnaFuel. "We could see no better way to honor the memory of our friend, competitor and one of the greatest advocates of Top Sportsman than to name the class after him," stated PDRA Director, Bob Harris.
Besides being a multi-time champion of the class and one of its longest-running competitors, Davis was also a key player in the class' continuity and growth. He brought the quickest and fastest sportsman doorslammer class to NHRA, which aptly recognized the first NHRA Top Sportsman Champion in 2015. Davis also utilized his Davis Golf Cart Sales company as a sponsor of the class in NHRA's Division 2 and was the Official Pit Vehicle of the PDRA.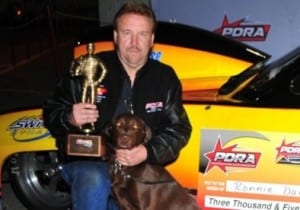 Davis was 66 years old, a resident of Suwanee, Ga. and father of two daughters who reside in Texas. He also left behind longtime companion Micki Dearing and crewman Pete March. He was the reigning PDRA World Champion and was also crowned 2015 PDRA Sportsman Driver of the Year. Davis dedicated his last win to the memory of his good friend Brian Olson, who passed away in August, 2015. Appropriately, that win came at the PDRA Brian Olson Memorial World Finals last October, where Davis also clinched his championship. Davis has already had racers dedicate wins in his honor, as well. Rival and great friend, Dan Ferguson, went on to win the Spring Nationals despite the obvious emotional turmoil of the event and quickly dedicated his win to the memory of his mentor.
Davis was a staunch supporter of the PDRA. Last fall he was quoted as saying, "Racing in a 16 car really fast field is what it's all about to me and I love it. PDRA is still my favorite racing and probably all I'm going to do next year. It's the baddest of the bad, in my opinion. You better bring your best stuff when you come over to PDRA."
The PDRA and its staff are hosting a gathering to honor the memory of Davis and the recovery process of Ian Tocher, who was also injured in the incident, at their next event, the Texas Nationals at the Texas Motorplex. On Thursday, May 19, after the day's testing, racers are invited to gather at the pavilion behind the tower from 8-10pm. Pizza will be provided.
God Speed Ministry has set up a fund to help the Davis family cover his medical and burial expenses. Donations are tax deductible