Due to the forecast leading up to and during the event, our PDRA Nationals at Osage Casino Tulsa Raceway Park, originally scheduled for this weekend, March 10-12, will be run next weekend, March 17-19," PDRA Race Director, Bob Harris announced.
A forecasted five to eight inches of rain is expected in Tulsa through Wednesday with temperatures only in the 50s. That amount of rain in such short time would mean pit area parking would be saturated and not withstand racer rigs. Additional rain is expected through the weekend.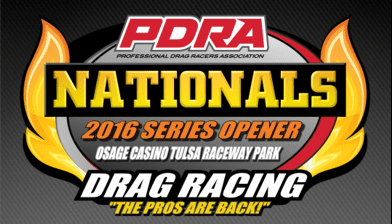 "Osage Casino Tulsa Raceway Park really wants everyone to be able to come and enjoy the weekend without having muddy pits," added Harris. "Pro Extreme, Pro Boost and Pro Nitrous will all be parked on the pavement as usual, but we're looking out for all the racers in rescheduling the event. Many of our Pro Extreme Motorcycle and sportsman competitors park on the grass. This year we are also adding the Bracket Bash and need to ensure proper pit areas for all classes. We look forward to making our series opener a success next weekend."
The event schedule will remain unchanged with racer parking on Wednesday, March 16 and open testing on Thursday, March 17. Three rounds of qualifying will be held on Friday, March 18 with a fourth qualifying session on Saturday, March 19 with final eliminations to follow. More details can be found on the event page.