The Professional Drag Racers Association (PDRA) today announced it has extended its partnership with VP Racing Fuels, which will be designated "Official Fuel of PDRA" through 2017. As part of the agreement, VP will provide trackside fuel service for the all-eighth-mile drag racing series and post season awards up to $1000 in each class for the series championship.
"We are excited that VP Racing Fuels has not only returned, but stepped up their commitment to the PDRA in a major way," said Mike Congdon, PDRA Senior Vice President of Marketing. "VP has chosen to join our 'Official' status brands, and forged a three-year agreement with continued growth in mind."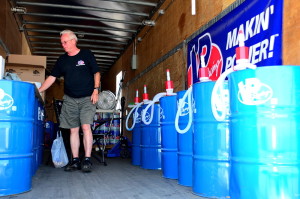 "We've been committed to eighth-mile outlaw door-slammer racing for a long time and we're very pleased with PDRA's efforts to keep this important segment of drag racing viable," said Chris Wall, VP's Chief Marketing Officer. "For racing on the ragged edge as PDRA competitors do, VP offers the best performing fuels on the market while still providing the best protection for these high-dollar, high-performance drag racing engines. We encourage racers to use the convenient Fuel Pre-Order process we've set up with the series to have the fuel they need delivered straight to the track."
"Racers can also take advantage of our full-time professional Tech Support staff for advice on fuel selection and tuning," Wall added. "They're readily available by phone or email as well as at the track or dyno when needed."
Tech questions regarding VP fuels can be directed to VP Tech Support at 812-878-2025 or [email protected] Fuel Pre-Order forms can be found online at www.PDRA660.com.
To learn more about VP Racing Fuels and its products, visit www.vpracingfuels.com. For more information on the PDRA, visit www.PDRA660.com.