After COVID-19 extended the offseason by an extra two months, the 2020 PDRA season is finally kicking off with the East Coast Nationals presented by FuelTech at GALOT Motorsports Park in Benson, N.C.
State and local officials aren't allowing spectators this weekend, but fans can watch the official event livestream on SpeedVideo.
Update at 10:20 p.m.
The track crew had just finished a severe starting-line oildown from a Pro Outlaw 632 car when an unexpected rain shower opened up, soaking the track. Racing is done for the night. Check back for an updated Sunday schedule.
Pro Nitrous Motorcycle First-Round Results
Chris Garner-Jones – 4.08
Travis Davis – 4.053 W
Paul Gast – 4.098 W
Brunson Grothus – 4.492
Extreme Pro Stock First-Round Results
Todd Hoerner – 4.125
Johnny Pluchino – 4.118 W
Elijah Morton – 4.137 W
Dwayne Rice – 4.163
JR Carr – 4.095 W
Dave Hughes – 4.129
Chris Powers – 4.102
Steven Boone – 4.129 W
Pro Boost First-Round Results
James Beadling – 3.829
Kurt Steding – 3.733 W
Mike DiDomenico – 3.737
Marc Caruso – 3.714 W
Melanie Salemi – 3.741 W
Kevin Rivenbark – 3.731
John Camp – 3.712 W
Clint Satterfield – 3.827
John Strickland – 3.70 W
Chuck Ulsch – 3.919
Eric Gustafson – 4.194
Jeff Rudolf – 3.774 W
Jason Harris – 3.726 W
Stan Shelton – 3.852
Randy Weatherford – 3.691 W
Eric Donovan – (broke)
Pro Nitrous First-Round Results
Brian Shrader – 3.817
Chris Rini – 3.737 W
Billy Albert – 9.452
Rob Hunnicutt – 3.793 W
John Vergotz – 3.818
Tony Wilson – 3.859 W
Fredy Scriba – 3.801 W
Lizzy Musi – 4.522
Jackie Slone Jr. (broke)
Jim Widener – 3.738 W
Jay Cox – 3.681 W
Tommy Mauney – 3.765
Tommy Franklin 3.691 W
Ed Burnley (no show)
Jim Halsey – 3.68
Single
Update at 7:50 p.m.
Pro Nitrous cars are rolling into the staging lanes for the first round of eliminations. We're all set to run first round for the pro classes and Top Sportsman 48 and Top Dragster 48 tonight.
Elite Top Dragster Eliminations Ladder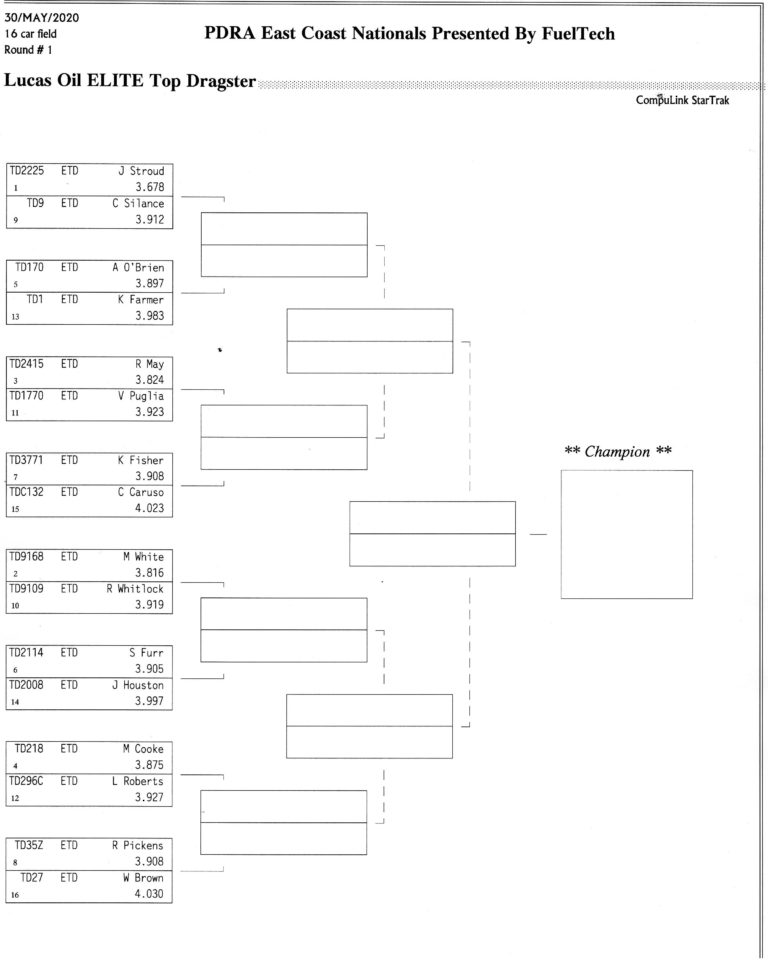 Top Dragster Final Qualifying Order
Elite Top Sportsman Eliminations Ladder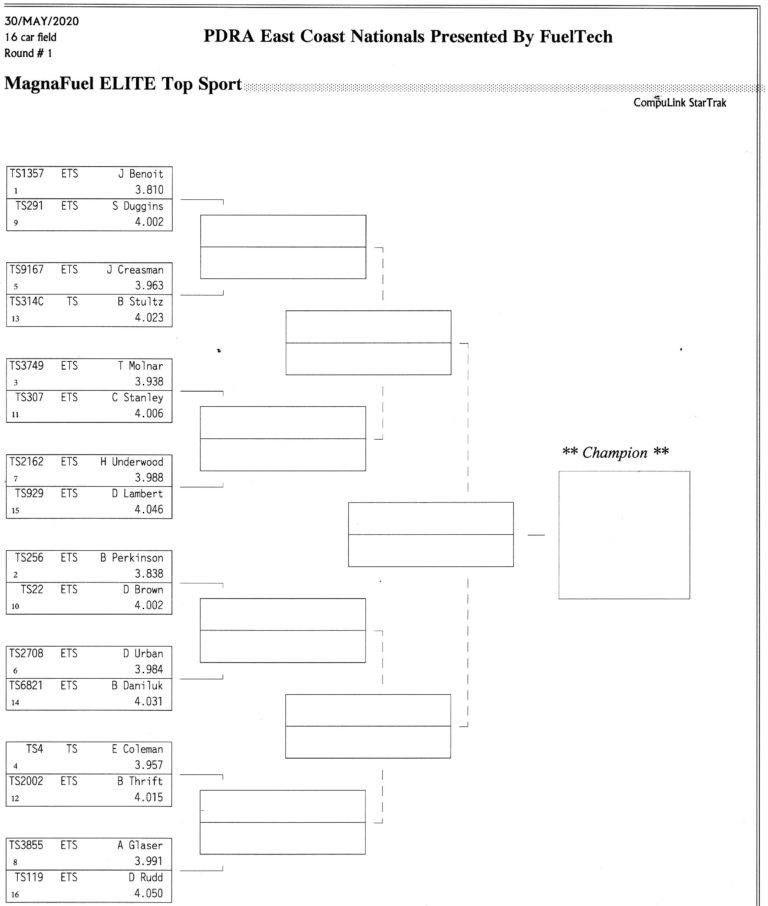 Top Sportsman 48 Eliminations Ladder
Top Sportsman Final Qualifying Order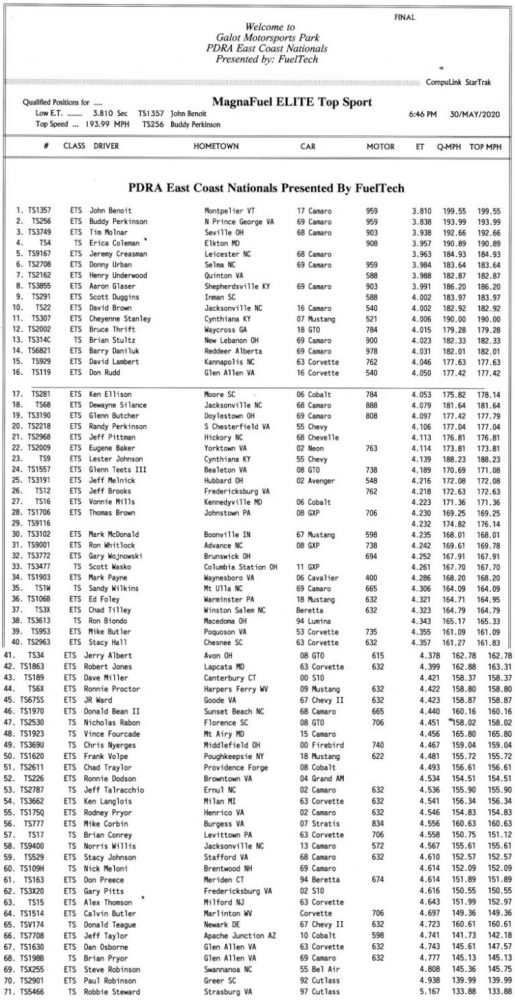 Update at 5:34 p.m. 
Top Sportsman is in the middle of Q2, followed by Top Dragster and Bracket Bash. Jr. Dragsters are done for the day. All other classes will run first round of eliminations later this evening.
Update at 4:55 p.m.
Slight surprise in Pro Street, as Radial vs. the World and Pro 275 hitter Mark Micke didn't get down the track for the second session. He'll start eliminations from the No. 6 spot.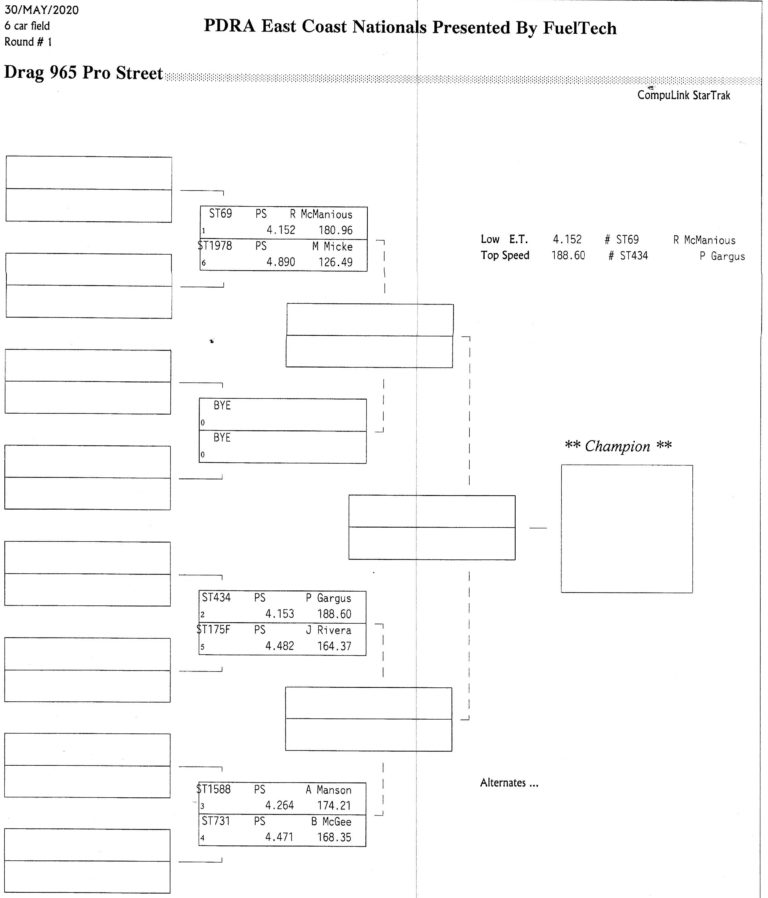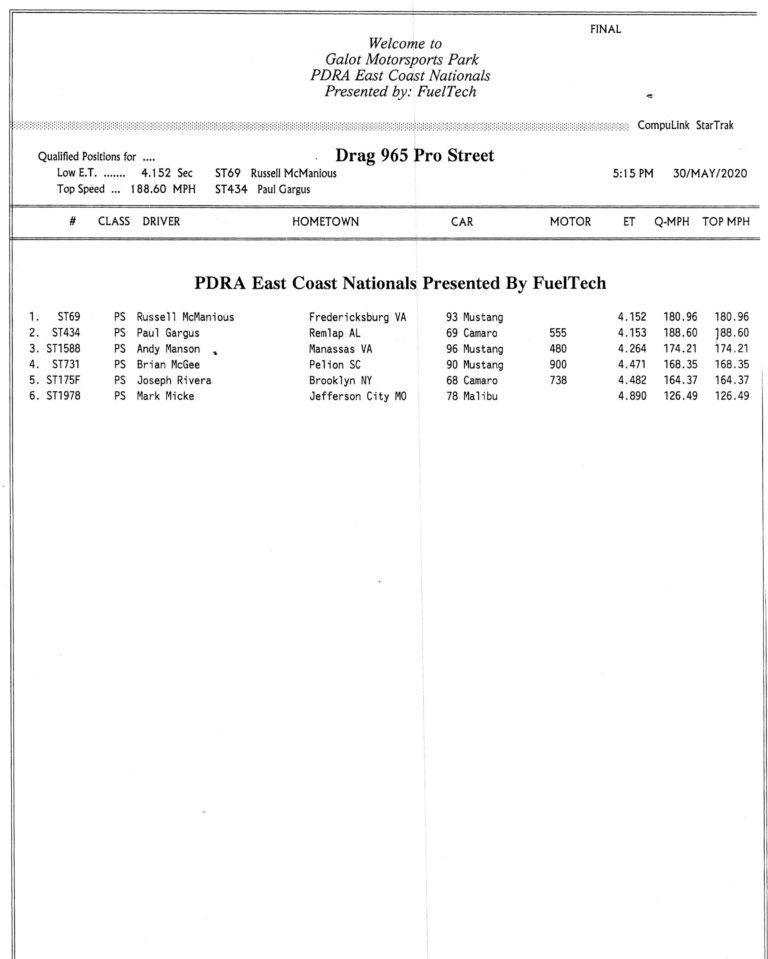 Pro Outlaw 632 Q2 Sheet and Eliminations Ladder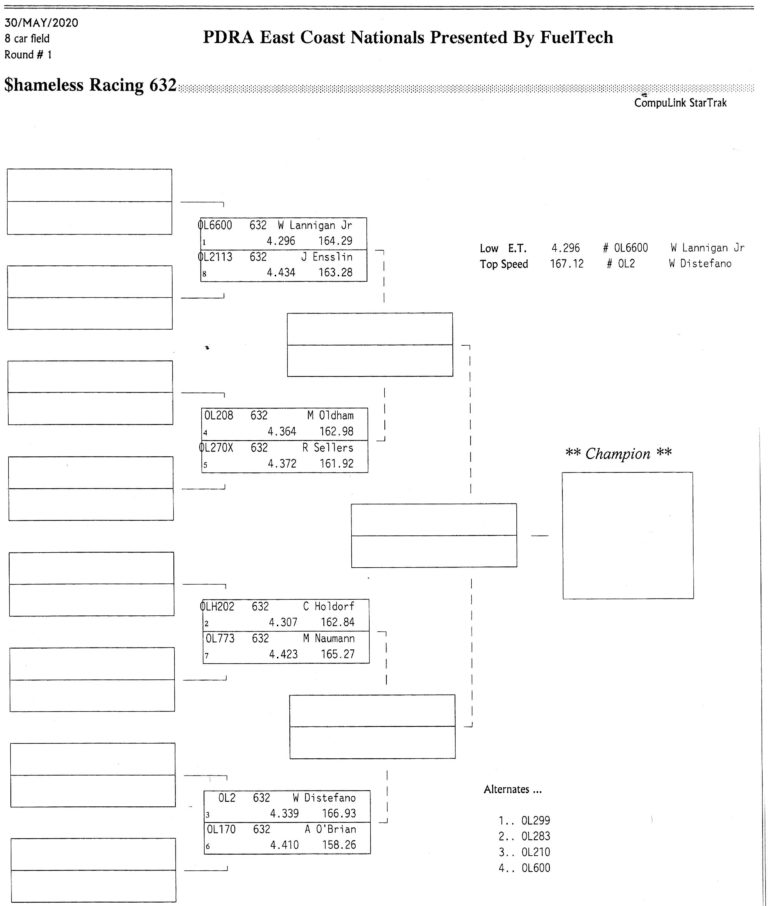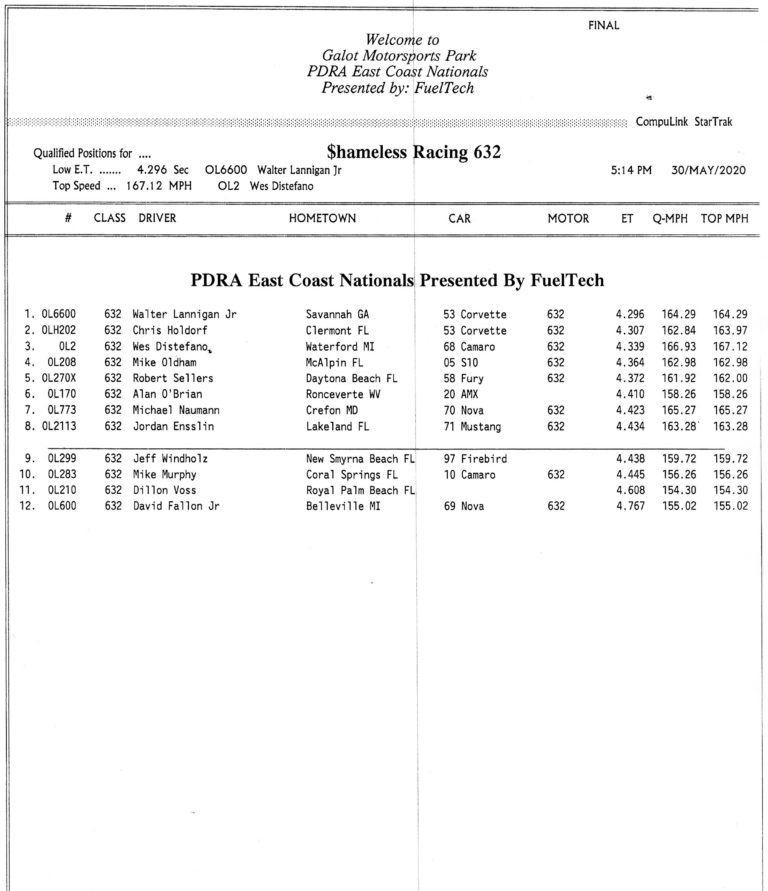 Update at 4:36 p.m.
Brunson Grothus and the Grothus Drag Bikes team drove in from Iowa, arriving around 1:30 p.m., after the first qualifying session. His 4.149 will put him No. 4 of four Pro Nitrous Motorcycle riders on the property after the second session.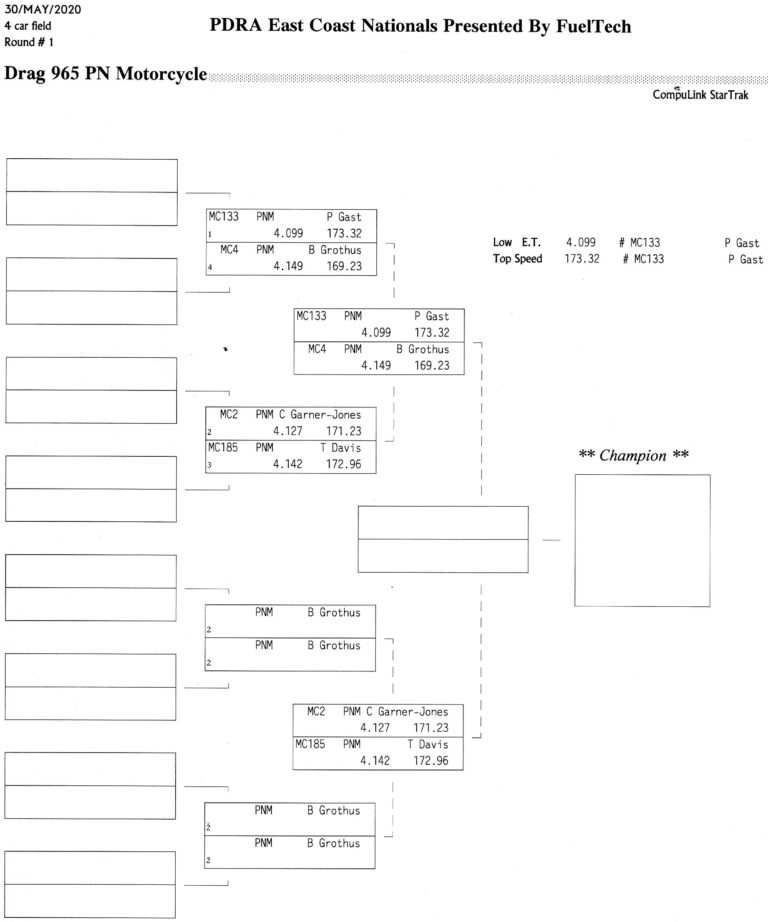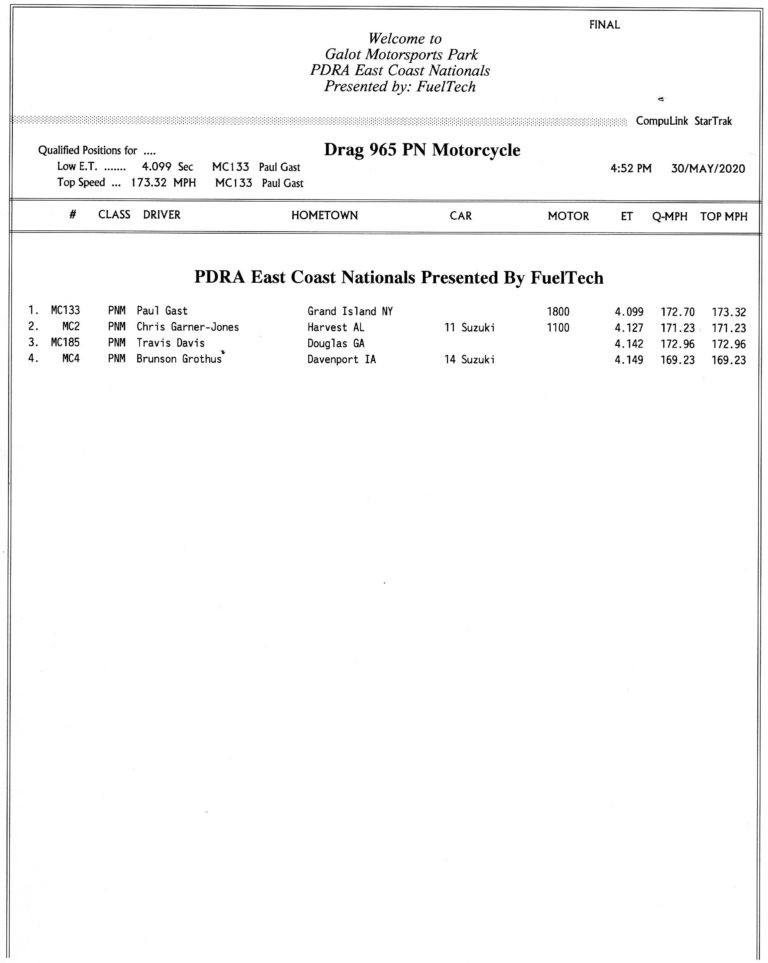 Update at 4:26 p.m.
A nice 4.11 from Chris Powers caps off Extreme Pro Stock Q2. A few solid runs from the Mountain Motor Pro Stock cars, but no real improvements on the Q1 passes.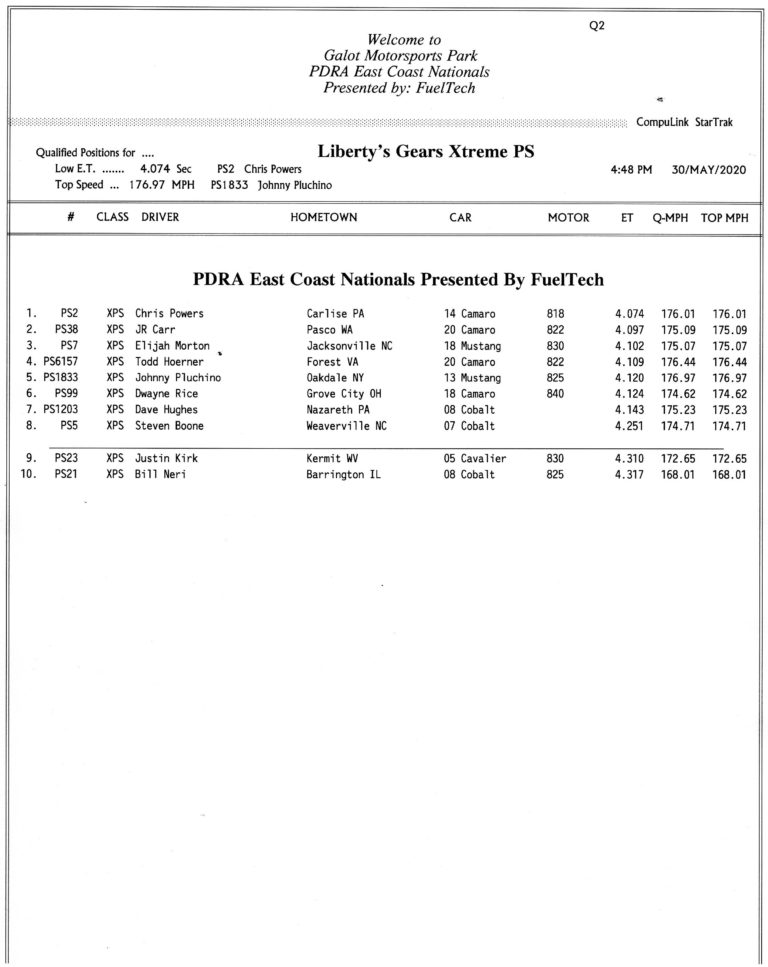 Update at 4:15 p.m.
A full field of Pro Boost cars just finished Q2, with No. 1 qualifier Randy Weatherford running low E.T. of the session with a 3.71.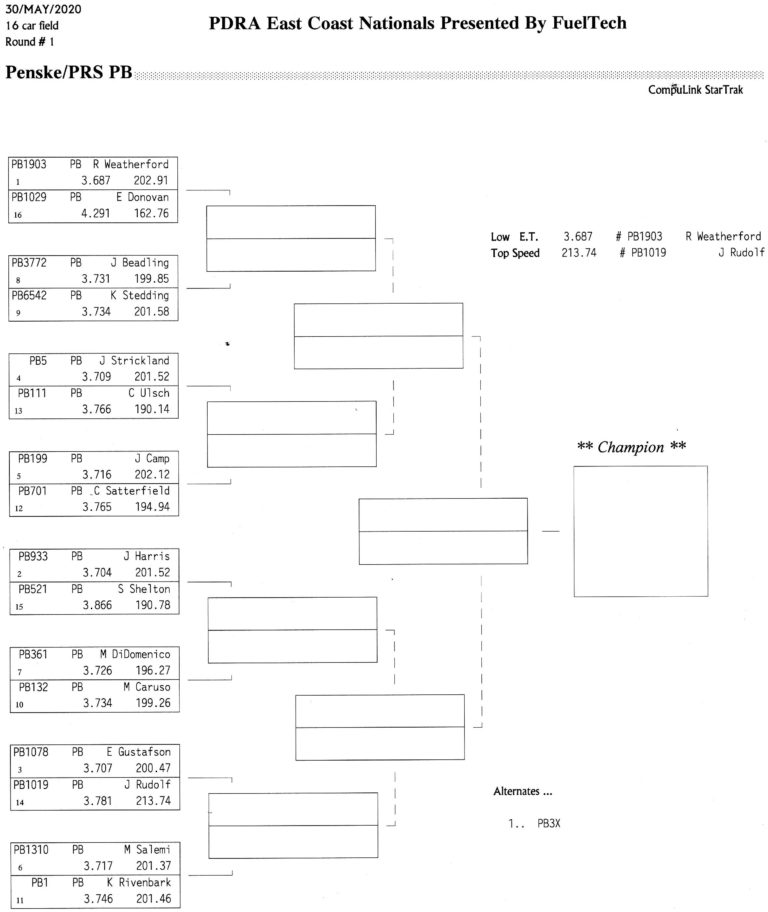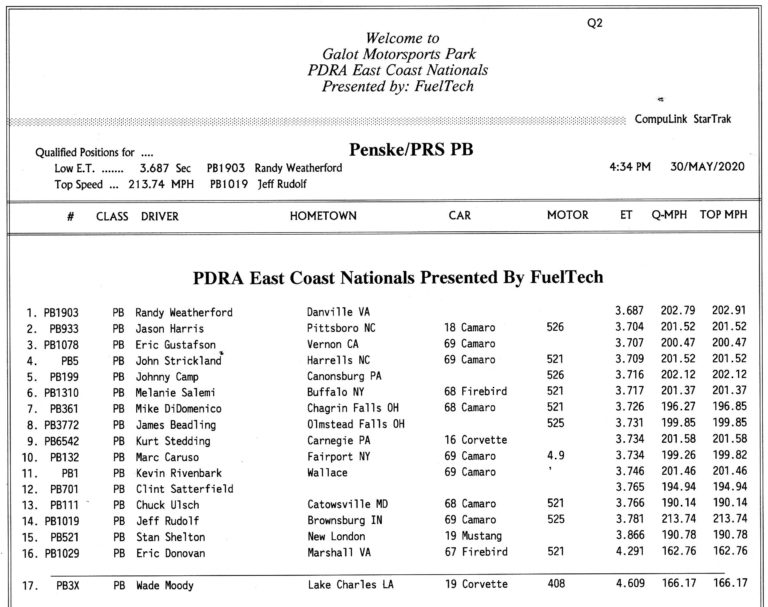 Update at 3:52 p.m.
Pro Nitrous just wrapped up Q2. Lots of tire shake. Defending world champion Jim Halsey fired off a 3.73 to set low E.T. of the session. The field is set, ladder is below.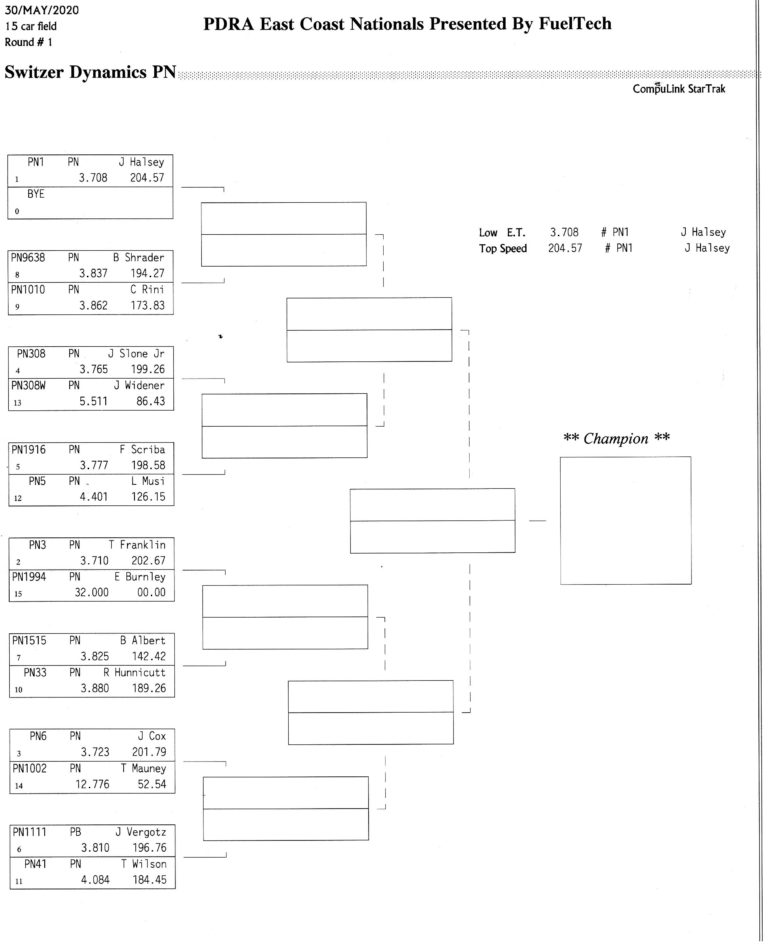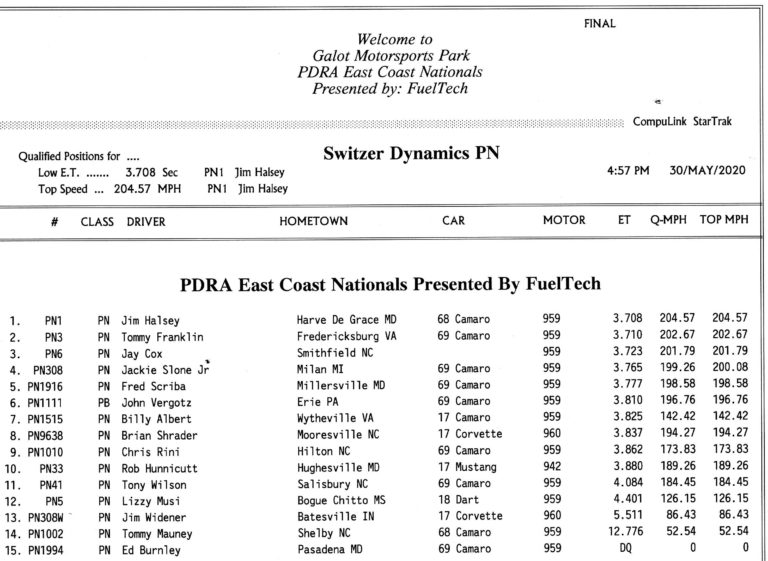 Update at 3:02 p.m. 
The announcers have made the call for Pro Nitrous to the lanes. Jr. Dragsters are finishing their second and final qualifying session. The plan is to run through Q2 for the pro and sportsman classes, then go into first round of eliminations for the pro classes, as well as Top Sportsman 48 and Top Dragster 48
Classic Graphix Opens Up to Sell Merch to PDRA Racers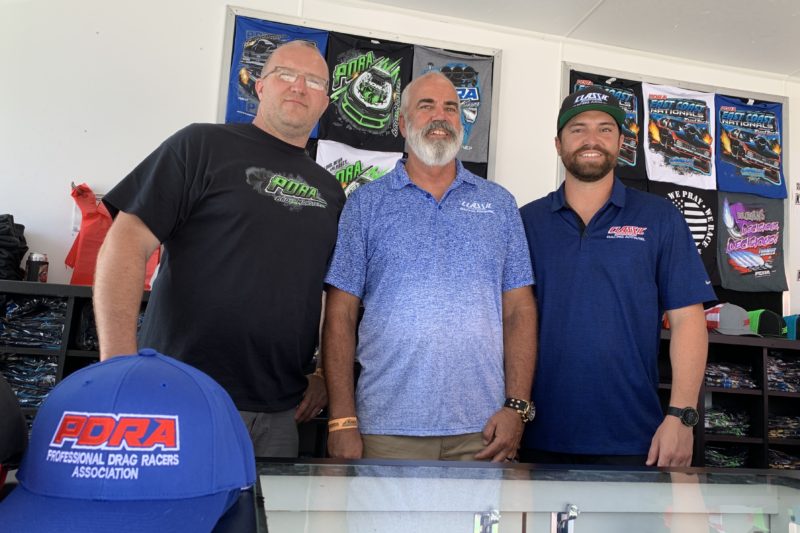 Even though spectators aren't allowed to attend this weekend (per state and local policies), Classic Graphix is on hand with the official PDRA merchandise trailer. For owner Scott Bathurst (above, center), it was all about supporting the PDRA and its racers.
"We work with the PDRA and this is like a family deal," Bathurst said. "I want to support them no matter what. Whether we make money or not is not so big, it's just being back with the racing family and getting back out here."
Bathurst and his son, Chris, flew in for the event from their home base in Southern California, while the trailer was brought in by Loren Wilson with Flying A Motorsports, the official motorhome provider of the PDRA.
"Being on a plane with a mask for five hours kinda sucked, but whatever you have to do to get here," Bathurst said. "It's well worth it. I'm 100% behind [PDRA], whatever it takes."
Even without spectators, Bathurst and his team have been busy selling merchandise to PDRA racers and crew members. In addition to event T-shirts, the PDRA merch trailer includes several men's and women's T-shirt designs, hats, sweatshirts, polos, jackets, decals and more.
"The first race of the year, all the drivers and teams come up and want to get the new swag that's available – new jackets and hats and T-shirt designs," Bathurst said. "We'll do well enough with the teams that it's worthwhile coming."
But as Bathurst repeated, he isn't exactly worried about setting any sales records this weekend.
"I'm just glad to be back at the track," Bathurst said. "It's like a family out here. The only time you see these people is at the track. I'm just glad to be back out here."
Jim Widener Blows the Hood Scoop in Pro Nitrous Q1

Indiana-based Pro Nitrous racer Jim Widener had a nitrous backfire on his Q1 pass, knocking the hood scoop off his BES Racing Engines-powered '17 Corvette. Straight Line Media caught it on video.
Top Dragster Q1 Sheet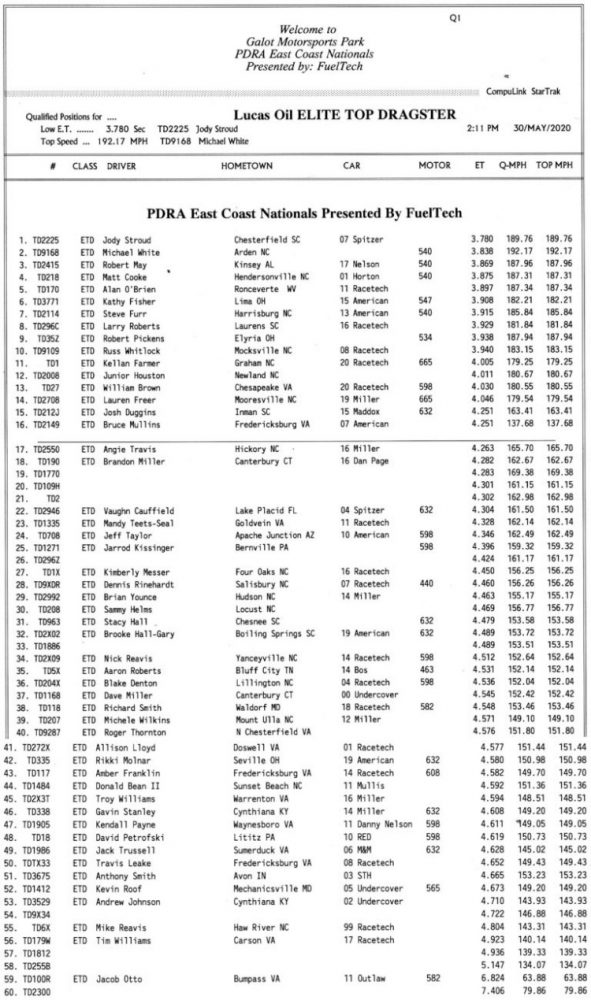 Top Sportsman Q1 Sheet (Updated)
Update at 11:47 a.m.
The PDRA's new small-tire class, Pro Street, just completed its first qualifying session. Paul Gargus set the pace with a 4.153 at 188.60, followed by Andy Manson (4.264 at 174.21) and Brian McGee (4.471 at 168.35).
Update at 11:35 a.m.
Pro Outlaw 632 Q1 is complete. The top 3 are Chris Holdorf (4.332 at 163.97), Wes Distefano (4.339 at 166.93) and Robert Sellers (4.372 at 161.92).
Update at 11:20 a.m.
A short round of Pro Nitrous Motorcycle qualifying is complete. Only three bikes on the property, though Brunson Grothus is expected to be here in time for Q2 this afternoon.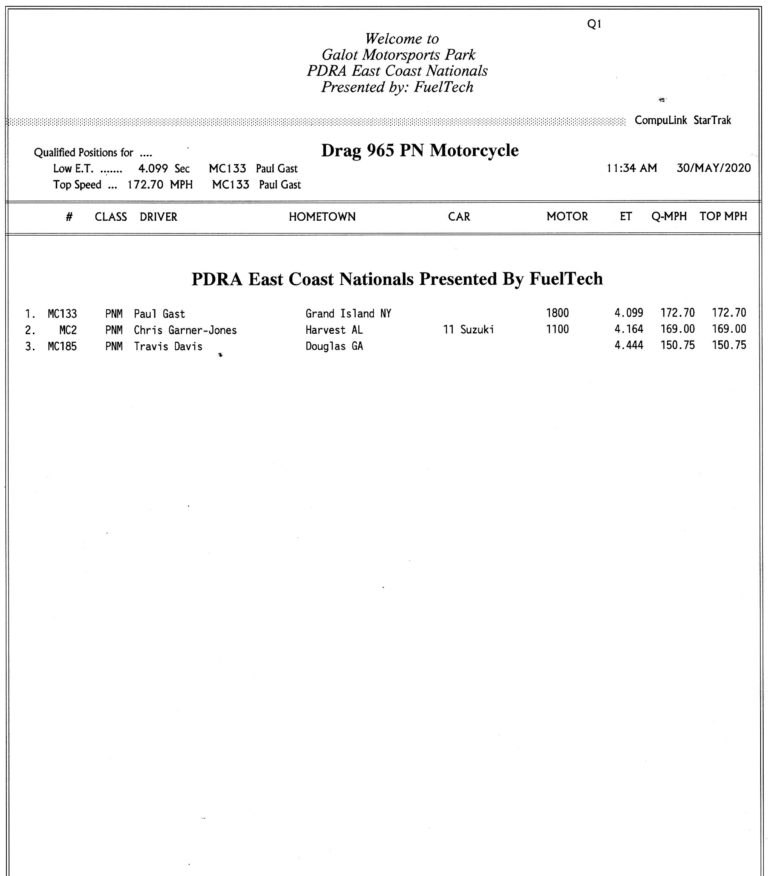 Update at 11:11 a.m.
Extreme Pro Stock Q1 is complete. Chris Powers (4.074 at 176.01), JR Carr (4.097 at 175.09) and Elijah Morton (4.102 at 175.07) top the nine-car field.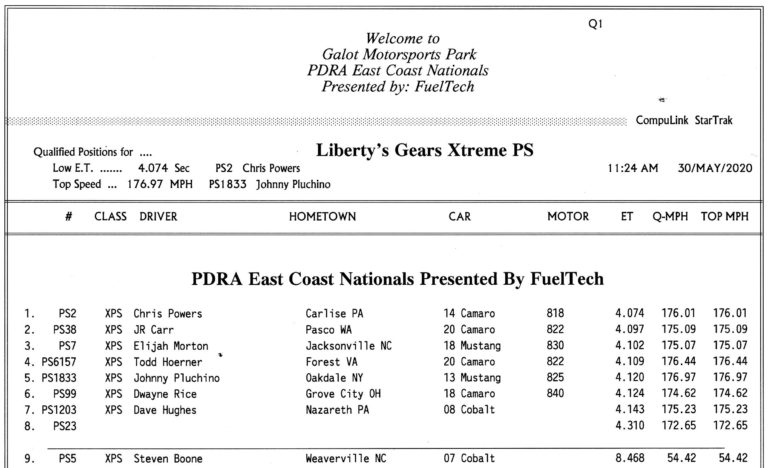 Update at 11:01 a.m.
Pro Boost Q1 is complete. Randy Weatherford (3.687 at 202.79), Jason Harris (3.704 at 201.52) and Eric Gustafson (3.707 at 200.47) lead the 16-car order.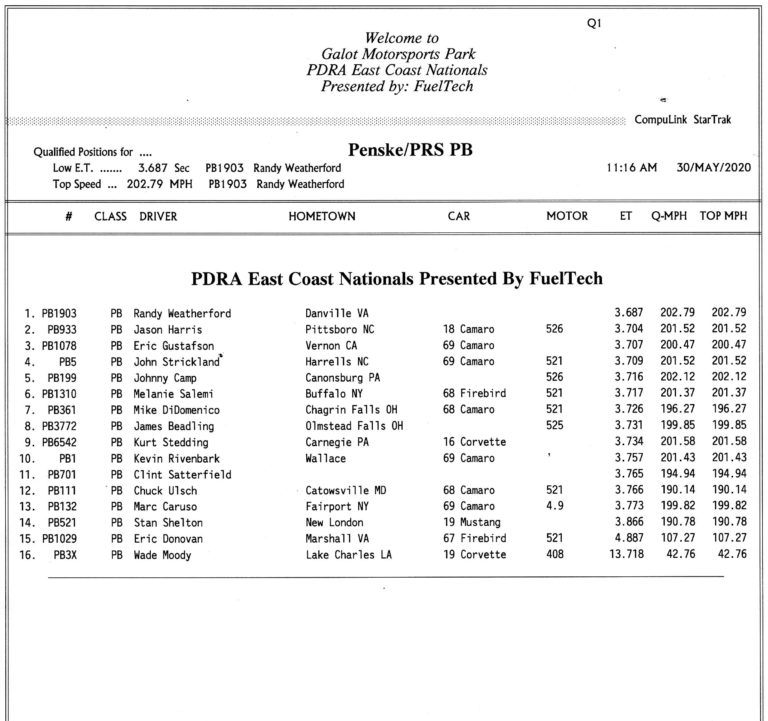 Update at 10:40 a.m.
Pro Nitrous Q1 is complete. The top 3 are Jim Halsey (3.708 at 204.57), Tommy Franklin (3.71 at 202.67) and Jay Cox (3.723 at 201.79). Fifteen cars made an attempt. Pro Boost is up next.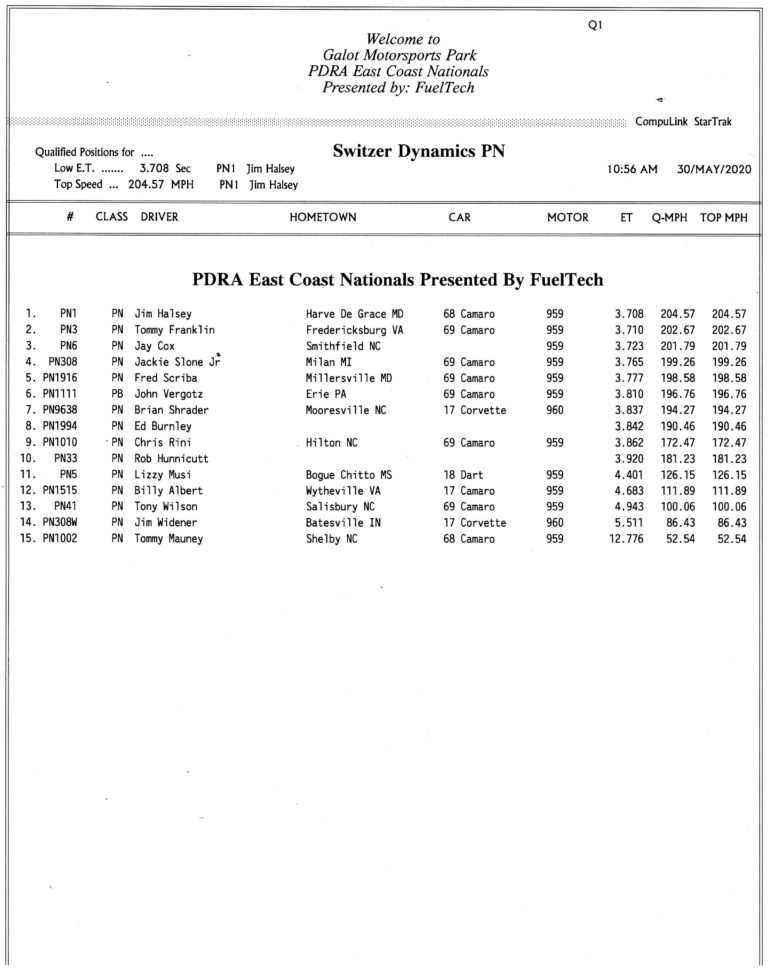 Update at 10:20 a.m.
Ed Burnley's "Ironman" '68 Camaro went into the right side retaining wall at the top end after his parachutes wouldn't come out. Burnley is OK and his car sustained minimal damage. This was the first full pair of Pro Nitrous cars.
Update at 10:10 a.m.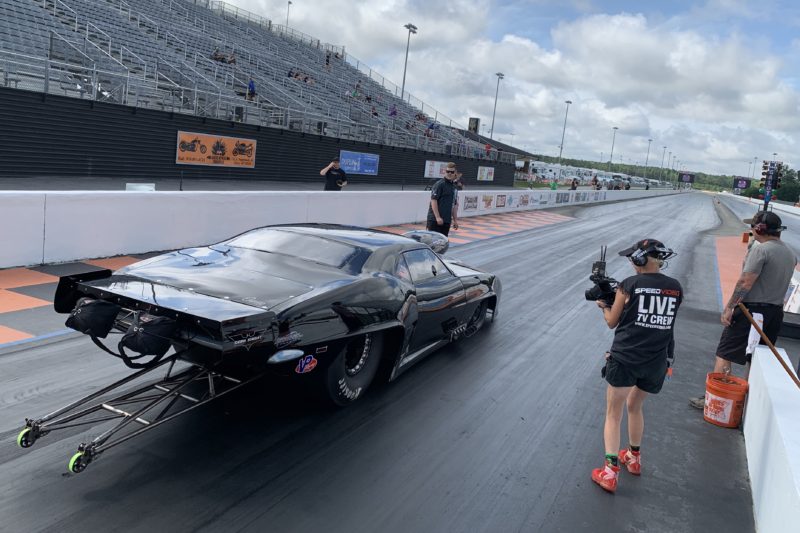 We're off with the first Pro Nitrous car down the track! John Vergotz kicks off the session with a 3.81 at 196 mph. Cars are slow coming to the lanes, but they're definitely filling up.
Update at 9:51 a.m.
Pro Nitrous cars have been called to the lanes for the first qualifying session. All Friday qualifying was rained out, other than one session for the Jr. Dragster classes.
Here's the run order for the day:
Q1
Pro Nitrous
Pro Boost
Extreme Pro Stock
Pro Nitrous Motorcycle
Pro Outlaw 632
Pro Street
Top Sportsman
Top Dragster
Bracket Bash
Q2
Juniors
Pros
TS
TD
BB

E1, if time allows
Pros
TS48
TD48
BB
– No JD eliminations unless time allows.