The PDRA is back in action at the Carolina Showdown presented by ProCharger at Darlington Dragway. It's the second race of the now-seven-race season, following the East Coast Nationals presented by FuelTech at GALOT Motorsports Park in late May.
Friday's activities include two qualifying sessions for the sportsman classes and three qualifying sessions for the pro classes.
PDRA announced earlier this week that a limited number of spectators will be allowed to attend this race. Tickets are available here. Fans watching from afar can tune in to the official event livestream via SpeedVideo.
Stay tuned to this page for qualifying results, news and more.
Extreme Pro Stock Q3
JR Carr fights his way back to the No. 1 spot with a 4.067, followed by Chris Powers with his 4.075 and Steven Boone with his 4.083, both from Q2.
Pro Nitrous Motorcycle Q3 is rolling through the water box, but we're off to the pits to start talking to the low qualifiers. Check back later this evening for the full Friday qualifying recap.
Pro Boost Q3
What a Pro Boost session! Jason Harris holds on to the No. 1 spot with an improved 3.674 in his ProCharger-boosted "Party Time" '18 Camaro. Randy Weatherford (3.678) and Johnny Camp (3.687) also stepped up to fill out the top 3. Full sheet coming soon.
Pro Nitrous Q3
A couple big moves to close out Pro Nitrous qualifying. First, Chris Rini records a 3.693. Then, Tommy Franklin is shut off on the starting line after sparks were spotted coming out of the rear of his car on the burnout. He was primed to improve on his 3.67 from Q2. Jim Halsey ended up firing off a 3.664 to qualify No. 1, followed by Franklin and Rini. Full sheet coming soon.
Pro Outlaw 632 Q2
Big moves in Pro Outlaw 632! Dillon Voss (4.267) and Walter Lannigan Jr. (4.271) hold on to the top two spots with improved runs, while Chris Holdorf slides into the No. 3 spot with his 4.283.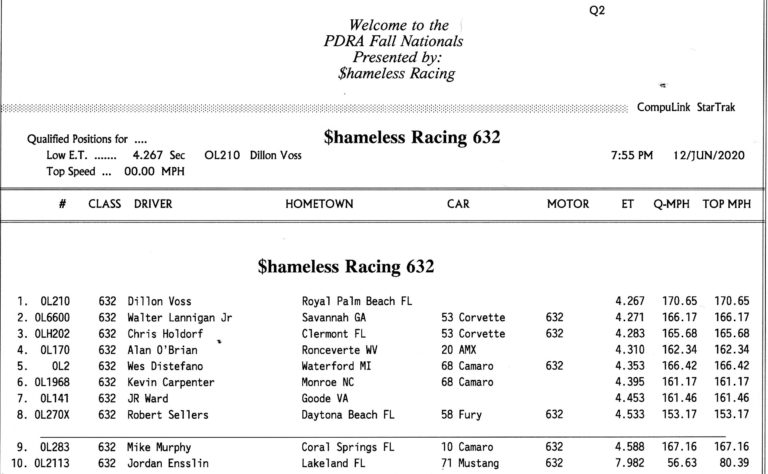 Pro Nitrous Motorcycle Q2
Chris Garner-Jones closes the session with a 4.054 to improve on his Q1 4.079, still holding the top spot. Defending world champion Travis Davis moves up to No. 2 with a 4.104, while Richard Gadson slides to the No. 3 spot with his 4.121 from Q1.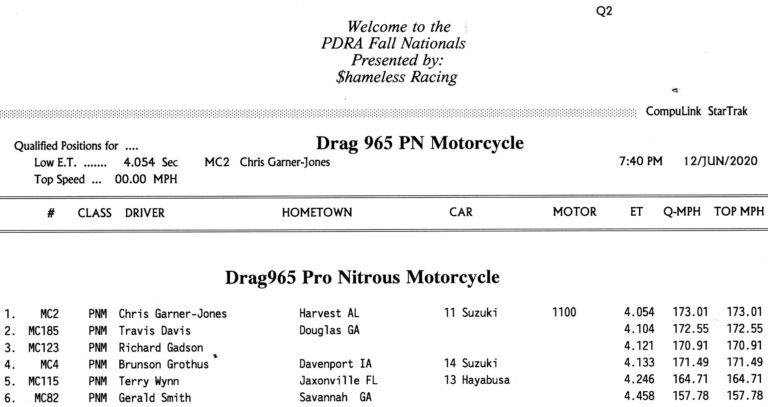 Extreme Pro Stock Q2
Chris Powers (4.075) improves to move up to the No. 1 spot, as does Steven Boone (4.083) to keep his No. 3 spot, while JR Carr slides to No. 2 with his 4.082 from Q1. Full sheet coming soon.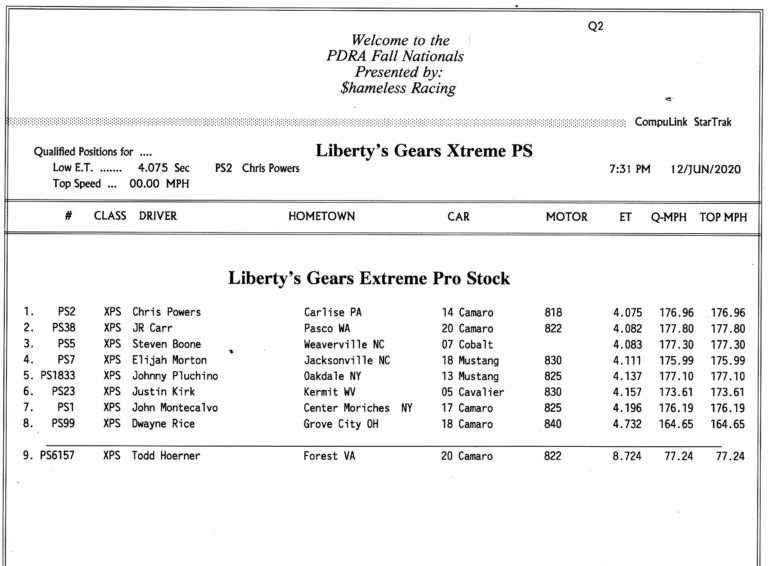 Pro Boost Q2
The ProCharger-boosted cars really stepped up in this session. Jason Harris (3.681), John Strickland (3.691) and Randy Weatherford (3.693) all improved to set the new top 3 going into the third and final session.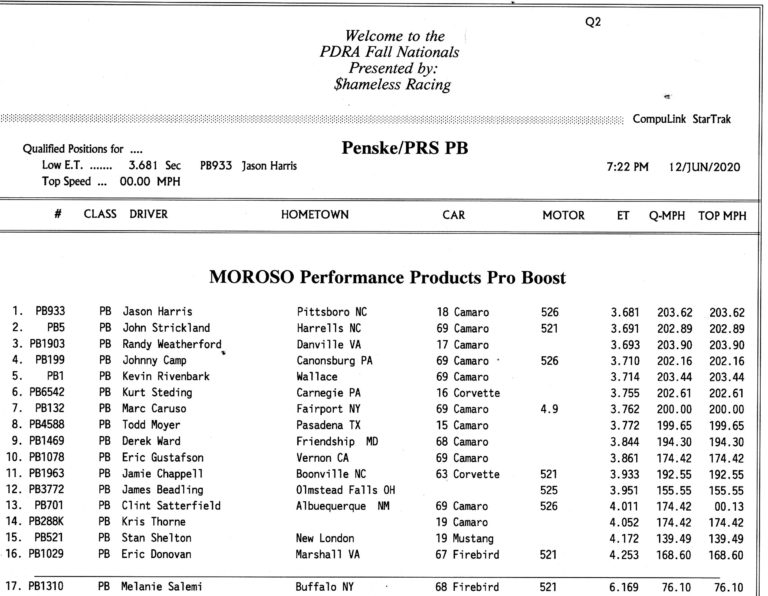 Pro Nitrous Q2
Two-time world champion Tommy Franklin absolutely dropped a bomb on the class with a 3.675 to jump to the top of the qualifying order to end the session. He went around Jay Cox, who laid down a 3.722 one pair prior to move past Jim Halsey's 3.724 from the first session. How about Pro Modified legend Charles Carpenter throwing down a 3.749 in his 908-powered '68 Camaro to sit in the No. 4 spot?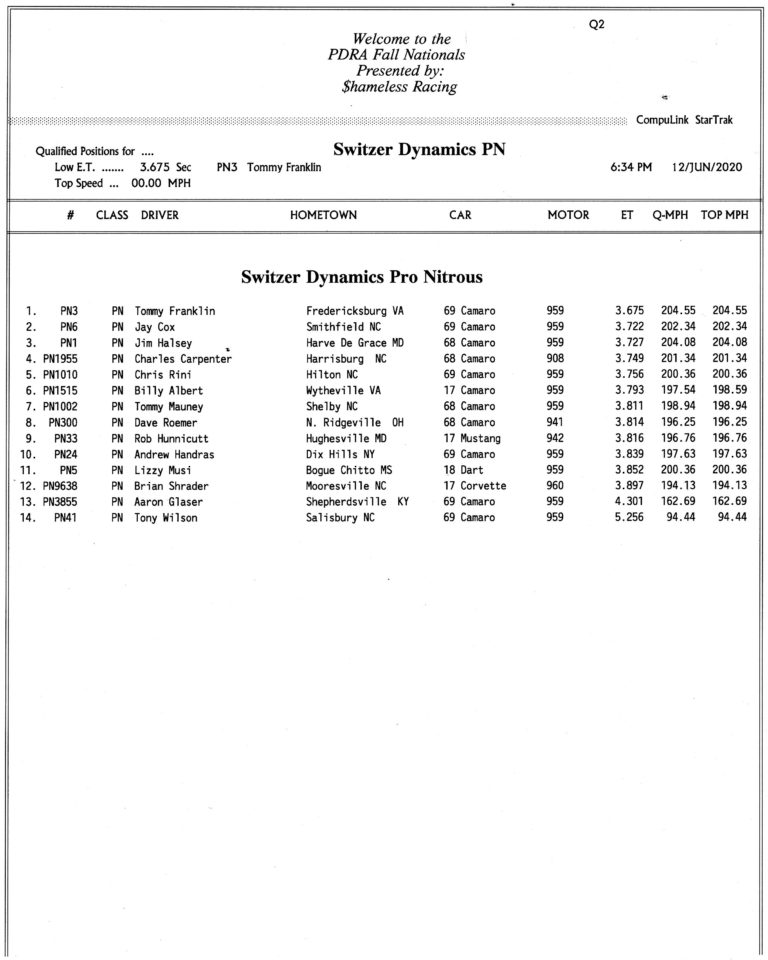 Top Dragster Q2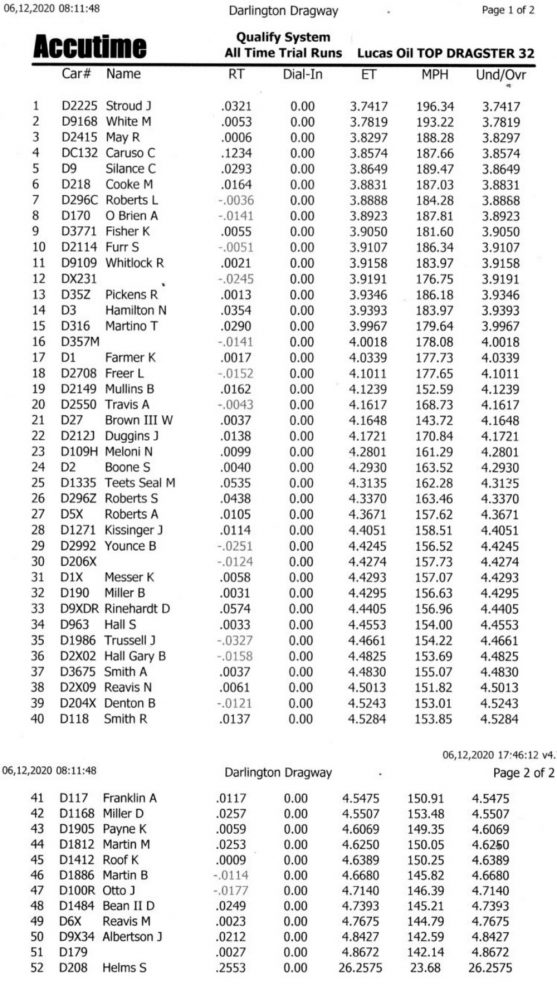 Top Sportsman Q2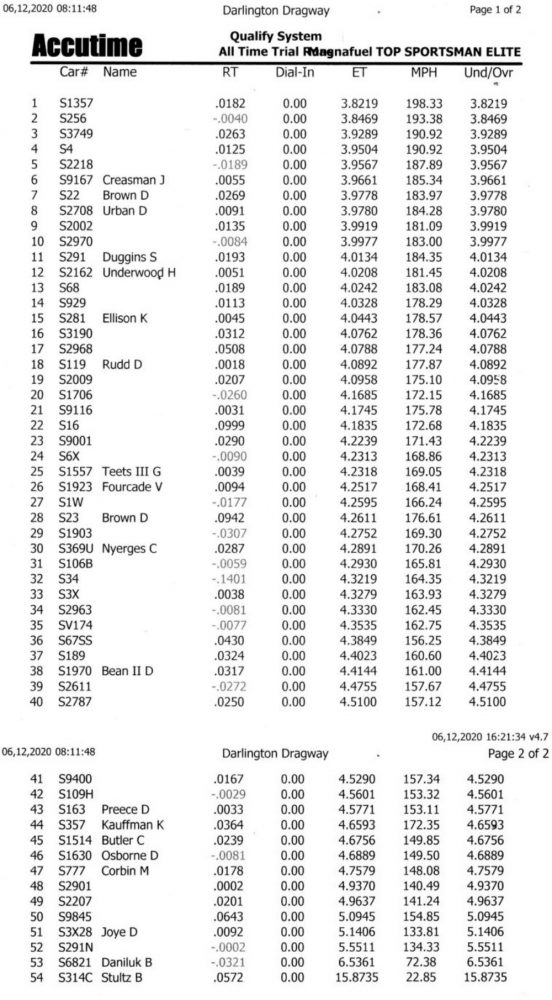 Pro Outlaw 632 Q1
Past world champion Dillon Voss gets down with a 4.29 to lead in Q1, followed by Walter Lannigan Jr. (4.313) and Alan O'Brien (4.324).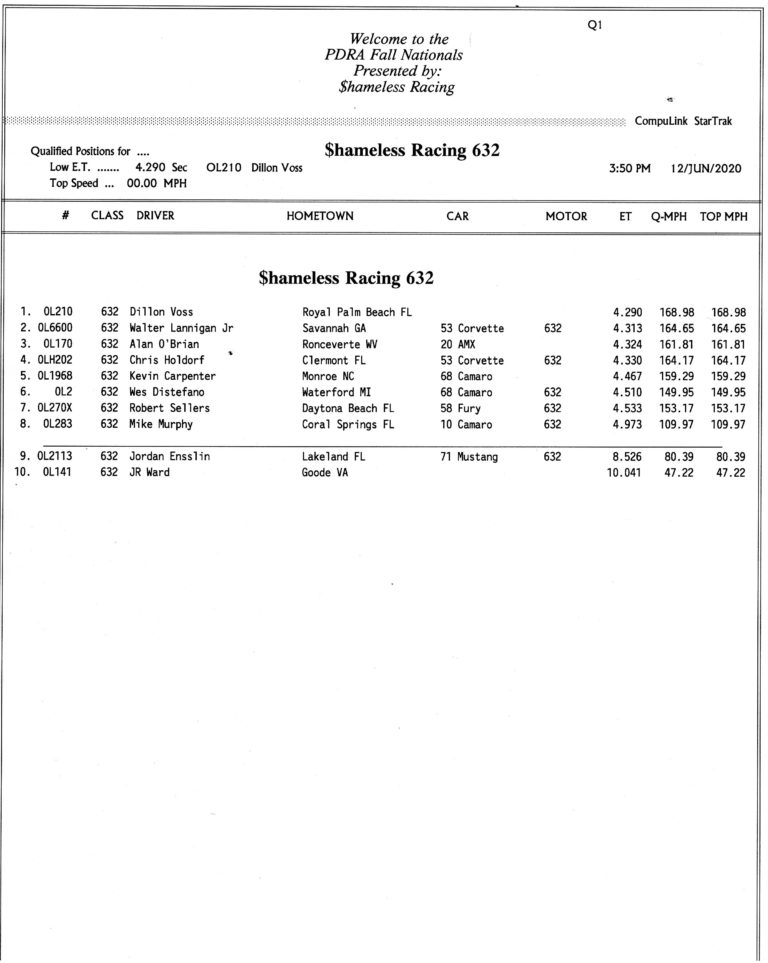 Pro Nitrous Motorcycle Q1
Really solid 4.079 by Chris Garner-Jones to qualify No. 1 in Pro Nitrous Motorcycle. Richard Gadson (4.121) and Brunson Grothus (4.217) were second- and third-best out of the six bikes that ran.
Extreme Pro Stock Q1
JR Carr in his new RJ Race Cars-built '20 Camaro threw down a smooth 4.082 to lead Extreme Pro Stock, followed by Elijah Morton (4.127) and Steven Boone (4.134).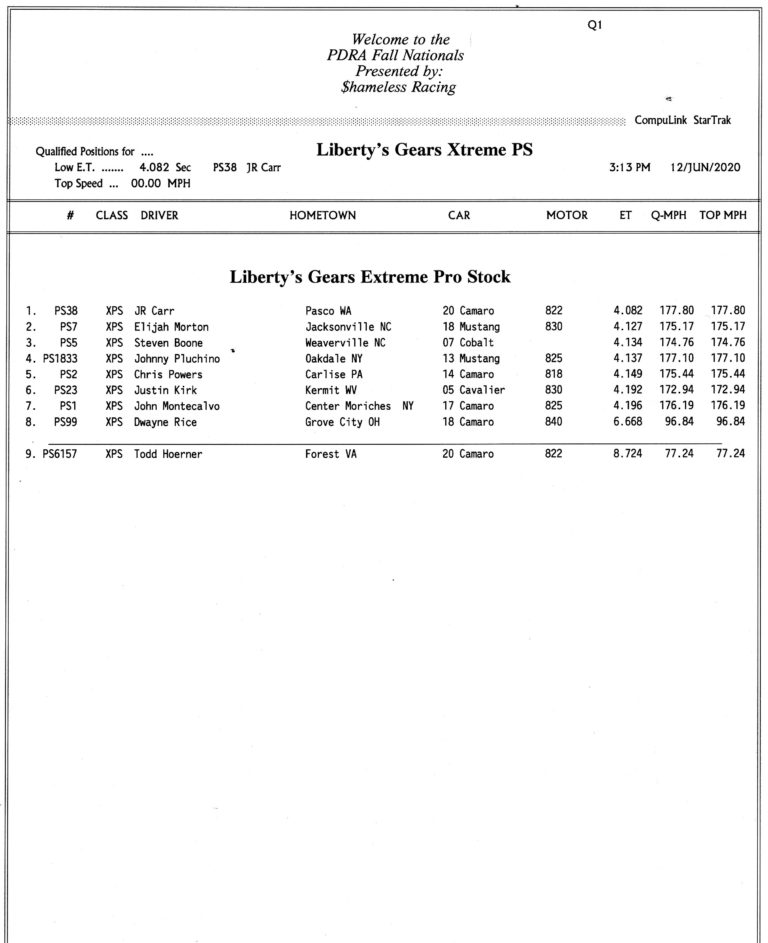 Pro Boost Q1
Johnny Camp, new to Pro Boost after switching from Pro Nitrous over the winter, shoots to the top of the Pro Boost qualifying order with his 3.71. John Strickland (3.724) and Randy Weatherford (3.73) round out the top 3.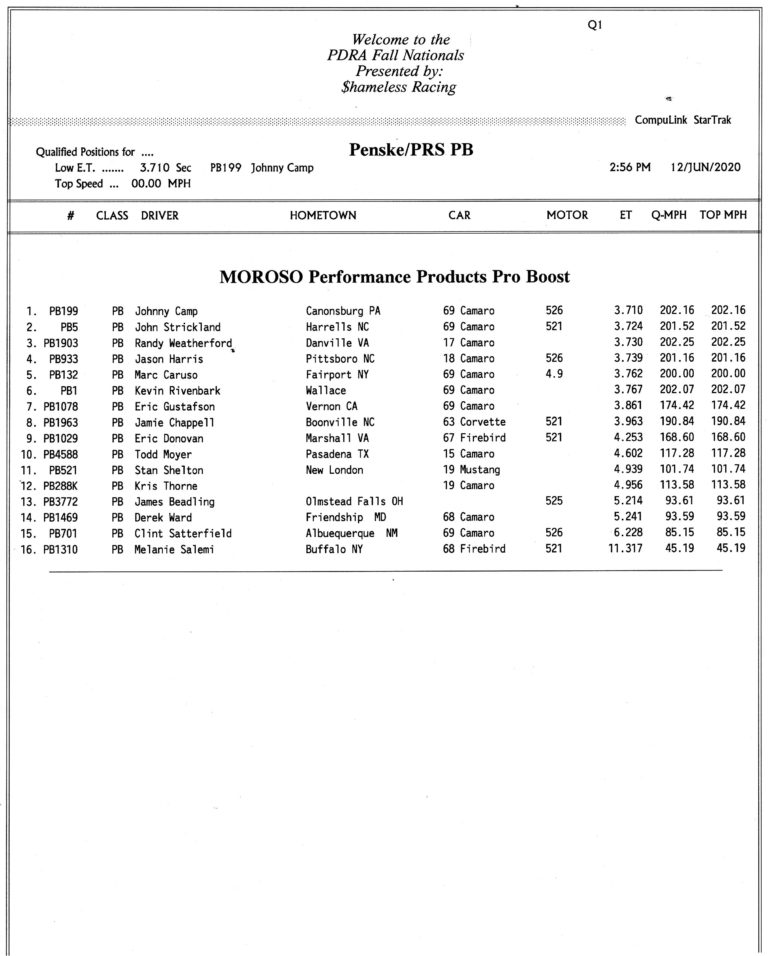 Pro Nitrous Q1
Jim Halsey and Tommy Franklin cap off the first Pro Nitrous session with a pair of low-3.70s. Halsey (3.72), Franklin (3.73) and Jay Cox (3.74) are the top 3.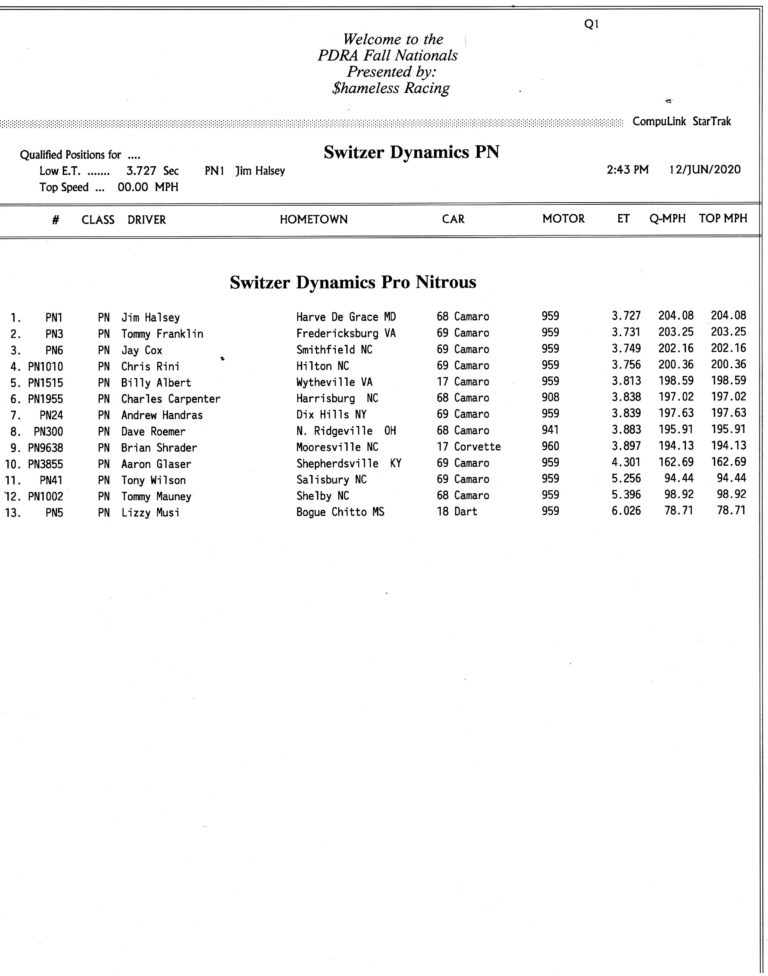 Pro Nitrous to the Lanes
Pro Nitrous cars have been called to the lanes for the first pro qualifying session. Pro Boost, Extreme Pro Stock, Pro Nitrous Motorcycle and Pro Outlaw 632 will follow in behind Pro Nitrous.
Pro Jr. Dragster Q2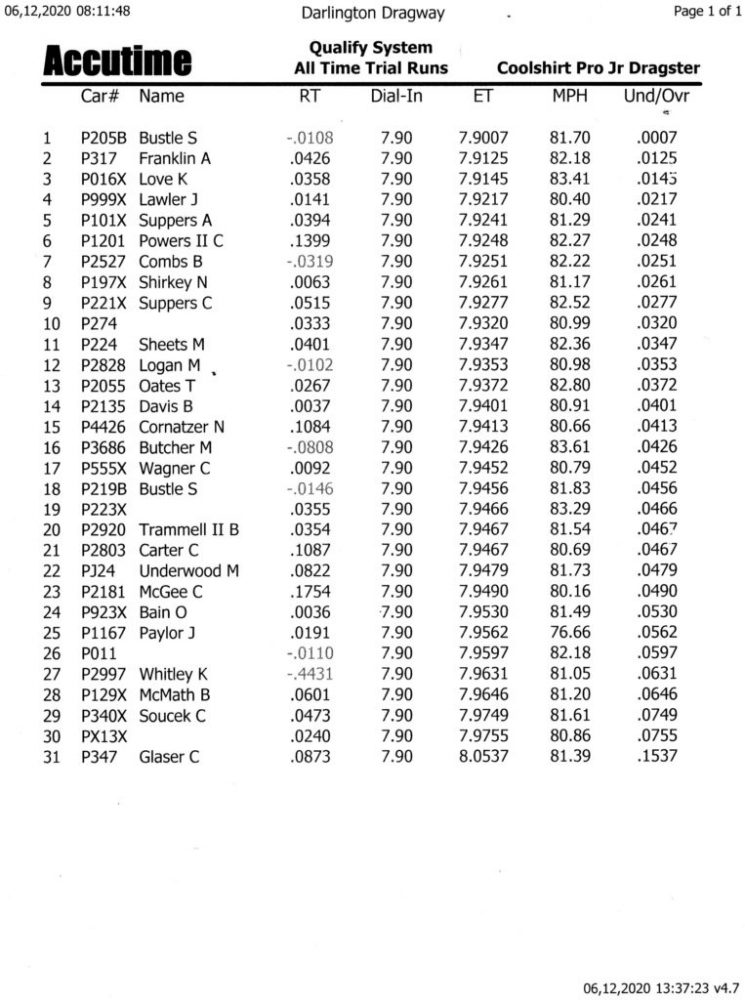 Top Jr. Dragster Q2
Top Dragster Q1
Top Sportsman Q1
Pro Jr. Dragster Q1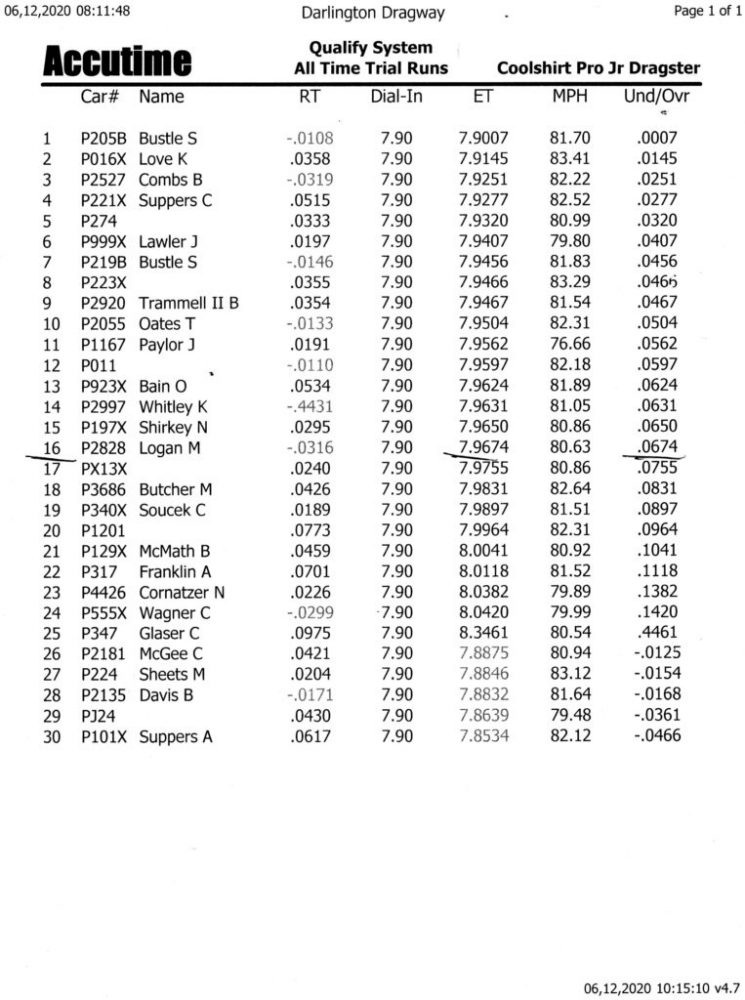 Top Jr. Dragster Q1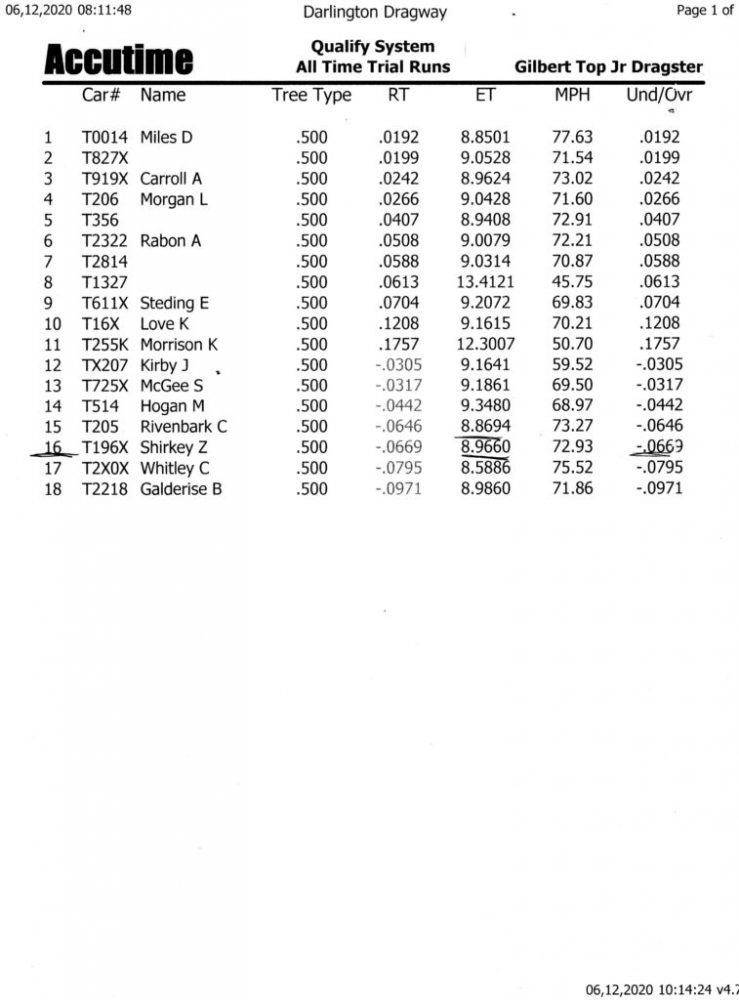 Friday Schedule