The world's quickest and fastest eighth-mile doorslammers head to Memphis International Raceway this weekend (Aug. 21-22) for the 2nd annual Professional Drag Racers Association (PDRA) Memphis Drags. Joining PDRA racers in four professional categories and four sportsman classes will be the Discovery Channel's Street Outlaws reality TV stars "Chuck," with his '89 Mustang in match races on Saturday against "BoostedGT" and his '95 Mustang. Additionally, "Daddy Dave" Comstock is expected to be on hand signing autographs as he continues to recover from injuries suffered in a recent on-track accident.
"We're excited on so many levels to be returning to Memphis. The track there is a first-class facility that's known for delivering record numbers and speeds, the staff is every bit as good as the track, and the fans treat us as well there as anywhere we visit all year," PDRA Race Director Bob Harris said. "Then, to have the Street Outlaws guys coming out to race with us, too? Well, all I can say is it's going to be one heck of a weekend to be at Memphis International Raceway."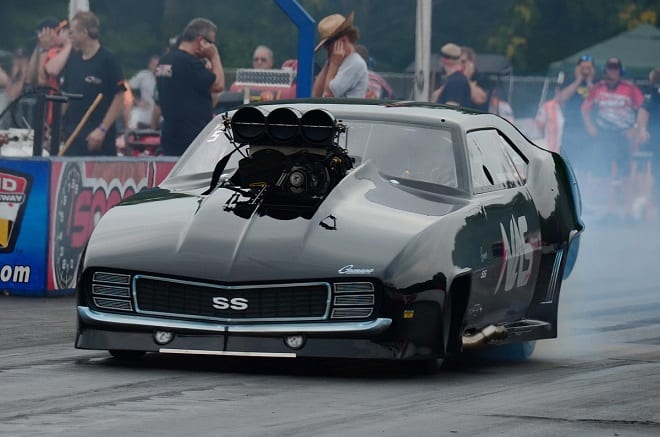 Including the Memphis Drags, only four PDRA national events remain this season in a planned 10-race schedule, so championship points races are heating up. Badir Ahli of Dubai, who won for the first time two races ago in Michigan, currently leads in the 3.5-second, 220-mph NAS Racing Pro Extreme class, with Mississippi racer and three-time winner this year Jason Scruggs close behind in second and season-opening winner Mustafa Buhumaid rounding out the top three. Last year in Memphis, Texas racer Randell Reid scored his career-first Pro Extreme win, but is still looking for his first race title in 2015.
The PDRA's season-long "Nitrous Wars" will continue in Memphis, too, where back-to-back defending NHRA Pro Mod champion Rickie Smith presently leads in Switzer Dynamics Pro Nitrous. Smith has two PDRA wins in the flame-throwing nitrous class this season, including at the most recent event last month in Maryland. In second sits Tommy Franklin, who visited victory lane at the season opener in Dallas, with "Stevie Fast" Jackson third and last year's Memphis winner and defending class champion Jason Harris currently fourth.
The Precision Turbo Pro Boost class features a mixture of supercharged and turbocharged entries with the points lead currently belonging to Florida's Kevin Fiscus in his twin-turbo'd, late-model Mustang. North Carolina racer Kevin Rivenbark is close behind in a supercharged 2015 Corvette, while Maryland winner Anthony Disomma from New Jersey is third with his twin-turbocharged '67 Mustang. Eddie Rogers won last year's Memphis Drags, but the Arkansas-based driver is 13th in points after entering only four events so far this year.
Closing out the PDRA pro classes is Drag 965 Pro Extreme Motorcycle, where defending race winner and 2014 champion Eric McKinney won the first three races this year, but is fending off a charge at the top of the points list by Chris Garner-Jones of Alabama, who won each of the last three races.
In the PDRA sportsman ranks, defending MagnaFuel Top Sportsman champ Dan Ferguson, who won the Dallas opener this year, continues to hold the points lead over veteran Ronnie Davis, while in Dart Top Dragster Justin Melton took over the lead from Craig Sullivan after winning the race last month in Maryland. Additionally, in the Huddleston Performance Pro Jr. Dragster class, Preston Tanner holds a practically insurmountable points lead, while Mia Schultz, last year's Memphis winner, heads up a much tighter race in Huddleston Top Jr. Dragster.
The PDRA Memphis Drags also will feature a kids' play zone on Friday and Saturday and a jet-powered Funny Car will close out both days' action with a thrilling exhibition pass to light up the night sky.
"The PDRA puts on a spectacular show, I promise you that," Harris stated. "There's great racing and something for everyone to enjoy. With the addition of Chuck and Boosted from the Street Outlaws show, I believe the PDRA Memphis Drags is going to be one of our most memorable events this year."
The 2nd annual PDRA Memphis Drags will open with all-day testing open to the public on Thursday (Aug. 20), with three rounds of qualifying beginning at 10:30 a.m. on Friday. One more qualifying session will begin at 11 a.m. on Saturday, followed by elimination rounds starting at 3:30 p.m. for all classes.
Admission on Thursday is $10, with Friday and Saturday at $30 each, but children 12 and under are admitted free each day. Discount coupons for the PDRA Memphis Drags also are available at many retailers and commercial outlets in the Memphis area, or reduced-rate coupons can be printed from the PDRA web site at www.pdra660.com/2015/memphis/coupon/. Spectator parking is free.