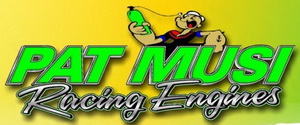 Officials from the American Drag Racing League announced Jan. 28, that legendary Pro Mod racer and engine builder Pat Musi's company, Pat Musi Racing Engines, will post over $38,000 in contingency for ADRL racers using one of his engines in their race car during the 2013 season.
"I will be at every ADRL event to support and help my customers," Musi stated.
"I'm taking a year off from driving so that I can dedicate myself to my engine program and my customers. I'm especially looking forward to working with my customers in the ADRL Top Sportsman and Top Dragster classes since my daughter will be competing in the ADRL Top Sportsman division."
Among the ADRL racers using Musi engines are Rickie Smith, Robert Patrick and, of course, his daughter, Lizzy Musi.
Pat Musi Racing Engines has moved from New Jersey to a new shop at 379-B Timber Rd. in Mooresville, NC 28115. Phone 704-664-7051. A new website is coming soon at www.PatMusi.com.
(Photo by Ian Tocher; Click to enlarge)