Former NHRA J&A Service Pro Mod Drag Racing Series world champion Von Smith is simply happy to be back racing again.
After not racing in 2015, Smith is back behind the wheel of the Al-Anabi Racing Chevrolet Camaro this year, and will compete at his home track during this weekend's NHRA J&A Service Pro Mod Drag Racing Series portion of the NHRA Thunder Valley Nationals at Bristol Dragway.
Smith picked up his first round win of the season last weekend at the Summernationals in Englishtown, N.J., showing signs that things may be rounding into form after an understandable slow start.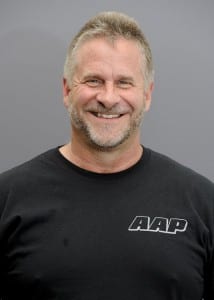 "It is exciting," said Smith, who is currently ninth in points, "For the first three races, we were just trying to get a round win and we just struggled to get everything going. We're going to try to build off whatever we can this year. Everybody is on the same page and when we find what's going to work, watch out."
The NHRA Thunder Valley Nationals marks the fifth of 10 races in the class. All 10 events this season will air on FOX Sports 1 (FS1) and FOX Sports 2 (FS2). Rickie Smith, the current points leader with two victories thus far in 2016, is the defending event winner.
Von Smith holds a win at Bristol in 2010, the same year he claimed the NHRA J&A Service Pro Mod Drag Racing Series championship. He might not be thinking championship yet, but he is excited about the potential of his 2016 Camaro.
Smith received confirmation from Al-Anabi Racing and team owner Sheikh Khalid Bin Hamad Al-Thani that he would be driving for standout crew chief Frank Manzo about a month before the season started. It has been a work in progress since that call in mid-February, but Smith has no doubts Manzo's expertise will lead to quick improvements.
"Racing with Frank is a gift in itself," said Smith, who has six NHRA J&A Service Pro Mod Drag Racing Series victories. "He's frustrated with the car right now and what it's not doing, but this is the best team available and I'm very fortunate to drive with them. I'm very thankful to be in the position I'm in right now. I have to give thanks to KH (Al-Thani) and Frank for allowing me to be part of this team."
The goal, though, is to perform at a high level and Smith seems to be closing in on that. He qualified third in Houston with a 5.802-second pass at 249.12 mph and followed that up with his first round win of 2016 in Englishtown.
The next step is building consistency in a class loaded with talent. That will again be the case in Bristol, where Smith will face off against the likes of Rickie Smith, Bob Rahaim, Bill Glidden, Danny Rowe, Mike Castellana, Jim Whiteley, Kenny Lang and two-time world champion Troy Coughlin, who won last weekend in Englishtown. But Von Smith loves the intense competition in the class and believes it brings out the best in his abilities.
"It's like an additional adrenaline boost going against all these great drivers," Smith said. "When you come out on the good end of it and beat the best of the best, you feel really good. There's so many good drivers and it's that competitive week in and week out."
Racing at Bristol Dragway also provides an extra thrill for Smith, who lives less than two hours from the picturesque track. It's been home to plenty of special memories and Smith would love to create one more in front of a big crowd of family and friends.
"We'll probably have 50 family and friends there," Smith said. "That always means some added pressure, but it also makes you rise to the occasion as well. We just don't want to beat ourselves. I look forward to being close to home. You want to always do well at home, but I just look forward to get back to racing."
NHRA J&A Service Pro Mod Drag Racing Series qualifying begins Friday, June 17 with qualifying sessions at 4:30 p.m. and 6:45 p.m., continuing with the final qualifying session on Saturday, June 18 at 12:45 p.m. Round one of eliminations is later on Saturday at 3:15 p.m.