I thoroughly enjoy when my On the Road gig unearths a gem of American history as I trek across the country. Last month, I struck presidential gold as my travels landed me in Charleston, Illinois, and while the bulk of this column will, of course, be devoted to my first-ever visit to Charleston's own Coles County Dragway, I wanted to briefly touch on a significant event that took place exactly 108 years before they broke ground on this NHRA-sanctioned eighth-miler.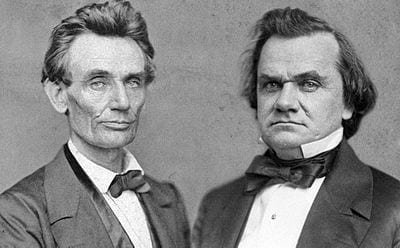 A few miles from the drag strip you'll find the Coles County Fairgrounds, which predates the Civil War. In 1858, a young senator named Abraham Lincoln famously debated the incumbent senator, Stephen Douglas, before an assembled crowd of nearly 12,000 people who had gathered at the fairgrounds. This wasn't the future president's first visit to Charleston, though, nor would it be his last. When Lincoln's father relocated here from Indiana years earlier, a young Abraham Lincoln helped his father move. According to history, Lincoln's last visit to Charleston was in 1859, when he visited the graves of his father and stepmother. It's amazing to realize that this was still such a primitive time our country's history, although the next 100 or so years would usher in an amazing change to the American way of life.
That change is celebrated in many ways, perhaps none more enjoyable than the invention of the automobile, followed by the notion to race them! Therefore, a short distance from Lincoln's famous debate site, you'll find a nifty little drag strip nestled in the woods. When I say it's rural out here, believe me, the lay of the land hasn't changed a whole lot since Lincoln last visited! In fact, when present track owner Rod Viehland first came here to race his car, he was fairly certain he'd made a wrong turn. Viehland and his crew chief arrived on a Saturday night in anticipation for Sunday's race. As the gravel road snaked its way through the woods, they came upon a narrow wooden bridge, which they refused to cross. "My partner says, there's no way there's a drag strip out here!" recalls Viehland.
The two decided to put the rig in reverse and back right out the way they came, electing to spend the night in the parking lot of a local business. To their amazement, they awoke bright and early to the sound of bustling race car haulers barreling past them down the gravel road. They followed the other rigs across the bridge and held their breath as they nervously glanced down at the rushing water below. "The Army Corps of Engineers actually came out and inspected the bridge back in 2011 and it was deemed one of the sturdiest structures in all of Coles County," Viehland laughs.
Years earlier, it was actually the Armed Forces that played a role in Viehland becoming reacquainted with drag racing when he was stationed in Hawaii during his service in the Air Force. "I grew up in Missouri, racing at all the local tracks near St. Louis, and then when I went to Hawaii there was a guy in my squad who was in the points chase at Hawaii Raceway Park, and so I tagged along to watch him and ended up getting a race car two weeks later," Viehland says.
After Viehland retired from the Air Force and later Lockheed Martin, he relocated to Missouri and immediately started looking for a drag strip to buy. His search led him to Charleston, Illinois, where his most vivid memory was crossing that narrow bridge years earlier. The then-track owner explained to Viehland that Coles County Dragway was on the verge of shutting its doors, and promised he'd make Viehland a "honey of a deal" if he'd buy it.
As you may have guessed, this modest facility is free of frills, although Viehland and his wife, Donna, take extreme pride in the track's presentation and polish it relentlessly. When they first bought the track in 2011, only two of the 39 lights in the pits were operational, and of the 22 speakers on the property, only one had juice. It was an uphill battle to get the place opened their first year, and the track lost money the first couple seasons, although it's managed to eke out a minuscule profit in later years. "The best year ever," Rod begins, "the track managed to make a $4,000 profit."
The racers who assemble here from week to week are a tight-knit group, and at the top of the staging lanes you'll find multiple billboards that recognize the accomplishments of racers from all eras, as well as the history of Coles County Dragway. There's also a pair of billboards titled "In Memory Of," which lists racers who have passed on. I inquired about several listings on the Memorial Board that only had first names. Viehland's voice was awash with emotion when he explained that "Jack" and "Zeus" were racer's pets that had died.
I soon realized that Coles County Dragway represents much more than just a place to gather and race cars. People through the years have raised families here, broke bread together, cried, laughed and celebrated friendships to the fullest. Sometimes when they gather for their season-ending event, it's too cold to even race, so they'll just spend the day together and fellowship. The Viehlands will get a big-screen TV so the kids can watch movies in the tower, while the adults sit around a warm camp fire. As time marches on, the track finds itself in the middle of its 52nd season. It's had some lean years, but it continues to forge ahead with gritty determination.
If you ever visit Coles County Dragway, you might describe the place as honest and genuine. I like to think it's a little slice of America that would surely get the stamp of approval from a distinguished gentleman who visited this town way back when.
This "On the Road" column originally appeared in DI #135, the State of Drag Issue, in August of 2018.