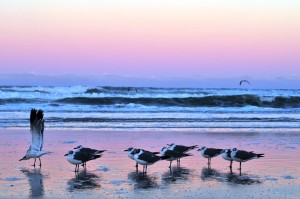 By Van Abernethy
Every now and then someone will ask what I do during my "off season" from following drag racing all across this great land of ours.
Well, let's see, during my most recent off season I put up a Christmas tree, went to Pigeon Forge, Tennessee, for our family Christmas trip, came home and took down said tree. That's pretty much my entire off season activities in a nutshell…and it lasted a total of three weeks from start to finish.
Typically, my last race of any given season is the ultra-fun Snowbird Nationals, held in Bradenton, Florida, on the first weekend of December, but this year I found myself still on the road during the second weekend of December as well. The weather was so beautiful down in South Carolina that the tracks in Darlington and Orangeburg were still testing, tuning and grudge racing right on into mid-December, so how could I pass that up?
But after one final grudge event at Orangeburg came my "off season," which passed in the blink of an eye, as you may have guessed.
I hit the road again the very first weekend of January, traveling to the 26th annual Winterfest at Kinston Dragway in eastern North Carolina. Despite the success of this legendary bracket race—which attracts well over 200 cars during decent weather—Winterfest is a tricky ordeal to pull off because of January's unpredictable nature. The first Winterfest I tried to attend was in 2011 and the event was ultimately canceled due to rain, sleet and a legitimate threat of snow. Last year, however, Winterfest couldn't possibly have been any better and the weekend was greeted with sunny skies and temperatures in the 70s. It was a complete reversal from a year earlier, but hey, when it's the first week of January the weather could do almost anything!
Up until last year's running of Winterfest Kinston was a track I had never been to, even though it's in my home state, which has a total of 20 active tracks. Regardless, when I was finally able to make it down there, I enjoyed the opportunity to sit down and visit with longtime Kinston Dragway owner Bobby Smith, who has seen all kinds of eras come and go since taking over in 1977. Most notably, he spoke of contracts struck by way of a man's good word and deals sealed with a handshake. He's also seen many different economic environments over the last 36 years, including the boom of 1999 when 440 cars somehow squeezed into the Kinston pits for Winterfest.
So it had been exactly one year since I had come this way and heard the entertaining stories that only Bobby could give justice, so I felt it was only fitting to make Winterfest my first race of 2013. The weather was rather dicey, however, with Saturday being a bit chilly, while an unexpected rain shower canceled the event on Sunday, thus reducing Winterfest 2013 to just a single day of racing.
The following week, I was right back on the road, this time for an indoor/outdoor gathering called the Southern Racing Expo at the Cumberland County Fairgrounds in Crossville, Tennessee. I learned of the expo largely by accident when I visited the web site of I-40 Dragway (also in Crossville) to find out when the track was opening for 2013. In addition to the racing schedule I was seeking, the site also invited everyone out to the expo at the fairgrounds. As it turns out, the event was started four years ago by the Howe family; who has owned I-40 Dragway since 1992. The expo features a swap meet and car corral, as well as hosts the yearly racers' awards banquet for I-40 Dragway points winners.
But the expo is not limited to drag racing, stresses Jim Howe. It incorporates all forms of motorsports and Jim expects it to continue growing in popularity and size. This year's event brought out many racers and fans looking to pick up a few hard-to-find parts at the swap meet, or wanting simply to mingle and talk a little racing during the cold days of the year's first month.
I have to admit; by the third weekend of January I was ready to head into the deep south of Florida to experience the nitro-burning excitement of Palm Beach Raceway's Pro Winter Warm-up. If ever there was an event that's truly caught fire in a short amount of time the Pro Winter Warm-up would certainly qualify. What began four years ago as a private winter test session for the NHRA Top Fuel and Funny Car stars, was opened up to the public the following year after Palm Beach Raceway officials recognized a huge marketing opportunity to serve up a laid-back, 300-mph event package to NHRA-starved fans in south Florida. After all, with the exception of Gainesville's national event, the Pro Winter Warm-up at Palm Beach is the only opportunity to witness nitro-burning machines in the entire state, so it's no wonder the event has completely exploded in popularity.
For me, just visiting the state of Florida in January is something to celebrate—even without the Pro Winter Warm-up—but hey, what an awesome bonus! Much like Kinston's most recent running of Winterfest, however, day one of the Pro Winter Warm-up went off without a hitch, only to be rained out on day two. The south Florida fans came out in large numbers—even during Saturday's washout—but the weather simply wouldn't cooperate for two straight days.
So, with my third event of 2013 officially, yet prematurely over, I aimed the DRAG ILLUSTRATED Sprinter north on Sunday afternoon, making a quick stop at Daytona Beach before leaving the Sunshine State. After walking beside the ocean for awhile and snapping a few scenic photos, I then cruised for a few miles up the coastal highway as the sun slipped out of sight. It's probably my favorite stretch of road on earth, and since I don't make it to Florida but a few times a year, it's hard to pass up the experience.
As I write this first column of 2013 it's easy to see this year will be flying by as quickly as any I've seen. After only a month, already I feel as though I could use a vacation; which is not all that surprising, I guess, since my "off season" was only three weeks long!