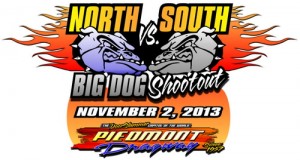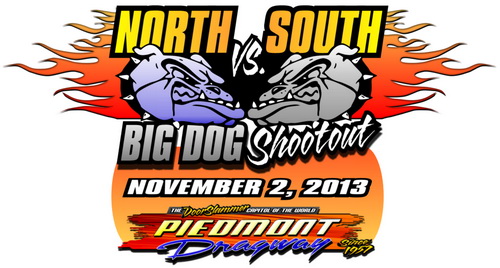 The North vs. South Big Dog Shootout, one of the most popular events in the long and storied history of Piedmont Dragway, is set to resume Nov. 2-3 this year.
Previously featured on Powerblock TV's HorsePower TV hosted by Joe Elmore, this year's edition promises to be no less exciting with a slightly different format as drivers compete in a team format.
Big Dog competitors will consist of the top five points earners in 2013. Cars from the NEOPM group will consist of 4 cars with an alternate. As it stands now, the Big Dog cars would be driven by Danny Perry, Chris Rini, Matt Giangrande, Jason Harris, and Travis Harvey. With only two events in the books, this will surely change but looking at this group, what stands out is that ALL are nitrous cars.
The NEOPM group prides itself in having a diverse group of cars with blowers, nitrous, and turbo, but association president, John Massorana says the group normally competes on ¼ mile tracks, so the famous 1/8 mile at Piedmont will present challenges to the blower and turbo cars. John's group consists of 58 members with 44 active from which to choose.
Similar to regular Big Dog competition, each car will receive 2 shakedown runs but under the team concept, first round will feature competitors paired by team captains. Each team will then receive 2 points for each win with a bonus of 1 point going to low ET of the round, regardless of win or lose.
The team behind in the 2nd and 3rd round will be able to choose competition first with the tie breaker after 3 rounds being a runoff featuring cars of each team captain's choice.
Winners will split $10,000 and losers will split $5,000.
For more information on this event, contact Piedmont Dragway's Kevin Shipmon at (336) 449-7411 or John Mazzorana of NEOPM at (516) 857-3120.