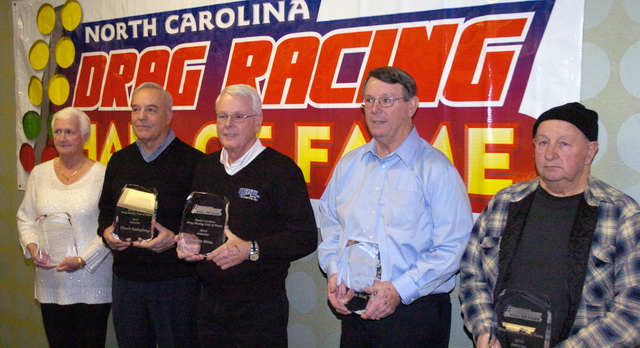 What began as just a thought by former Piedmont Dragway owner Jim Turner has become a southern tradition with the seventh class of inductees to the North Carolina Drag Racing Hall of Fame. Each year, past inductees also are invited back, with most making the trip to an event honoring their contribution to North Carolina's rich history of drag racing.
In addition to personalized trophies, each inductee received a custom jacket that declares "NC Drag Racing Hall of Fame-MEMBER," in recognition of them joining an elite class of racers recognized throughout the drag racing community.
This year's honorees included past Pro Stock driver Lynwood Craft, 1984 NHRA Super Stock World Champion and U.S. Nationals winner Chuck Gallagher, two-time IHRA Pro Stock World Champion Lee Edwards, speed shop owners and brothers Steve and Mike Heintz, and Nitro Harley motorcycle racer Jim McClure (deceased). Additionally, the Jeff Byrd Memorial Lifetime Achievement Award went to Larry Wright, the long time voice of Shuffletown Dragway and Mooresville Dragway.
The 2013 induction ceremonies, held Feb. 2, during the Shriners' Hot Rod and Drag Expo in Greensboro, featured opening remarks by Rockingham Dragway owner and president Steve Earwood, who commented on the state of the sport and the nation in general. Presenters included Mark Joyce, Jim Turner, former inductee Bobby Warren, East Coast Drag News Editor David Bishop and Top Fuel Harley racer Jay Turner.
2013 North Carolina Drag Racing Hall of Fame inductees:
LYNWOOD CRAFT
At the tender age of 17, Lynwood started racing in a Chevy switching to a 'streamlined' Ford shortly thereafter. Working at T&G Speedshop, this worked out well until being outrun by a co-worker in a 1962 Dodge factory race car. This prompted Lynwood to later own a '68 Hemi Dart and then a '74 Duster that was run in Super Stock which later was changed to a Lenco and became one of the very first to use this new style of transmission in competition in our area. Becoming familiar with the Lenco resulted in Lynwood's becoming the terror of Roanoke Drag Strip and winning 21 races in a row at historic Piedmont Dragway. Later competing in Pro Stock against the "name" drivers of the day saw Lynwood lining up against such drivers as: Don Carlton, Ronnie Sox, Harold Denton, Lee Edwards, Don Nicholson, Billy Stepp, Bob Glidden, Bill Jenkins, as well as local favorites, PeeWee Wallace, Malcom Durham, and later Dick Landy and the Ramchargers. Purchasing one of Don Carlton's original Colts in 1977, this one still survives today and is still "race ready" according to Lynwood's acceptance speech. That's Lynwood Craft, 2013 inductee.
CHUCK GALLAGHER
Beginning in 1967 with the family '64 GTO in C/Stock, inductee Chuck Gallagher started a sportsman racing career to carry him to many parts of the country but still ending up calling North Carolina "home". Beginning with help from Charlotte buddy, Roy Davis and power from fellow inductee, Bobby Warren, Chuck spend several years working at drag racing at tracks like Shuffletown and Mooresville Dragway. Breaking out in 1973, Chuck won 3 IHRA National events in Super Stock and continued in '74 winning the spring IHRA Rockingham event and the NHRA Gatornationals in Gainesville, Florida. The latter event win being super sweet as the field consisted of factory MOPAR drivers. Chuck was runner up in '74 to Dodge racer Bob Marshall of Ohio and by '79, had won 3 IHRA Super Stock National events and several NHRA and IHRA regional races. While in Michigan,working for Chevrolet as a Quality Assurance Engineer, Chuck won: 3 NHRA North Central Division Championships-'81, '82, and '84; Top Sportsman Driver Award '84; 8 – Top 10 National Points finishes; NHRA Super Stock World Champion 1984; 3 national-event wins (including the 1990 US Nationals).
LEE EDWARDS
If there were a space in the dictionary for "independent racer" then "General Lee Edwards" would surely be pictured on the page. Working out of his shop in Calverton, Virgina, Lee won his first IHRA Pro Stock event in Lakeland, FL in a Camaro that he built, maintained and drove. Still working from the same shop some 40 years later, Lee is continuing to do, not only drag racing motors but is adept in motors for many of the top Truck Pullers in the sport. Capturing 12 IHRA Pro Stock wins along his way to winning the championships in 1977 and 1978, Lee became IHRA Grand Champion in 1977, amassing more points than the winner of Top Fuel or Fuel Funny Car. With only limited sponsorship Lee met and defeated the big name drivers of his day with usually only wife Tish helping and good luck charm "Junie Moon", Lee is the true definition of a self made champion.
HEINTZ BROTHERS, STEVE AND MIKE
Our next inductees, brothers Mike and Steve Heintz, have become the go to guys for parts at North Carolina tracks for 30 years plus. Starting with a store in Statesville, NC, the brothers made a name for themselves by, not only sponsoring most every track, some way or another, but building some of the most competitive engines anywhere. But the racer knows the name Heintz for being there when no one else would with gas, parts, engines, or tires. Tracks from Virginina to deep into South Carolina and everywhere in between have benefitted from help from these two southern gentlemen.  Brother Steve joined Mike in the operation in 1978, and, as they say, the rest is history. With a new store not far from Charlotte Motor Speedway and parts trailers running up and down the road, it was time for Steve's son Scott to come in and help, along with long time friend and competitor Johnny McGuirt. Building a business on honesty and trust has helped them make friends and customers such as Ham Smith, Carl Weisinger, Butch Williams, Mickey Summers, Wayne Dollyhigh, and John Livingston, as well as Ollie Stephan in California and Emmett Mikowski in Texas and the 2012 NHRA Divison 2 Super Stock Champion, Jimmy Wilson.
JIM MCCLURE
Given the choice of working in a saw mill in West Virginia or joining the military, Jim chose the Air Force. Ending up at Langley Air Force Base, in Virginia, Jim ended up doing part time work for Newport News Harley Davidson, and the rest is motorcycle drag racing history. A chance trip to the ER led Jim to his partner and wife Phyllis, an ER nurse. The two were never separated. This companionship led Jim to the local dirt drags, where great success led Jim to go on to "the blacktop" with continuing success. Though we lost Jim on May 1st, 2004, after a long battle with the results of two accidents, Jim's contributions to motorcycle drag racing were to have lasting importance for all competitors since then. These accidents led to the "safety strap" (a strap that wraps around the engine from front to back holding it together and not allowing the engine components to lift upwards into the frame, or into the chest of the rider) and the "chest protector" (the racers' version of a bullet-proof vest). These are two of the most important safety devices in use today for those brave enough to ride a Top Fuel Harley. Being from Virginia did not stop Jim from  success in North Carolina with race wins at Farmington, Piedmont, Rockingham, and Mooresville dragways. During a career that resulted in 19 National Championships, Jim had an amazing win streak of 21 races in a row from 1990-1991. Developing the Overkill engine for the Top Fuel Harley crowd led Jim to proclaim "I raced a Harley when Harleys weren't cool". His natural talent and innovations will be sorely missed by this tight knit group, known proudly as "Top Fuel Harley" racers.
Last, but not least, the Jeff Byrd Memorial Lifetime Achievement Award went to Larry Wright. Though confined to a wheelchair due to diabetes, Larry closed the ceremony with his famous quote" I need two more in the water box."