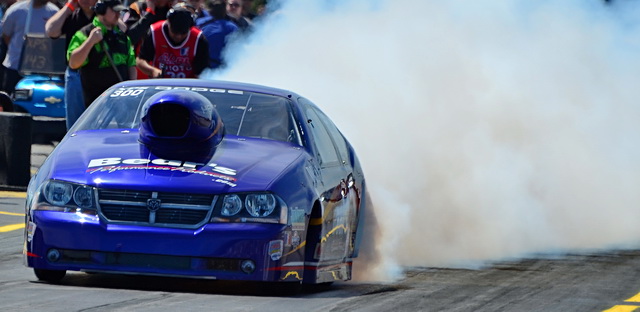 Vincent Nobile may have an off weekend from the NHRA Pro Stock class, but that doesn't mean he won't be behind the wheel of a race car this Friday through Sunday.
Nobile, driver of the Mountain View Tire Dodge Avenger in the NHRA series, will handle the driving chores for the O'Brien Brothers this weekend (June 7-9), in their Bear's Performance Products 2010 Avenger Extreme Pro Stock entry (above) for the Simply Phones ADRL U.S. Drags VI at Virginia Motorsports Park, near Richmond. It will mark his first ADRL racing experience.
No stranger to the mountain-motored class, Nobile grew up in IHRA Pro Stock pits, where his father, John, was a top competitor throught the '90s and into the 2000s. He will be making his first test laps in the O'Brien car on Friday, with qualifying and racing to continue Saturday and Sunday.
(Photos by Ian Tocher)