Since 2008, the factories have been turning out drag-spec muscle cars in low volume with the sole purpose of class drag racing. It began as a throwback to the '60s era programs that carried names like "Cobra Jet", "COPO" and "Drag Pak", but has since evolved into modern warfare for drag strip supremacy. For 2016, the NMCA muscle car drag racing series is bringing these factory super cars together to single out the king of the hill — where Ford, Chevy, and Mopar can throw down in a 160mph slugfest on the 1,320.
The new Factory Super Cars class is a heads up class that will be battling it out at all six 2016 NMCA events and a champion will be crowned during the NMCA Awards Ceremony. The class winner and runner-up are included in the NMCA Pro Contingency program at every event, along with trophies and payouts as part of the NMCA Aerospace Components Winners Circle.
"When we re-introduced the COPO for the 2012 racing season, we knew it would just be a matter of time until we had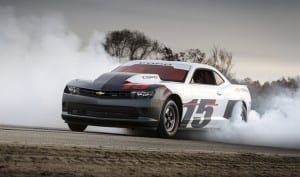 the chance to race the Cobra Jets and Drag Paks in a heads up race," said Curt Collins, COPO Marketing Manager. "NMCA is bringing this to the track not only for the manufacturers, but for racers and fans. This new class is going to crown the 'King of the Quarter Mile'."
Dale Aldo, Mopar Motorsports Marketing Manager said, "Heads up racing is always exciting, and when paired with Mopar Challenger Drag Paks it becomes special. We look forward to following this new race series and wish the series and racers a great 2016 inaugural season."
"Ford racers are highly competitive among themselves, but nothing brings out their highest performance like racing against our cross-town competitors," said Jesse Kershaw, Ford Performance Drag Racing Parts and Competition Manager. "It will be the first time all three brands are mixed up for an all-out fight to get to the finish line first."
The rules for the NMCA Factory Super Cars class are consistent with traditional supercharged combinations, including the most recent ones that utilize a 2.9L Twin-screw supercharger. The naturally aspirated engine packages are also included but given a significant weight break to help speed up those entries to keep up with the blown combos. Factory Super Cars class rules can be found here: http://www.nmcadigital.com/cat/rules_purses/docs/nmca/2016/fsc.pdf
"We've had several Cobra Jet Showdowns in both NMCA and NMRA events and we've seen plenty of COPO Camaros and Drag Pak Challengers enter some of the Index classes in NMCA," said Rollie Miller, NMCA General Manager. "To have all these specialty racecars in one class and to do it heads-up for the first time is going to be a whole lot of fun for racers and spectators alike."
The class fits right into the existing NMCA program that already includes its share of thrilling heads-up categories from a wild Xtreme Pro Mod class with 3,000+ HP machines to a sealed crate engine category using the Chevrolet Performance DR525 engine. In addition, NMCA features wide-open radial-oriented classes and ones with nitrous, turbo, supercharged, and naturally aspirated combinations. "It's exciting to showcase the cars that are on the dealer floors in a heads-up competition," Kershaw concluded.
The 2016 NMCA season kicks off March 10-13, 2016 at Bradenton Motorsports Park in Bradenton, FL with the 14th Annual Ross Racing Pistons NMCA Muscle Car Mayhem event.