Tired of the same old thing, Canadian racer Nick Agostino had been toying with the idea of switching his car over from its regular 10.5 slicks to a set of radial tires. As his usual series, the Outlaw Street Car Shootout at Maryland's Cecil County Dragway, isn't scheduled to get started until April, Agostino decided to bite the bullet and move forward with the change so that he could get his race season started sooner rather than later.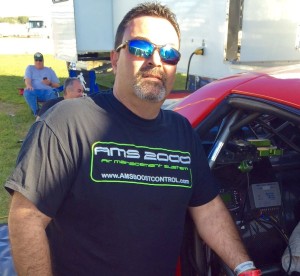 Agostino, who reset the Outlaw 10.5 small block ET world record in September, 2014 with a super quick 4.11-second eighth-mile run at the YellowBullet Nationals race in Maryland, has been a fixture in 10.5 racing for many years. His car, a '00 Chevy Camaro featuring an alcohol-fueled 480 CI small block from Maximum Performance complete with Alan Johnson heads, was built by the Chassis Stop in Toronto. Agostino has been a turbo guy for ages, and uses a set of Precision GEN2 Pro Mod turbos to generate all the boost the car can handle. During the off season, Agostino kept quiet and didn't make too many adjustments to the car as he was happy with how it had been performing. However, he did pick up a new 2-speed TH400 transmission from M&M Transmission and made minor adjustments to the shocks to accommodate the new set of radial rubbers.
"We had been contemplating the decision to switch for a while. We have lots of friends in the radial world, and I've been hearing all this hype about how the 10.5 guys are racing the radial guys to see who's faster, and I just decided to put them on the car and go see for myself," explains Agostino. With no racing on his calendar for months, and cold Canadian weather giving him an easy excuse to head south, Agostino packed up and headed to the 2015 U.S. Street Nationals race at Bradenton Motorsports Park in Florida. "I didn't want the car to just sit there doing nothing all that time," he adds.
Fortunately, Agostino's car did a lot more than "just sit there" once he got to the track. On what was just his fourth pass with the new radial set-up, Agostino clicked off a killer 4.053 at 194.25 mph run during Pro Drag Radial qualifying. That run was good enough to not only rank him second overall for the event, but also set the top speed for the class with the fastest number.
Moving on to eliminations, Agostino went 4.073 at 192.96 mph to get the win in round one, then 4.102 at 192.55 mph in round two to double his victories. Going against David DeMarco's Buick Regal with its new roots blown setup in the semi-finals, Agostino dropped an exhaust valve and broke a retainer right at the start. Despite leaving the line with no boost and significantly less power than normal, he still managed a 4.208 at 181.26 mph run to DeMarco's winning 4.191 at 182.92 mph one. "I was originally hoping to get by him, but that didn't happen. Even so, it was a good side-by-side show the whole way down the track," Agostino positively recalls, despite the engine troubles.
Considering it was his first time on the new tires, and that he came so close to breaking into the threes – a feat which many drivers have been chasing for ages – Agostino did shockingly well. "We went into the race with no expectations at all. We considered this race a test session to make some hits and figure things out, but the car was working really well," he says. A little too well, perhaps, as Agostino and team had to continually pull out some of the power to keep the car down on all four wheels. It was a learning experience figuring out what it liked and what it didn't, and despite having to pedal it quite often, Agostino had a blast.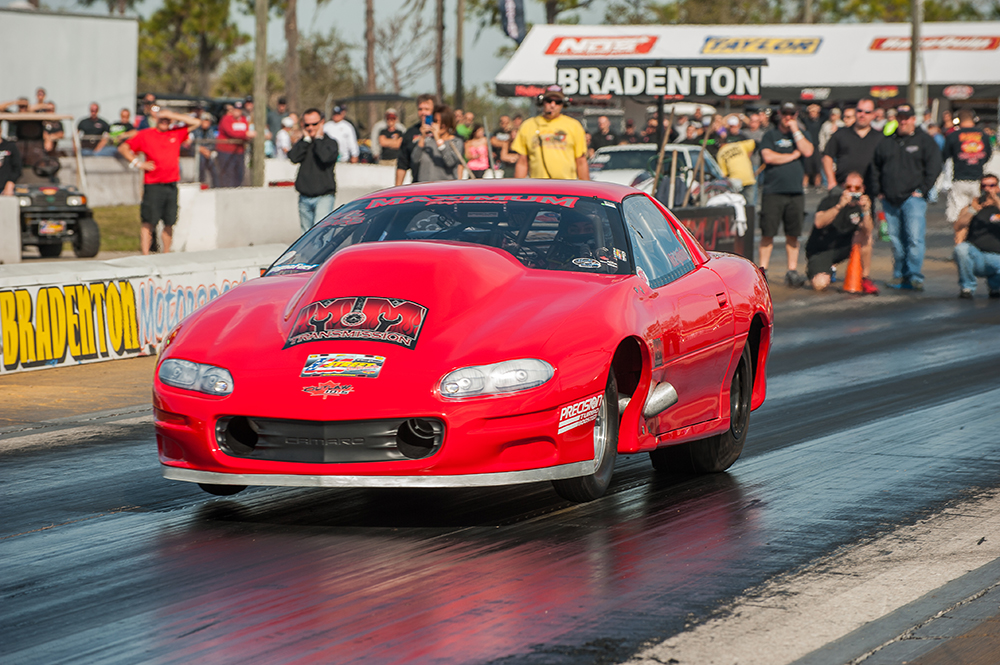 "We had a great combination of people and tuners helping," states the Outlaw 10.5-turned-radial racer of the assistance he received from folks like the team at PTP Racing, Mark Menscer, Mark Micke, and even some of the other drivers. "These guys are hardcore racers, but they made me feel right at home and it was an excellent experience."
Originally, Agostino didn't have any intention of keeping the radials on. "I just wanted to do a couple races like this, Duck's [Donald Long] Lights Out 6, and maybe the Outlaw Street Car Reunion, and then go back to Outlaw 10.5 stuff, but every pass on these makes it harder to take them off!" he notes. Unsurprisingly, now that he's hooked on the radial's stellar performance, Agostino's hoping to be able to break into the three-second range at one of the upcoming radial races on his schedule.
Interestingly enough, although Agostino is extremely happy with how the radials performed, he isn't ready to commit to them full time just yet. He's already locked in to run the Cecil County 2015 series, and keeps busy managing the Canadian outlaw 10.5 series, so the change back to the 10.5 slicks is definitely in the cards for him. When faced with the question of whether or not that could change for 2016, though, Agostino's got a one word answer: "absolutely."
Photos courtesy Ellen Eschenbacher & Damon Steinke