The last time the world's quickest and fastest doorslammers tackled the all-concrete quarter mile at the Texas Motorplex was October 2008, when Barack Obama was on the verge of the U.S. presidency, Puddle of Mudd was on top of the music charts, and 30 Rock ruled the roost in primetime TV ratings.
That decade-long absence ends Oct. 5-7, however, as the E3 Spark Plugs NHRA Pro Mod Drag Racing Series presented by J&A Service returns to the historic facility in Ennis, Tx., as part of the AAA Texas NHRA FallNationals.
"To say we're excited is a huge understatement," Texas Motorplex General Manager Andy Carter said. "We're fortunate enough to host several eighth-mile Pro Mod events each year and our fans genuinely love them, but to see these NHRA cars running the full quarter mile again in 5.7 seconds at over 250 miles an hour is going to be breathtaking."
With up to 4,000 horsepower on tap in vehicles resembling classic muscle cars and modern street machines, Pro Mod delivers a wild, unpredictable spectacle each time it takes to the track.
Houston's Josh Hernandez won that last NHRA Pro Mod tilt at the Motorplex, but entrants for this year's race will be led by current first-place points man Mike Janis in a supercharged, late-model Camaro. Close behind in second will be nitrous racing legend "Tricky Rickie" Smith and "Stevie Fast" Jackson recently climbed into third based on the strength of winning the two most recent NHRA Pro Mod events, including a career-defining U.S. Nationals victory early this month at Indianapolis.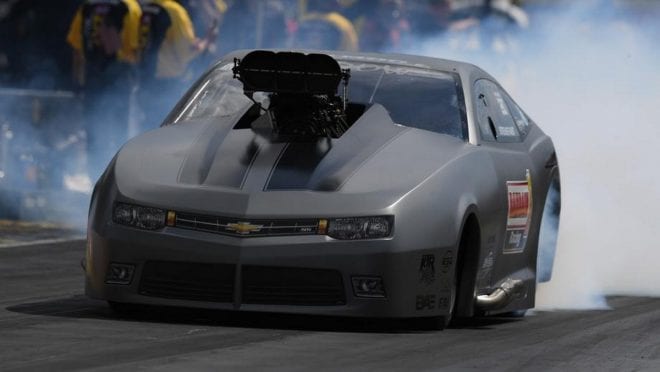 "Winning at the U.S. Nationals has been on my bucket list since I was seven years old and to be honest, after that win I wanted to be sure it wasn't just a fluke. So we went straight to work getting ready for St. Louis and now that we were able to double up and win at St. Louis I want to do all we can to win again when we get to Dallas. I would love to turn back-to-back into three-in-a-row," said Jackson, who drives "The Shadow," a supercharged 2017 Camaro tuned by crew chief Billy Stocklin from Round Rock, Tx.
"I love Texas. I've raced there a lot, love the people, the fans, love the food, and it'll be cool to race on Billy's turf," Jackson added. "I'm hoping that he feels at home and it helps, but the truth is we could be racing in Tijuana and me and Billy Stocklin are gonna' try and crush ya'! Seriously, any time you've got Billy Stocklin working on your car you've got an advantage."
Two-time NHRA Pro Stock World Champion Erica Enders from Houston also is expected to be in the Pro Mod field at the Motorplex, pulling double duty in an Elite Motorsports twin-turbocharged 2018 Camaro in Pro Mod, as well as with the Elite Pro Stock Camaro. Additionally, from Midland, Tx., will be St. Louis event runner-up Chad Green and his nitrous-boosted 2017 Corvette.
The first of four scheduled rounds of Pro Mod qualifying for the AAA Texas NHRA FallNationals is set for Friday (Oct. 5) at 12:45 p.m., with a second session scheduled for 5 p.m. Two more qualifying rounds at 12:30 and 4 p.m. will follow on Saturday with the opening round of Pro Mod eliminations beginning at 12:10 p.m. on Sunday at the Texas Motorplex.