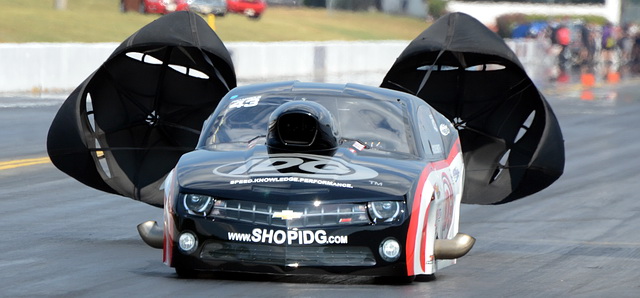 When a drag racer looks back on his or her career and their list of accomplishments, they look to see championships won, race trophies they've amassed and above everything is how many Mac Tools U. S. Nationals presented by Auto-Plus victories they earned.
The racers in the NHRA Pro Mod Drag Racing Series presented by ProCare Rx love to count their Indy Wally trophies just as much as any driver in any other class, and when the event takes place from Aug. 29-Sept.3 at Lucas Oil Raceway at Indianapolis they will all be battling for the top spot on Monday afternoon.
Current points leader Rickie Smith (above) won the Mac Tools U. S. Nationals in Pro Mod when the series was an exhibition category in 2003. Smith has many championships from other drag racing organizations under his belt, but counts his win in Indy as the high point of his career.
"This is Indy, and this is like Daytona for the NASCAR guys, this is our big race," said Smith, who drives a 2012 Camaro. "Everybody is trying to do the best they can because this is one you want to win. We have been lucky enough to win it five years ago. You just come up here and do all that you can."
Danny Rowe, driver of the Sterling Bridge '67 Camaro, a two time runner-up at the event (2001, 2009) is still looking for that elusive first win at the "Big Go" and knows where this race stacks up compared to all the others.
"Well I think mostly that it's so historic," Rowe said. "I think that every drag racer has a dream of winning one race, and it's the U.S. Nationals. It's a race that everybody that's ever been in a drag race of any kind dreams of winning. Just because the history of it, the quality of the cars, the teams and it's a fantastic place to race."
While this race is the most coveted race on the circuit, it still pays the same amount of points to win. Rowe currently trails Smith by just three points with only a handful of races left on the 2012 season schedule. While winning is desired, keeping pace in the championship points is also a focus for both racers.
"We only have four races left for our championship in Pro Mod so every one of them is real critical," Smith continued. "You can lose in the first round and the guy in second wins and then you get pretty behind in points. There are about four of us who are pretty tight in the points right now and every race is real critical."
Rowe said racers also have to be cautious about getting overwhelmed by the amped-up Indy atmosphere.
"It's a race that everyone, no matter what they say, they might try to say they don't get overly excited or try harder, or whatever else, but it's a valuable race," he said. "Whether you are in the points race or not, it's still a feather in your cap to have said you've won Indy. So, I think that everyone comes in here looking to do a big job, no matter where you're at in the points race."
Among many of the unique features of the Mac Tools U. S. Nationals is the length of the event for all the competitors and the extra qualifying session the NHRA Pro Mod Drag Racing Series presented by ProCare Rx will have during the course of the weekend. This can make for increased time in the car, so drivers must maintain their focus during the entire event.
"For me it's a little bit tougher, personally," Rowe said. "I'm a pretty hyperactive guy and I don't sit around a lot. So, to come in to qualify and make one lap, it's a long day for me. But, everybody has to do the same thing. We're all going through it, so it's hard on everybody. But, I love being in the atmosphere, so I spend the down time with the crowds and with the fans, and I'm looking at the cars just like everybody else is."
Troy Coughlin, driver of the JEGS.com '68 Camaro said he's thankful for the extra track time.
"The extra qualifier we get is pretty nice to have," he said. "We will prepare for this Indy similar to all the races on the tour, making sure we cross our t's and dot our i's. It's going to be a good time."
Leah Pruett, who will be behind the wheel of her ProCare Rx '12 Mustang said, "Being organized is key to having a smooth sailing Mac Tools U.S. Nationals.  When you wear a couple different hats and a helmet within a team, the week can seem extremely long. I now live in Avon, just a few minutes from the track, which should be more convenient.
"Quite honestly I think a fourth qualifying run should bring with it a little more confidence to both myself and crew chief Brad Brand," she added. "I feel like this year we are always one run shy of what we need to get where we want to be, and I think the extra track time will do nothing but help us bring out our A+ game."
Memories abound at the Mac Tools U.S. Nationals, and all of these racers have special moments that set this event apart from all the others.
"2011 was actually my first time competing at the U.S. Nationals, and it was with R2B2 in the blown Camaro, and I did not qualify for the field," Pruett continued. "It was my first DNQ, needless to say there is a lot of redemption to be had at this year's Mac Tools U.S. Nationals.
"I was nine years old the first time I competed at this racetrack, for the Jr. Dragster Nationals. The next time I returned to the track in 2009, I was making my first hit ever in a Nitro Funny Car in Gary Scelzi's DSR car during the pre-Indy test session.  This race track has always dished out some pretty spectacular memories for me, some better than others, but still unbelievable."
For Coughlin, Indy represents some great family times.
"Pretty cool as a kid growing up going to Indy for the Big Go as a family," he said. "As a family we have had great success at Indy. When one of our family members wins Indy, we all win Indy. We all support each other so much on and off the track.
"As kids we all dreamed of racing at Indy and winning the Mac Tools U. S. Nationals. We have had some great Mac Tools U.S. Nationals wins and they are all special. The one that sticks out the most would be Troy Jr.'s win in Super Comp in 2010. It's so rewarding seeing your kids do well at something and excel."
Other top Pro Mod drivers expected to compete are Mike Castellana, Jay Payne and Don Walsh and Pat Musi.