When both 'chutes blossomed and I saw a 5.779 pop up on the scoreboard, I admit I felt a sense of relief. I think a lot of Steven Whiteley. For starters, I think he's one of the best natural driving talents the Pro Mod eliminator has seen in a good bit – thus the reason we stuck him on the cover of DRAG ILLUSTRATED back in the spring of 2017. He's also a two-time World Series of Pro Mod (WSOPM) invitee, an all-round great guy, a father, etc. Plus, he's a buddy of mine. In that moment I was thrilled for him; out here in the heat of the day at Gateway Motorsports Park, he, super crew chief Jeff Perley and the rest of the J&A Service team threw down a stout run to break into the quickest Pro Mod field of all time. That's when I heard NHRA announcer Brian Lohnes come over the public-address system and say something along the lines of, "Well, ladies and gentlemen, with that run Steven Whiteley becomes the first-ever driver to post a 5.7-second elapsed time and not qualify for the field."
I couldn't believe it. I grabbed my trusty iPhone (shout out, cell phone media) and snuck a quick look at the pic I'd taken of DragRaceCentral.com's Rick Green's monitor in the media center a few minutes prior to the start of Q4. Yep. Fellow all-round good guy and WSOPM star Shane Molinari had been 5.777 earlier in the weekend and it would be him and his Brad Personett-tuned '68 Pontiac Firebird that anchored the Herculean 16-car eliminator at the NHRA Midwest Nationals.
Over the course of the next few minutes, eight drivers made eight more 5.7-second runs. I felt like I was in a parallel universe. Jim Whiteley and Jason Scruggs went .75 and .78 side-by-side. The next pair – Stevie Jackson and Jeremy Ray – upped the ante with 5.77- and 5.74-second runs. We were toeing right up the line of this whole deal being stupid, and completely out of control.
Then Mike Castellana and Rick Hord rolled into the water. I'd talked to about a dozen different crew chiefs prior to the start of this fourth-and-final qualifying round and they'd all agreed that it would be tough to pick up. We'd seen a couple cars do it – improve by a hundredth or so – but I had this sneaking suspicion Castellana's much-celebrated crew chief Frank "Ace" Manzo would be swinging for the fences. The track was good. It was like 75-degrees out, modest humidity, 1,900-feet of adjusted altitude. Honestly, the conditions didn't have much to do with my gut-feeling. This just seemed like one of those moments when Manzo would see fit to flex on everyone. If he was going to uncork a big one, this is when Manzo would do it – at the very moment no one would believe it possible. In all fairness, I figured Hord's tuner Carl Stevens Jr. would be looking to show out, too.
As soon as Castellana let the clutch out and those massive Hoosiers snapped round, it was apparent that Jerry Bickel-built Camaro was on a moon shot. Manzo's car runs so hard through the middle – especially from 60-feet to the eighth-mile. Two-fifty-one the AAP car went to the 330. Nasty. When the scoreboards flashed 5.676, 255.39 the grandstands erupted. All the people standing down in the restricted area, scattered around the starting line, sponsor viewing area and the top of staging lanes, however, were freaking silent.
"What the f@#$ was that about?" said one turbo tuner. One prominent team owner couldn't help speaking his mind. "They're going to have to do something about that shit," he said. "I quit," said another.
What's that I was saying about toeing up to the line of being stupid and completely out of control? Yep. This deal in St. Louis hadn't simply crossed the threshold, it'd leaped across – and landed neck-deep or so in sheer insanity. This wasn't a parallel universe. This was the Twilight Zone.
While I plan to expound on the elimination results of the race later this week, the point I want to make here and now is that the E3 Spark Plugs NHRA Pro Mod Drag Racing Series presented by J&A Service is, in my opinion, the most exciting and competitive eliminator in all of drag racing. It's been trending this way for awhile, but it's official now. What's happening amongst this group of racers is special, and God only knows where it's headed.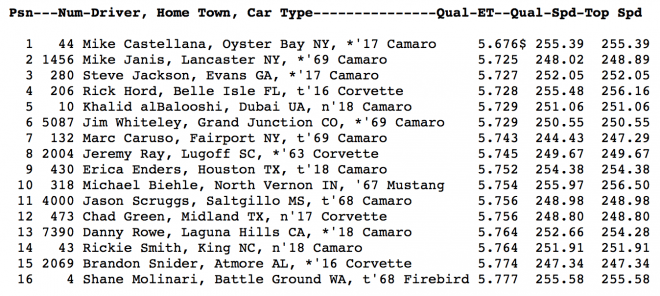 Before we talk about what the future holds, though, and what a weekend like this could mean for the class – both good and bad – let's consider a few jaw-dropping stats from the last 96-hours. First and foremost, how about that 5.777-second bump we've been talking about? Prior to this race the quickest Pro Mod field ever assembled was capped with a 5.803-second elapsed time (at Gateway last year). And while Steven Whiteley's heartbreaking fortune along the Mississippi River will be talked about for a long time, let's not forget Todd Tutterow, who is also in the "I ran in the 5.70s and didn't qualify" club (5.798, which has to be close to his career-best in a legal car). And how about the 12 guys who didn't qualify? We're talking about a slew of past event winners, record-setters and perennial frontrunners – a couple living legends even ("King Tutt" and, obviously, 2017 World Series of Pro Mod champion Mike Bowman).
It'd be fun to spend a little bit of time acknowledging all the NHRA Pro Mod newbies here (big ups to Marc Caruso, Erica Enders, Brandon Snider, Jeremy Ray, Jason Scruggs and Chad Green) because it's just ridiculously exciting to think about all this new talent and the potential they all have, but I think there's an elephant in the room here that has to be addressed. Let's face it…three of the top Pro Mod cars in the world weren't in St. Louis last weekend. Had Jose Gonzales, Sidnei Frigo and Troy Coughlin been on the property, I think we would have seen a 5.75-second bump and six drivers having made career-best 5.70 runs only to find themselves on the outside looking in.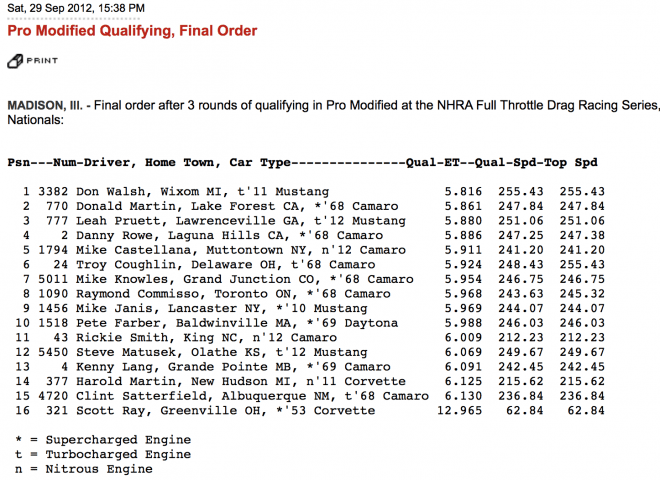 Quarter-mile, legal Pro Mod drag racing is bad ass for 1001 reasons, but the happenings of the last few days alone are enough to cement the eliminator as the hottest thing in drag racing right now. No question. Let's not pretend this blade is only razor-sharp on one side. There are rumblings. People are talking. It's the classic "be careful what you wish for" scenario. I vividly remember having conversations with team owners and drivers back in St. Louis back in 2012 when only 16 cars showed up, and Scott Ray rounded out the field with a 12.96. We'd be up until all hours of the night scheming and dreaming about what we could do to get more cars involved and what it would be like if we could increase the level of performance and consistency of the cars. Here were are seven trips to St. Louis later and the car count has essentially doubled at every race on the tour, and the No. 1 qualifying effort at that race in 2012 – Don Walsh's 5.801 – would be good enough for the 19th qualifying position and a trip home that starts on Saturday night. As recently as 2016, the No. 1 qualifier for Pro Mod in St. Louis (Von Smith, 5.814) wouldn't have come freaking close to qualifying this time around.
It's a lot to wrap your head around, and I truly believe there are just as many positives as there are negatives, but the key takeaway is simply that it's a wild time to be Pro Mod racing. Things are changing. The teams that used to live at the top of the sheets are struggling to get on them at all. Teams that hadn't made a quarter-mile pull prior to this summer are right in the thick of things. We've got teams sponsored and/or fully-funded by Middle Eastern nations like Qatar, Bahrain and Kuwait, teams based out of the Dominican Republic and Brazil. We've got full-time, touring professionals and weekend warriors. We've got super teams, do-it-yourselfers and everything in-between. Racers that drive the truck, tune the race car and then go drive the damn thing. We've also got crew chiefs and car chiefs, lease programs for superchargers, teams that are switching from clutch to torque converter from race to race. We've got teams that are organizing test sessions so that their driver can practice pedaling. Yes, that's correct. These teams aren't testing to establish a baseline tune-up or try to get un-lost, they're testing so that their drivers can practice whacking the throttle in an attempt to save a run. If that's going on anywhere else in drag racing, well, I'd be shocked.
Of course, I'm biased as all hell. I live for Pro Mod drag racing. It's my favorite thing. However, I'm of the strong opinion that for the 9th time in 2018, Pro Mod has stolen the show at a NHRA national event. There's no question that the bulk of fans on the property of any given national event are there to see, feel, smell and experience nitro racing – Top Fuel and Funny Car. That's great. But I'm telling you that Pro Mod has got the goods. If I'm NHRA higher-ups, I'm chaining people to their seats when Pro Mod comes to the lanes. This is a brand of drag racing you can build on. Colorful characters, cars that look like cars, close competition and jaw-dropping performances. Most importantly, there's a massive inventory of cars and growing interest in the class.
Ok, I've gotta stop. More to come.