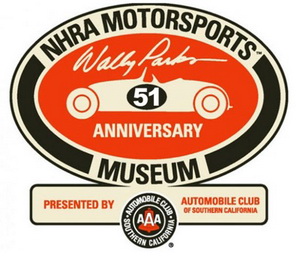 The Wally Parks NHRA Motorsports Museum presented by the Automobile Club of Southern California announced Jan. 29, the election of two new members to its board of directors.
The museum welcomed newly elected board members Linda Louie, vice president and general counsel for the NHRA, and Glen Cromwell, vice president of national event marketing for the NHRA.
"The museum board is pleased to have the ongoing support of NHRA executives in helping to preserve the rich history of racing and its future success," said Thomas McKernan, chairman of the NHRA Motorsports Museum Board.
Louie joined NHRA in 1999. She received her bachelor's degree from University of California, Los Angeles and her J.D. from the University of Southern California. Prior to NHRA, Louie was a business litigator in private law firms. She has been a lawyer for more than 20 years.
"I am honored to be able to do my part to support this aspect of Wally Parks' legacy," Louie said. "I look forward to working with the board of directors as the museum works to further its mission."
Cromwell joined NHRA in 1997 and is responsible for marketing services and a variety of functions at NHRA Mello Yello Drag Racing Series events. He has also served as director of national event marketing and Division 7 (Pacific) director in NHRA's National Field Office.
"Wally Parks worked hard to make the NHRA Museum the popular tourist destination that it is today," said Cromwell.  "I'm looking forward to working with the museum's management team to offer positive feedback, and help develop resources to advance the museum's projects, as well as provide long-term marketing goals that will continue Wally's legacy."
Rotating off of the museum board after serving 12 years is NHRA executive vice president and general manager Peter Clifford, and Gary Darcy, NHRA senior vice president of sales and marketing, who served since 2005.
Gale Banks, president and founder of Gale Banks Engineering, and Jack O'Bannon, a five-time NHRA world championship team owner, were elected to the board in September. Louie and Cromwell will join the following board members: McKernan, Alex Xydias, Steve Gibbs, Dave McClelland, Wayne McMurtry, Banks and O'Bannon.
The Wally Parks NHRA Motorsports Museum presented by Automobile Club of Southern California is an independent California non-profit 501 (c)(3) organization dedicated to celebrating the impact of motorsports on American culture. Neighboring the historic Auto Club Raceway at Pomona, the Museum collects, preserves, exhibits and interprets the vehicles, stories and artifacts that represent America's affection for, and the influence of, automotive speed and style in all its forms. For more information, visit its website at www.nhramuseum.org.