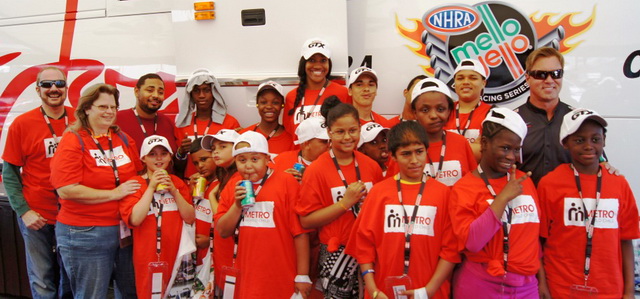 For the second straight year, Castrol GTX crew chief Mike Neff (above right, back row) hosted 17 underprivileged youth from the Metro World Child (www.metroworldchild.org) organization in New York City June 1,  at the Toyota NHRA Summernationals.
Last year when Neff was driving and tuning the Castrol GTX Ford Mustang he was overwhelmed by the impact a simple day at the race track had on the kids and was eager to try and duplicate the effects this season.
In addition to Neff's efforts thanks to Castrol and Old Bridge Township Raceway Park management the kids received complimentary tickets, suite passes, lunch and goodie bags.
The group also met the four John Force Racing drivers–John Force with his daughters Courtney and Brittany and Robert Hight–before the first round of qualifying. Then, between rounds they were able to meet Top Fuel world champions Tony Schumacher and Antron Brown from Don Schumacher Racing, as well as current Funny Car champion Jack Beckman and Ron Capps.
"This is a great day and really helps you put everything in your life in perspective. I want to thank Raceway Park, especially Kim Beyer; Castrol; Don Schumacher Racing; and the NHRA for making this happen," Neff said.
"These kids might not be able to ever get out of the city and showing them opportunities likes this could have a huge impact. Pastor Bill (Wilson), the founder of Metro World Child, does some amazing things all around the world to help kids
Metro World Child is dedicated to serving boys and girls growing up in the roughest circumstances and environments around the globe, ministering to them through weekly Sunday School services, child sponsorships, special programs and personal home visits on a weekly basis.
Based on the principle that it is better to build boys and girls today than to repair men and women tomorrow, Metro World Child reaches nearly 100,000 inner-city children and their families every week in New York and around the world. Each of our programs, from Sunday School to coat drives, is purposefully designed to break destructive cycles and give children the hope they need to create a new path for their lives, founded on the life-changing power of the Gospel, and reinforced by relationship and meeting physical needs, in the U.S. and around the globe.
"This is something most of these kids would never see ever. When we crossed over the bridge coming into New Jersey the kids got excited because some of them have never been outside New York City. Just to have this opportunity to get them out of their neighborhoods and expose them to different things is amazing," said Cherie Tapp, Metro World Child. "This is something they would never ever do on their own. Just letting them know other people care about them is a huge deal."
(Photos courtesy JFR; Click to enlarge)