The stars of the Professional Drag Racers Association (PDRA) were shining bright on Saturday night as all five professional class winners at PDRA Dragstock XIII were decided on the starting line. All of the exciting racing played out in front of the largest crowd in PDRA history.
Tommy D'Aprile scored his second win of the season when Brandon Snider red lit in the NAS Racing Pro Extreme final round. Lizzy Musi and Brunson Grothus used reaction time advantages to win their event titles in Switzer Dynamics Pro Nitrous presented by MoTeC and Drag 965 Pro Extreme Motorcycle, respectively. The GALOT Motorsports Park Pro Boost winner was also decided on a holeshot, as points leader Kevin Rivenbark beat Tylor Miller in a North Carolina vs. South Carolina final round. PDRA Extreme Pro Stock winner Doug Kirk joined his son, Justin, in the winner's circle after a massive holeshot victory.
In the PDRA sportsman ranks, Derrick Brown prevailed in Ronnie Davis Top Sportsman presented by MagnaFuel, while Justin Kirk earned his first event victory in Lucas Oil Top Dragster. Texas' Kendal Little earned the Talbert Pro Junior Dragster win, and Arellyn Garner-Jones claimed her second consecutive MegaCorp Top Junior Dragster victory.
PRO EXTREME

The Pro Extreme final round was a battle of the two most evenly matched cars on the property. When Tommy D'Aprile kicked off eliminations with a 3.605 at 212.39 mph over Terry Leggett's 3.654, Brandon Snider followed it up with a 3.609 at 214.25 over John Stanley's 3.845. Snider and D'Aprile ran identical 3.587s in their semifinal victories over Frankie "Mad Man" Taylor and Jose Gonzalez, respectively. D'Aprile knew he would need a strong run to defeat Snider in the final, but he had all the faith he needed in his Al Billes-led team.
"My mentality going into the final was just do my job, stay calm and collected, and let's go racing. I was confident in the car and team. I've done this long enough that I'm just relaxed and excited to see what's going to happen when I roll to the starting line," D'Aprile said.
As the tree dropped, it was Snider who was too excited as his Q80 Racing '69 Camaro left the starting line just three thousandths of a second too soon. His weekend-best 3.567 at 215.27 would've been enough to defeat D'Aprile, who repeated his semifinal performance with another 3.587 to win his second 2016 PDRA race for Mel Bush Motorsports.
"I love to win for the team," D'Aprile offered. "Years ago it was about me – not anymore. I want it to be about them, to enjoy themselves, have so much fun and just love it. That's what's important to me."
D'Aprile, a Godspeed Ministry chaplain, took the opportunity to dedicate his Dragstock win to the memory of Kaila Bunsold, the daughter of drag racing photographer Greg Bunsold.
"This is probably one of the most heartfelt wins of my career. Greg and Meri Bunsold lost their only child just a few days before the race, so it was important to me to win this race for the Bunsold family and to dedicate the win to Kaila."
PRO NITROUS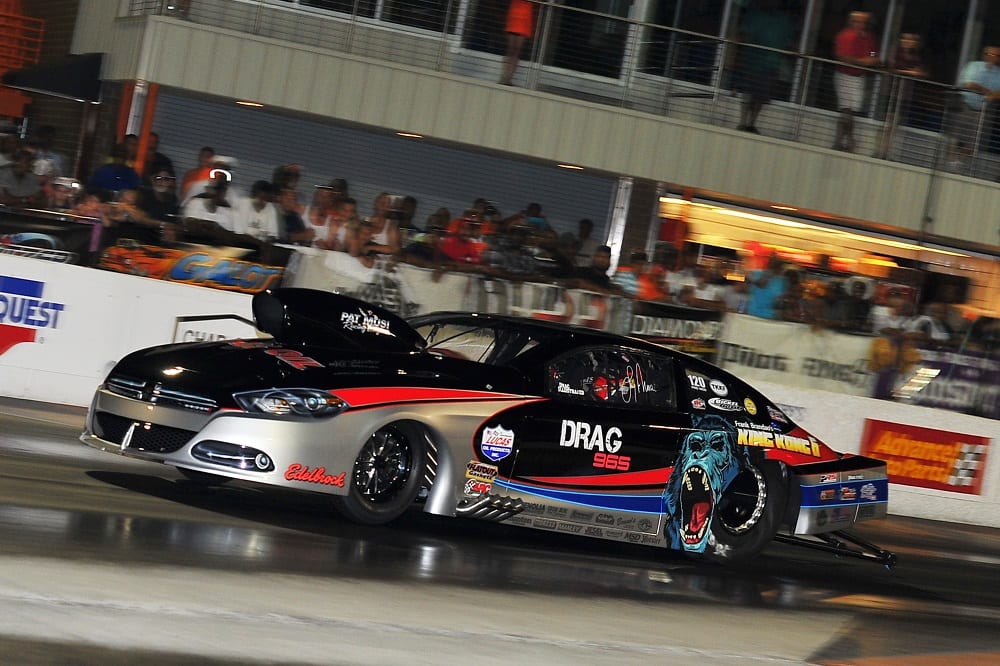 After losing in the Memphis final round on a holeshot last month, Lizzy Musi went into the GALOT race on a mission to redeem herself. The 25-year-old daughter of nitrous engine-building master Pat Musi was successful in her quest, using a .010 starting line advantage to beat the Musi-powered '69 Camaro of Tommy Franklin in the final round. She won by a margin of seven thousandths of a second – 3.753 at 204.20 to Franklin's 3.75 at 202.67 at the finish line stripe.
"Tommy and I have been wanting to run each other in a final round and it finally happened. Tommy is good on the tree and he's fast. I knew I had to do my job. It was so tight at the finish line, we were nose to nose. I was so excited when I saw the win light come on," Musi exclaimed.
Musi started eliminations from the fourth-place spot, first driving her Frank Brandao-owned 2015 Dodge Dart to a 3.815 round win over Chris Rini's 3.839. Second round opponent Ray Schuler was unable to start his former Rickie Smith championship Camaro, but Musi was ready for a race with her 3.767 at 203.92. A consistent 3.768 at 203.46 against Musi customer Johnny Camp's 3.793 at 201.91 sent Musi to the final round meeting with Franklin. Meanwhile, Franklin used a string of ever-improving 3.7-second passes to dispatch Keith Haney, Travis Harvey, and Steve Jackson, firing off low et of the event – 3.749 – in his semifinal win over Jackson.
Musi was relieved to earn her first PDRA event win of 2016 after a long weekend in the North Carolina heat. "We were struggling through testing and the beginning of qualifying. The car just wasn't running the way it should. We ended up changing motors, manifolds, coils – everything. My dad ended up putting more power to it, and it turns out that's all it wanted. The car started running its number again. The car did its job and I had to match its performance level with my job," claimed Musi, who thanked sponsors Drag 965, Edelbrock, and Lucas Oil, whose director of motorsports, Tom Bogner, was on hand to support customers and drive the Lucas Oil/MAVTV jet dragster.
PRO BOOST

The three-car GALOT Motorsports team went into this weekend's Dragstock XIII with an undefeated record after Kevin Rivenbark won the first three races and John Strickland swept the three most recent events. Understandably, the Todd Tutterow-led group was intent on maintaining that record at GALOT Motorsports Park, the pristine new racing facility owned by Earl and Peggy Wells.
As eliminations progressed, it became clear that a GALOT car had a significant chance of ending up in the winner's circle. All three team cars reached the semifinals after Rivenbark drove his 2015 Corvette to round wins over Kenny Ferguson and Jeremy Ray; Strickland defeated James Linton Jr. and Pete Farber; and Tutterow eliminated Rick Hord and Marc Caruso. Tutterow would fall to Tylor Miller's Pee Dee Fleet Chevelle in the semifinals, but Rivenbark and Strickland's pairing ensured that a GALOT car would race for the event victory.
"I start sweating whenever I race John because I know he's just as good as I am or better. Basically you have to win on the tree. John has progressed tremendously since he started driving these cars a few years ago. You can't depend on beating him on the lights every time now because he's been like a machine lately. He hits the tree, goes A to B and does his job well," Rivenbark boasted of his teammate.
Unfortunately for Strickland, he let go of the trans brake button too soon, throwing away a 3.815 at 195.59 compared to Rivenbark's winning 3.839 at 193.57. In the Pro Boost final round, Rivenbark repeated his semifinal elapsed time to defeat the quicker 3.834 effort of Miller, who appeared in the last two final rounds against Strickland.
"The only thing that would've been better is John and I meeting in the finals, or Todd and I in the finals. To get the win for Mr. and Mrs. Wells at their home track at our first PDRA race at GALOT Motorsports Park is just a wonderful thing."
PRO EXTREME MOTORCYCLE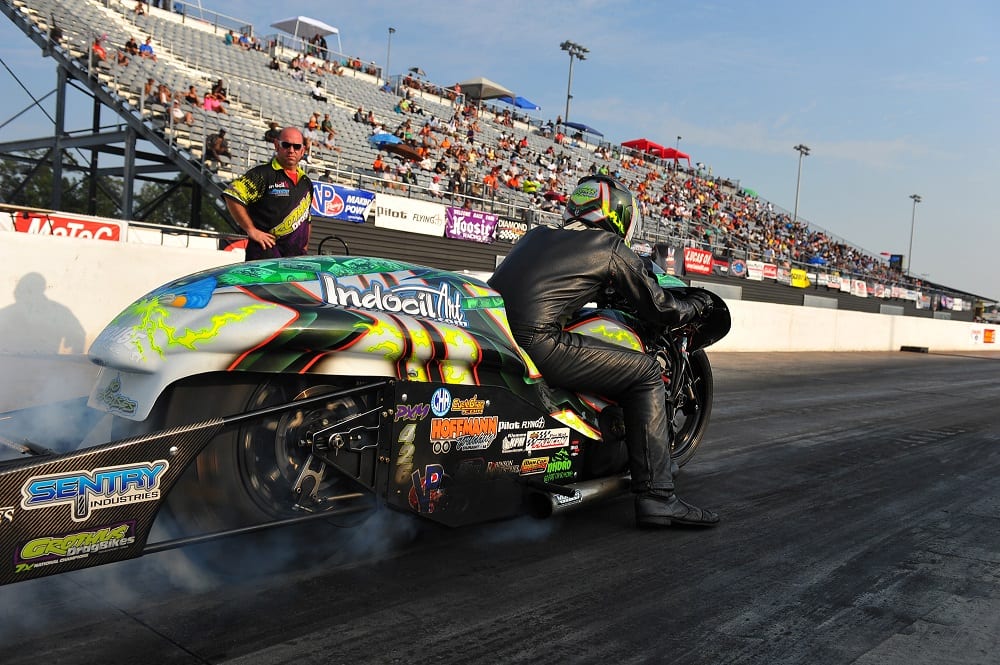 Brunson Grothus' triumphant return to Pro Extreme Motorcycle competition continued this weekend as he won his second event in as many attempts. He didn't always have the quickest motorcycle during eliminations, but the combination of his quicker reaction times and consistent Indocil Art-backed Suzuki were enough to beat John Collins, Chuck Wilburn, and defending world champion Eric McKinney in the first three rounds. An incredible five thousandths of a second were all that separated Grothus and number one qualifier Chris Garner-Jones in the final round as Grothus used a holeshot to beat the 4.054 in the other lane.
"I honestly haven't even thought about the holeshot win too much," confessed the second generation rider. "I was more impressed with the performance that we picked up from the semifinals. We went 4.09 then clicked off a 4.061 in the final. I don't really have a whole lot to do with the tuning – my dad (Ed) and Shane Eperjesi are the ones turning the knobs. It's always fun to win on a holeshot, but to pick up the performance and win on a holeshot is almost indescribable. It's like a dream."
EXTREME PRO STOCK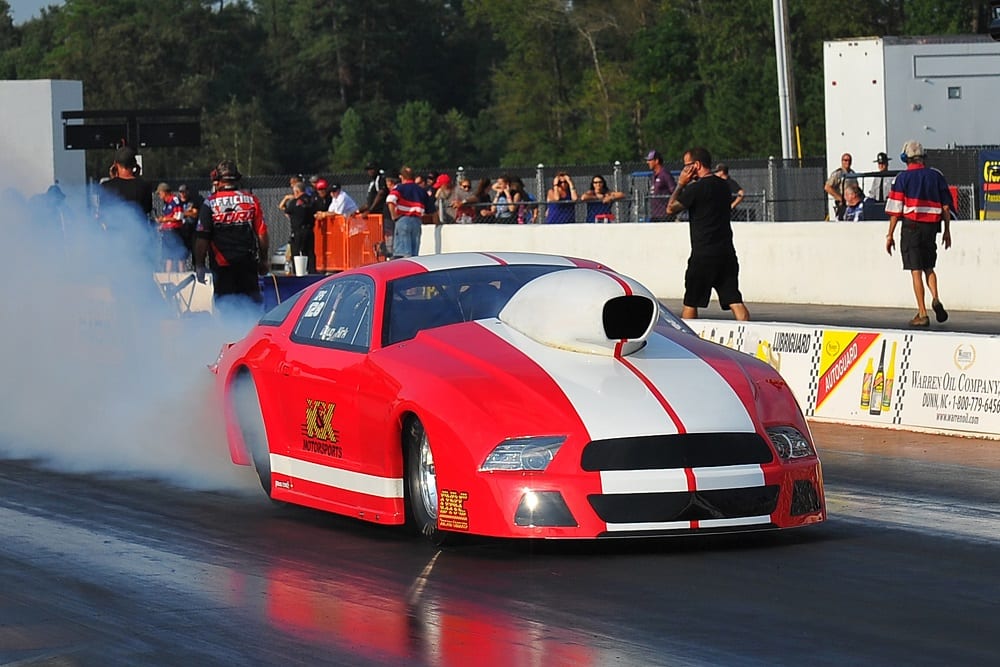 West Virginia's Doug Kirk has won two IHRA world championships, but he will undoubtedly go on to consider his win at PDRA Dragstock XIII a career highlight. Kirk started eliminations with a couple lucky rounds when Jeff Dobbins was a no-show and Larry O'Brien left too soon. Kirk ran a 4.115 at 174.75 for a semifinal win over Brian Gahm's 4.13, earning him a final round meeting with number one qualifier Richard Penland, who defeated Lester Cooper and John Pluchino before getting the semifinal bye run.
A final round is always a pressure-packed situation, but Kirk was feeling the heat even more going into this final. Just minutes before strapping into his K&K Motorsports 2012 Mustang, Kirk watched his son, Justin, earn his first-ever race in Top Dragster.
"After he won I felt like the world came down on my chest that I had to do something to get the win. There are people who race a lifetime and never get to win like this, so to do it after two years racing together is special."
Kirk unleashed a .009 reaction time and 4.149 et to beat Penland's 4.085 on a sizable holeshot. The Kirks became the first father-son duo to win at the same PDRA event since the series inception in 2014.
The PDRA Extreme Pro Stock class will race next at the 3rd annual PDRA World Finals, Oct. 20-22, at Virginia Motorsports Park.
TOP SPORTSMAN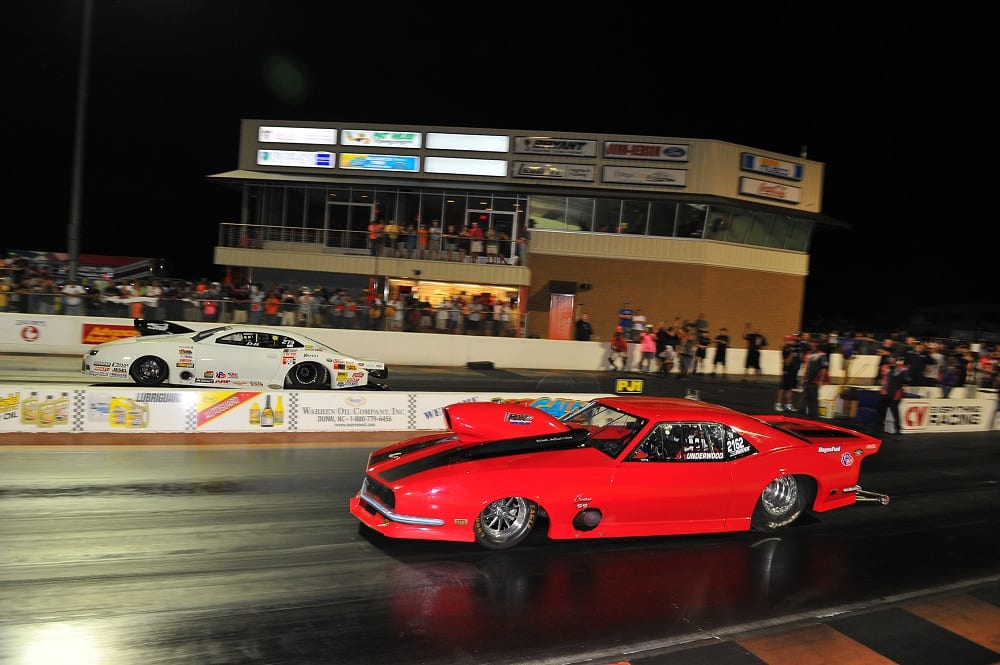 Top Sportsman victor Derrick Brown didn't take the easy road to the PDRA Dragstock XIII winner's circle. Racing out of the 15th spot, Brown used a 4.227 against a 4.22 dial-in to help overcome the perfect .000 reaction time of first-round opponent Ken Ellison. He tightened up his package with a 4.212 on a 4.21 dial in his quarterfinal win over 2014 world champion Dan Ferguson, then caught a lucky break when number one qualifier Randy Perkinson turned on the red light. A .005 reaction time and 4.211/4.19 package gave him the final round win over Henry Underwood.
To earn his final round berth, Underwood defeated Larry Pearce, Tim Lawrence, and Dewayne Silance before running 4.088 against a 4.05 dial-in in the final round.
TOP DRAGSTER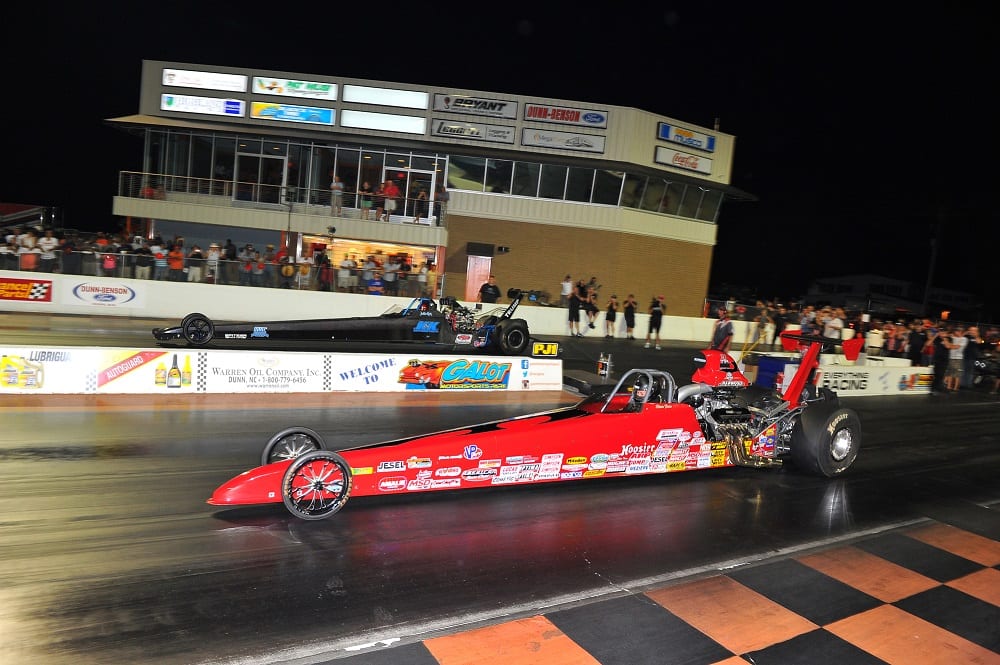 First-time winner Justin Kirk had to race against some of the toughest Top Dragster competitors in his bid to become the PDRA Dragstock XIII event champion. The third generation drag racer piloted his supercharged Spitzer dragster to round wins over Carolina racers Lauren Freer, Jody Stroud and Paul Daigrepont. He ran a 3.965 on a 3.96 dial-in over final round opponent Steve Furr's breakout 3.998 on a 4.00 dial-in.
"You can't put a price on it," Kirk said about winning. "It's my first win in Top Dragster and just my second race in this new car. Everything fell together at the right time. We took the points lead. I'm looking forward to the next two races, that's for sure."
In the PDRA's Junior Dragster final rounds, Pro Junior Dragster points leader Kendal Little ran a 7.909 on a 7.90 dial-in, while defending world champion Preston Tanner broke out with a 7.884 pass. Top Junior Dragster finalists Arellyn Garner-Jones and Kaylee Love both broke out, but Garner-Jones's 7.987 was closer to her 8.00 dial-in.
The PDRA Bracket Bash event champion was Will Holloman, who ran 4.591 on a 4.59 dial in his defeat over Haley Gilstrap's 4.909 on a 4.90 dial.
The PDRA will return to action Sept. 29-Oct. 1, with the 2nd annual Mel Bush Motorsports Sunshine State Shootout at Florida's Bradenton Motorsports Park.