Benson, North Carolina's stunning GALOT Motorsports Park hosted the first of three scheduled Mad Mule events this past Saturday, March 4, and despite chilly temperatures throughout the day the track conditions were suburb as race cars were setting a record pace.
In fact, from the moment Pro Nitrous star Lizzy Musi uncorked a stunning 3.661, 205.04 MPH blast on her first trip down the NHRA-sanctioned 1/8-mile, all eyes were on the young lady from Mooresville, NC. The elapsed time is the quickest by a Pro Nitrous car on US soil, and the speed is the class' quickest anywhere in the world. Musi drove her Jerry Bickel-built 2015 Dodge Dart straight to the top of the qualifying sheet and stayed there, using a nitrous-assisted 959 cubic inch power plant built by her famous father, Pat Musi, who has delivered big power in recent years within the Pro Nitrous ranks.
Mad Mule's round one action got underway in the early afternoon, as Musi met Tony Wilson in the opening eliminator, and handily put him away with a 3.708 run at over 204 MPH. Wilson stumbled at the start and coasted to a 6.296 at 71.81 MPH.
In round two, Musi met the always-tough veteran Tommy Gray, who was driving his Maryland-based blown Corvette. Both drivers left with stellar reaction times, with Gray gaining a slight advantage at the start. Musi reeled him in quickly, however, and drove around for the win with a 3.707, again at over 204 MPH. Gray was right beside her with a 3.719 at 198 MPH.
The closest race of the day happened in the semi-finals, when Lizzy lined up beside reigning PDRA Pro Nitrous champion Tommy Franklin, who also has the latest Musi power on board. Lizzy was first out of the gate and never gave an inch of track to Franklin. They thundered to the stripe virtually door handle to door handle, lighting up the larger-than-life scoreboards with a pair of 3.67s and marking the quickest side-by-side nitrous race in US history. Both drivers stopped the clocks at over 204 MPH once again in what was the most exciting round of competition all day.
The final round featured an all-Musi showdown as Lizzy took on Jason Harris, the former PDRA Pro Nitrous champion, and many-time event winner from Pittsboro, NC. Lizzy closed the show with yet another 3.672, posting identical numbers from her semi-final victory and becoming the first female driver to win a Mad Mule event. Harris was game and made a race out of it, although his 3.699 just wasn't enough to drive around Musi's Dodge.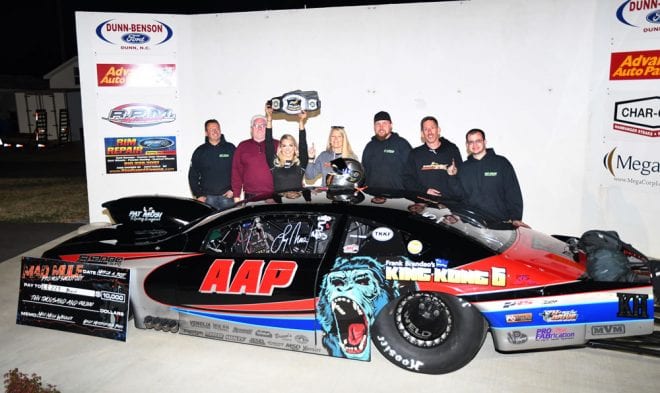 "It feels so good to pick up where we left off from racing in the Middle East," Musi said, referring to her last few months spent competing in Qatar and Bahrain. "All the races we had today were tough. There's a lot of competitive racing going on out here.
"I can't thank everyone enough," she continued. "Thank you to my family and crew for supporting me in what I do. They all work so hard and it means the world to me! A huge thanks also goes out to my car owner, Frank Brandao, and my sponsors Al-Anabi Performance, Lucas Oil, and Edelbrock."
In addition to the Pro Nitrous category, GALOT Motorsports Park also hosted a huge field of cars from the 4.70 Outlaws series, where Chad Traylor took home the win over Randy Perkinson. In Jr. Dragster action, Amber Franklin, daughter of Pro Nitrous heavyweight Tommy Franklin, drove her half-scale racer to the winner's circle.
The next Mad Mule event at GALOT Motorsports Park is scheduled for July 1.
Photos by Roger Richards