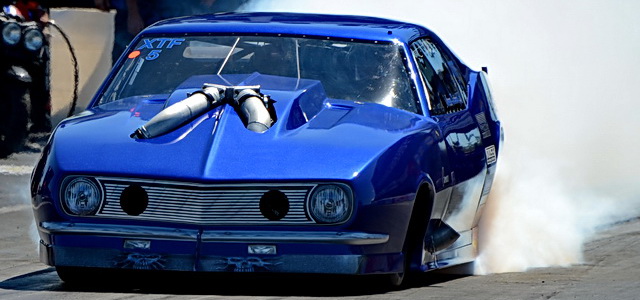 Mike Murillo, the reigning NMCA Mickey Thompson Super Street 10.5W series champion, will be a busy guy next year as he plans on defending his back-to-back NMCA class titles, as well as becoming the new wheelman of Todd Moyer's Pro Turbo '68 Camaro (above), which will be competing in the newly formed X-treme Drag Racing League (XDRL).
Murillo said when Moyer approached him about taking over the car, which previously was driven by Lamar Swindoll Jr., it was an opportunity he couldn't pass up.
"Todd and I began talking about this a couple of weeks ago, and were able to finally solidify it this past week, and I thank Todd for this great opportunity," Murillo said.
For his part, Moyer was sad to see Swindoll vacate the seat, but understands priorities change.
"Lamar is like a little brother to me. He's a super guy and I enjoyed racing with him. Sometimes family and business need to come first, and I understand that," Moyer said.
Moyer added that having Murillo drive the Camaro shouldn't offer any challenges. "Mike and I have known each other for years, and I know his record as a driver. I'm looking forward to racing with him next season, and to see what we can do."
Murillo said the best piece of his 2013-racing puzzle is he won't be selling his championship-winning Mustang (which had been for sale) and will continue to race in the NMCA's Super Street 10.5 class.
"I had a lot of reservations about selling the car, and trying to build a pro mod/pro street car since it would have meant a couple years away from racing as I built the new car. I really didn't want to do that. This way, I get the best of both worlds," he concluded.