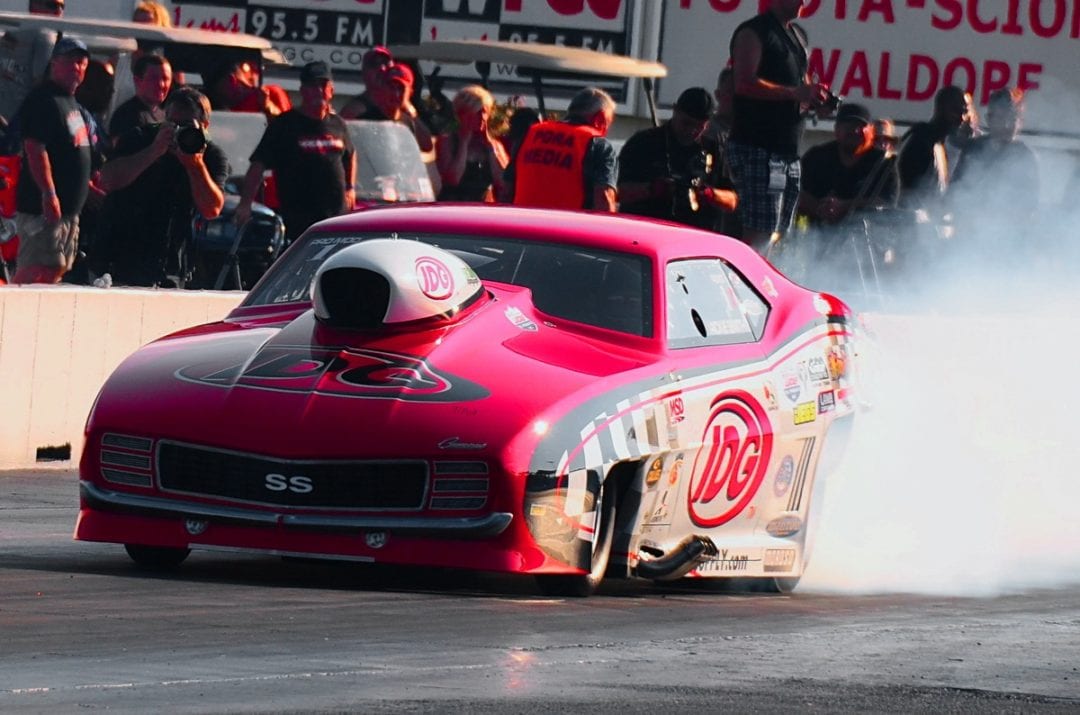 A parade of familiar faces made its way through victory lane at Maryland International Raceway (MDIR) Saturday night after a long, hot weekend of eighth-mile drag racing in the inaugural NAS Racing PDRA North-South Shootout. Professional Drag Racers Association (PDRA) superstar star Jason Scruggs led the march with his third NAS Racing Pro Extreme event title this year.
"Everybody I ran today was tough; there are no easy rounds in Pro Extreme anymore," Scruggs said after defeating Lorenzo "Killer" Brooks, Mustafa Buhumaid, Wesley Jones and Badir Ahli in the final. "I was a little late on the tree against Mustafa, so I guess that was my lucky round, but other than that everything went pretty much like we hoped it would."
Also getting multiple pro class wins for the year were Rickie Smith with his second in Switzer Dynamics Pro Nitrous, Anthony Disomma with his second Precision Turbo Pro Boost title, Chris Garner-Jones with his third-in-a-row Drag 965 Pro Extreme Motorcycle crown, and Phil Esz, who also won for the second time in Toefco Pro Open Outlaw competition.
In the PDRA sportsman classes Randy Perkinson won his first MagnaFuel Top Sportsman trophy, while Jordan Wood won a consolation race for Top Sportsman non-qualifiers. Meanwhile, Justin Melton prevailed in Dart Top Dragster, Tia Tutterow won her first Huddleston Performance Pro Jr. Dragster title and Tyler Colbert got the job done in Huddleston Top Jr. Dragster. Additionally, in the first of two special appearances with the PDRA this year by the Disomma Racing Engines Outlaw 10.5 class, Jerry Mitrovic took the trophy home to Toronto, Canada.
PRO EXTREME
In hot, humid conditions that extended throughout the event, Scruggs struggled to gain a grip on the MDIR strip during Thursday's pre-race practice session, but once qualifying began on Friday the Saltillo, MS-based soy bean and cotton farmer found his stride.
"I blew the tires off right away in Q1, which is unusual for me, so I was a little concerned there, but we got it together for the second round. The track temperature was changing a lot; it was 120 degrees, 125, 140, back to 120, just going all over the place and I was always one side or the other from where I really need to be," Scruggs explained. "I kept teasing it, but I knew if I went up there enough times that eventually I'd get it."
Scruggs did eventually start from the number-one position in the 16-car Pro Extreme field after taking his screw-blown '69 Camaro for a 3.53-seconds ride at 217.32 mph. Just seven-thousandths of a second behind was Terry Leggett and his '71 Mustang, followed by Florida's Tommy D'Aprile with a career-best 3.55 in Mel Bush's 2015 Corvette.
Brooks got away first in the opening stanza and laid down a career-best 3.96, but it was no match for Scruggs, who set low ET and top speed for the round with a 3.60 at 214.11-mph pass. Next up was Buhumaid, who strapped a .033 holeshot on Scruggs then ran a game 3.63, but again with the best pass of the round at 3.56 and 215.68 mph, Scruggs advanced to the semis where he left first with an impressive .013 light and once more made the quickest and fastest pass at 3.54 and 216.24 mph.
That left only the final against Buhumaid's NAS Racing teammate Ahli, where again with the holeshot and again going quicker and faster, Scruggs capped off a dominating performance with a 3.53-seconds run at 216.55 to defeat Ahli's also solid 3.56 effort at 211.63 mph.
"Badir ran a really good race and those guys are doing a great job over there. The PDRA and as just a racer, too, I really appreciate what NAS Racing is doing for this sport," said Scruggs, who along with his father, Mitchell, and Pro Nitrous competitor Tommy Franklin is co-owner of the all-eighth-mile series. "I'm real happy with how this race turned out. NAS Racing has been great to work with and so has the Miller family here at the track. They've already said they're real happy with what went on here this weekend and said they'd love to have us back again next year."
With prior wins this year at Shreveport, LA, and St. Louis, Scruggs has won half of the six races completed this year in a 10-event schedule. The win in Maryland also vaulted him past Ahli into the season points lead.
"If I can win half of the rest of the races I'll be in good shape," he concluded with a laugh.
PRO NITROUS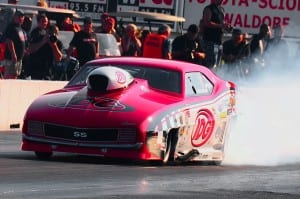 The Pro Nitrous finale in Maryland featured the best of the NHRA facing off against the best of the PDRA as two-time defending NHRA Pro Mod champion Rickie Smith went up against defending PDRA Pro Nitrous champ Jason Harris for the second time in a final round this year. And just like back in April at the second event of the season at Rockingham, NC, Smith came out the winner.
After starting from eighth place on the qualifying list, Smith caught a break in the first round when both he and opponent Johnny Camp got loose at the top end, but "Tricky Rickie" recovered enough that his off-the-pace 4.19 at 171.34 advanced him to the quarter finals. There, he used a sizable .067 holeshot to get around Jim Sackuvich's quicker and faster 3.82 at 198.26 with a 3.84 pass at 196.96 mph. In the semis, Smith took the win over "Stevie Fast" Jackson–fresh off a big grudge match win over Pro Nitrous rival Travis Harvey the previous night–when Jackson drifted close to the wall and mustered a 3.86 at 190.40 to Smith's solid 3.82 at 196.93 combination.
On the opposite side of the ladder, Harris (who after winning six races last year on his way to the championship is still looking for win number one in 2015), marched his way from the 11th starting spot through Keith Haney, Jay Cox (with a holeshot), and Pat Stoken, winner of the previous PDRA race last month in Michigan.
With a 3.78 win in the semis over a redlighting Stoken, Harris securely held lane choice for the final, but a .074 light doomed his 3.77 at 199.14 from the start as Smith countered with a .034 reaction time leading into a 3.80 at 197.42 mph that translated to a nine-thousandths of a second margin of victory 660 feet later at the finish line.
"I left the tune-up alone. The track got better, the air got a little better and you might put a little bit more nitrous pressure in there, but it was exactly the same tune-up that I had in it for the semis," Smith said about the 903 c.i. Pat Musi motor in his IDG-backed '69 Camaro. "I'm the kind of person that I don't get crazy on the tune-up, I don't burn the motors up. I just put in it what I think it'll take to win; that's the way I race."
With his second win in three PDRA finals this year, Smith also took over the points lead with four races remaining.
"You know, God has blessed me my whole career. Ain't nobody that's doing this but Him," Smith stated. "I'm gettin' kind of old, I'm a little heavy set, but my reactions are still good and the Good Lord has been riding with me for 41 years. Any success I've had belongs to Him."
PRO BOOST
In his return to racing after damaging the engine in his '67 Mustang while winning the Pro Boost final at Rockingham, NC, in April, Anthony Disomma won from the pole position at the PDRA North-South Shootout in Maryland.
"We changed over to the 88-millimeter turbos from the 94s when they (PDRA) changed the rules; we decided to go to the 88s and keep the weight off the car. It was a struggle at the beginning because they're a lot different, but it seemed to work out," Disomma said.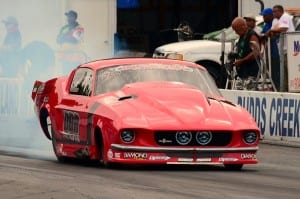 Qualified with a 3.84 pass at 203.03 mph, the South Plainfield, NJ-based race engine builder ran 3.90 at 201.82 to beat Jeremy Ray and his blown '57 Chevy in round one, then doused the hopes of Kevin McCurdy in his supercharged '68 Camaro with a 3.87 at 201.25 in round two. In the semis Disomma took on Tommy "The Undertaker" Gray and his roots-blown '06 Corvette and won again with another consistent 3.88 at 199.49 mph.
Meanwhile, sixth-place starter Paolo Giust from Osgoode, Ontario, overcame a near-perfect .001 reaction time by Tylor Miller in the opening round to post a 3.95 win with his new, supercharged 2015 Corvette before taking out Bill Meadows and David Monday to reach the final round against good friend Disomma.
With only a thousandth separating them in reaction times, Disomma and Giust streaked away from the starting line as if welded together, but 3.84 seconds and an eighth-mile later Disomma crossed the finish line at 199.76 mph to defeat Giust's 3.87 pass at 190.48 mph–his best run of the weekend.
"The turbo cars are a little lazier on the bottom and he got out on me a little, but then I started pulling on him," Disomma recalled of the final. "But I was thinking, 'I hope I've got enough, I hope I've got enough.' I was worried I was going to run out of race track before I caught him and obviously I did, but it was really close."
PRO EXTREME MOTORCYCLE
Defending PDRA Pro Extreme Motorcycle champ Eric McKinney won the first three races in 2015 from the number-one starting position. Chris Garner-Jones won the next three. His final-round opponent in each of those wins? McKinney.
"Like I said at the last race, I really look up to Eric, he does a great job out here and I'm just trying to compete," Garner-Jones said.
In Maryland, McKinney held the number-one position heading into the fourth and final qualifying session on Saturday morning before eliminations began that afternoon. When qualifying was over it was Garner-Jones on top of the list, however, with a 4.08 pass at 168.83 mph aboard his '14 Suzuki, with Travis Davis second at 4.09 and McKinney's 4.10 bumped down to third in the 16-bike field.
Round one saw Garner-Jones ride to an easy 4.12 win after Eran Pielert's bike broke on the launch, with McKinney getting by Garner-Jones' dad, T.T. Jones, with a 4.14 pass. In round two, Garner-Jones ran 4.13 to handily defeat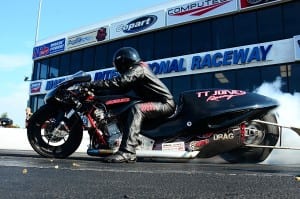 Brad McCoy's 4.23, while McKinney made a 4.10 solo run when teammate and crew chief Ashley Owens failed to make the call to stage.
McKinney made a 4.11 pass at 174.75 to earn a close win in the semis over the 4.12 at 172.98 mph by class veteran Paul Gast, but Garner-Jones seized lane choice for the final with a convincing 4.06 at 170.19 over the 4.11 at 169.74 posted by Dave Norris.
The final round saw McKinney leave with a slim .005 advantage off the starting line, but something faltered in his bike and he slowed to a 4.17 at 168.70 while Garner-Jones set low ET for the event with an impressive 4.03-seconds ride at 170.45 mph.
With four races remaining on the schedule Garner Jones has climbed into second place overall behind McKinney and knows the momentum has shifted in his favor, but realizes it still will be difficult to wrest the championship away.
"I think I maybe can catch him, but I'll need some help; I need him to go out in some early rounds," Garner-Jones said. "It's very tough; he's very tough. I'll never catch him if he keeps going to the finals with me."
PRO OPEN OUTLAW
Phil Esz, the points leader and number-one qualifier for Pro Open Outlaw at the PDRA North-South Shootout, saved the best for last as he posted low ET and top speed for the class with a 3.62-seconds win at 202.76 mph over second-place starter Jody Stroud, who also ran a stout 3.67 at 198.38 in the final round.
"We knew Jody can go fast and he just won at the last race up in Martin (MI), but I've been fast, too, so we loaded it up a little there for the final," Esz said. "And I think we probably left a little on the table, but I won't know for sure until I can look at the run on the computer."
Esz, from Amelia, OH, powered his '06 Spitzer dragster to the top spot with a 3.64 at 198.85, with Stroud second at 3.78 and 162.53 and Eddie Lykins third in the eight-car field after a 3.81 at 196.02 qualifying run.
"We're just excited to do this," Esz stated after the win. "This is an awesome deal for us with the PDRA. We love to run heads up."
OUTLAW 10.5
After four qualifying sessions for the first of two appearances by the Outlaw 10.5 class with the PDRA this year, eventual race winner Jerry Mitrovic put his sinister-looking, deep-black, low-slung, nitrous-boosted '68 Camaro into the eighth starting position for the 16-car race day field at Maryland International Raceway with a 4.23-seconds run at 185.87 mph.
Separated by just a thousandth of a second from ninth-place qualifier Dale Collins Jr., Mitrovic won a closely matched opening round with another 4.23 at 186.10 while Collins threw away a 4.24 at 184.40 with a -.056 red-light start. In round two, Mitrovic stepped up with a 4.20 at 182.97 to beat fellow Canadian Wade Stevens, then went even quicker in the semis with a 4.17 win at 181.42 over a traction-challenged John Bartunek.
Waiting for him in the final was Maryland's own Mike Decker Jr., who qualified his supercharged '02 Camaro second with a 4.14 at 187.44, behind only the new, screw-blown '14 Corvette of Chuck Ulsch, who ran 4.13 at 190.43 mph in Friday night's qualifying session. Decker beat Michael Martin in round one, Jerry Morgano in round two, and another Maryland driver in Mo Hall in the semis with a 4.16 at 185.95 that earned lane choice for the event-deciding showdown with Mitrovic.
When the light flashed green, Mitrovic was late off the start with a .106 light, but Decker was even worse with a .271 reaction time. Once more, though, Mitrovic showed tremendous improvement with an outstanding 4.11 run at 187.16 to beat a very consistent 4.16 at 185.38 by Decker. Mitrovic's final-round blast also took low ET for the meet away from Ulsch, who was upset in round one after losing traction against Stevens.
"We don't have many passes with this new combination at all," the Toronto-based driver said in victory lane. "It's a 900-plus Musi motor with a Bruno/Liberty transmission. This is our third race with it and we've won two of them and went to round two the first time so we're very happy with it; can't complain at all."
SPORTSMAN CLASSES
With the only three-second run of the weekend in Top Sportsman, John Benoit of Montpelier, VT, put his nitrous-boosted '68 Camaro on the pole with a potential record 3.92 at 192.14 mph, but was unable to back it up within the required one percent to make it official. He was followed on the 16-car qualifying list by Don Klooster in a '63 Corvette and eventual race winner Randy Perkinson with his '08 Pontiac GXP.
In the fastest door-car bracket class in the world, Perkinson won his opening round against Billy Albert, then ran a dead-on 4.03 in round two to narrowly defeat cousin Mark "Buddy" Perkinson before taking down Brett Nesbitt in another close battle in the semis. The final saw Perkinson leave with a .014 light, then run 4.07 against a 4.02 dial in to beat the .037/4.06 combo against a 4.01 dial in by Aaron Glaser.
In a Top Sportsman consolation race for the eight non-qualifiers at the PDRA North-South Shootout, Jordan Wood from Virginia Beach, VA, took his uniquely beautiful '57 Ford to the win in a close double-breakout final against Glen Teets Jr.
The final-round Top Dragster win in Maryland went to number-six qualifier Justin Melton of Gleason, TN, who ran 4.12 at 171.14 against a 4.11 dial in to beat number-one qualifier Craig Sullivan, who broke out by a hundredth below his 3.95 dial.
The PDRA Huddleston Performance Pro Jr. Dragster win went to number-14 qualifier Tia Tutterow, daughter of PDRA Pro Extreme star Todd Tutterow, who won a double-breakout final against Isaac Evans, with the Huddleston Top Jr. Dragster title going to Tyler Colbert, who survived all the way from the 16th qualifying position to post a near-perfect 8.07 pass against an 8.07 dial in against Alexis Tanner in the final round.
The PDRA will return to action Aug. 20-22, with the 2nd annual PDRA Memphis Drags at Memphis International Raceway in Millington, TN.