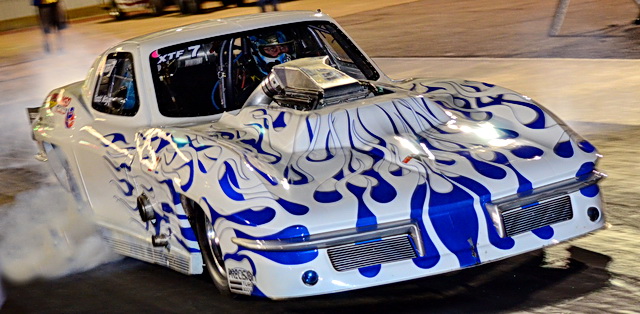 Todd Moyer (above) will lead his two-car team this year into X-DRL Pro Turbo competition this year, including the '63 Corvette he will drive and his '68 Camaro, which will be driven by NMCA star Mike Murillo.
A former star in the ADRL Extreme 10.5 class, Moyer's twin-turbocharged Corvette has always been a fan favorite with its shooting flames and propensity for 200-mph-plus runs. Now, Moyer is excited about the new challenge in the highly-anticipated Precision Turbo & Engine Pro Turbo class.
"I really wanted a class like this," he said. "It's going to be a great class to run and everything looks good. We're just trying to get the big tire figured out now."
Some successful test sessions indicate Moyer and Murillo have done that and the talented duo could be on course for big things at the season opening X-DRL Spring Nationals, taking place Apr. 6-7, at Osage Casino Tulsa Raceway Park.
Moyer and Murillo will both appear at all nine X-DRL races. Moyer is a two-time Extreme 10.5 winner and was the third member of the 3-second club in the now-defunct class. Murillo, meanwhile, is a back-to-back world champion in the NMCA Super Street 10.5W class and has quickly taken to the all-tube-chassis '68 Camaro formerly driven by Lamar Swindoll Jr.
(DI.com file photo by Ian Tocher)