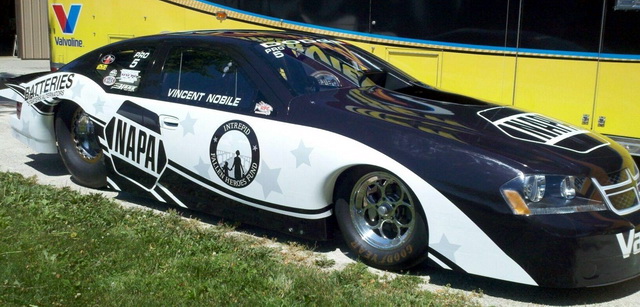 Working in conjunction with the NAPA Auto Parts "Get Back and Give Back" program in support of the Intrepid Fallen Heroes Fund (IFHF), an independent not-for-profit serving United States military personnel wounded or injured in service and their families, the Mountain View Racing Pro Stock Dodge will feature a special paint scheme for this weekend's NHRA Route 66 Nationals in Joliet.
"I have always considered it an honor to drive the Mountain View Dodge, but this weekend I also feel a tremendous amount of pride in being able to show our support for the Intrepid Fallen Heroes Fund," said driver Vincent Nobile, currently ranked fifth in the NHRA Full Throttle standings. "These brave men and women are true heroes and we're excited to be able to recognize them in Chicago."
"It's an honor and a privilege to have the Intrepid Fallen Heroes Fund on our car this weekend," added team owner and crew chief Nick Mitsos. "This is just one small way in which we can show our appreciation for the U.S. Military and all they do for our country. We'd love nothing more than to be able to win this race with the IFHF on the car."
As part of the promotion during the busy travel month of July, NAPA customers will receive up to a $25 mail-in rebate for every battery, alternator, and starter they purchase, which they can donate all or a portion of to the IFHF.  Additionally, NAPA will donate $1 to the IFHF for each redeemed rebate.
To raise awareness of the fundraising effort, NAPA stores across the country will also be hosting a "Black Out," where employees will trade their usual blue and yellow uniforms from July 1 – 7 and instead sport a black NAPA t-shirt with the IFHF's logo, along with the phrase, "We Believe In Heroes." Signage will also be placed throughout NAPA stores across the country. Additionally, participating locations of the over 13,000 nationwide NAPA Auto Care Repair Centers will also be promoting the "Get Back and Give Back" program.
"NAPA is proud to support the Intrepid Fallen Heroes Fund and the important work that they do for the incredible men and women of the Armed forces and their families," said Gaylord Spencer, Vice President of Marketing Strategy, NAPA Auto Parts. "As Americans across the country hit the road this July to visit their friends and loved ones, we encourage them to remember our troops, honoring and supporting them in whatever way they can."
For more information about "Get Back and Give Back," please visit NAPA Auto Parts website (napaonline.com)  (Facebook.com/NAPAKNOWHOW). To learn more about the Intrepid Fallen Heroes Fund, please visit: fallenheroesfund.org.