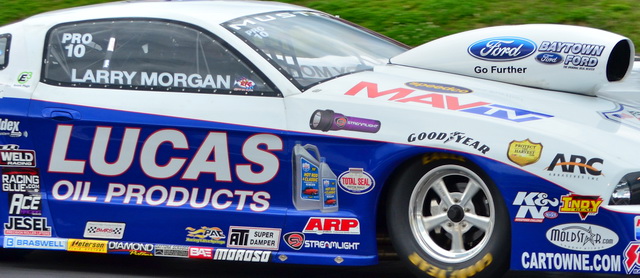 For Lucas Oil/MAVTV driver Larry Morgan, the Pro Stock season essentially begins with this weekend's Toyota NHRA Summernationals at Old Bridge Township Raceway Park.
After experiencing a myriad of issues with his Ford Mustang to begin the year, Morgan and his team finally have the car the way it should be.
"We found that with these Mustangs the tires are rubbing on the inside of the quarterpanels," Morgan said. "It's happened to all of them and no one really ever figured it out. I finally figured it out, and I've been trying to get NHRA to get us a little more clearance there and they finally did."
The problem went undetected at the first two races as Morgan tried to get a handle on his Mustang, but he finally found it in Gainesville. However, that turned out to be only part of the issue because fixing it was another matter.
After the Las Vegas race, Morgan sent the car to composite specialist Mark Kirkman, who reworked the rear quarterpanels to allow for more clearance. After the fix, Morgan tested the car and it worked fine. He then applied the same changes to another, better car and tested it in Rockingham, N.C., turning some exceptionally fast laps.
But on the final run, an oil filter burst and caused a fire, ruining wiring and hoses on the inside of the car as well as damaging the nose. Morgan made the repairs in Charlotte, but NHRA did not approve the changes to the rear quarterpanels.
Morgan redid the car and raced it that way in Charlotte, Houston, and Atlanta at a disadvantage to the other teams. Finally after Atlanta, Morgan sent the car to Larry Larson Race Cars under the supervision of NHRA, and it was repaired to current specs.
"We can now focus on racing–I hope," Morgan said. "I'm not thinking, 'What else can go wrong?' because I think I've got everything covered. Now I can work on the car. I've had to fight just making the car work, and I've been racing at such a disadvantage. It's horrible.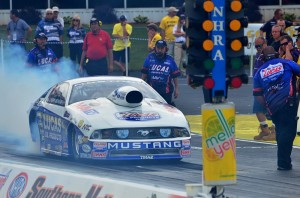 "Thank God I've got sponsors like Lucas Oil, Streamlight, Summit, Speedco, and all the good people behind me. They understand all of this craziness, so I'm pretty lucky there."
Morgan will also have some new Lucas Oil to use in the engine of his Mustang this weekend, courtesy of Lucas executive Tom Bogner.
"I'm really looking forward to running now," Morgan said. "I'm looking forward to these next four or five races. This whole deal has been pretty trying. My wife Diane said the other night, 'You know you don't need to win rounds anymore; you need to win races.' No pressure!"
(Photos by Ian Tocher; Click to enlarge)