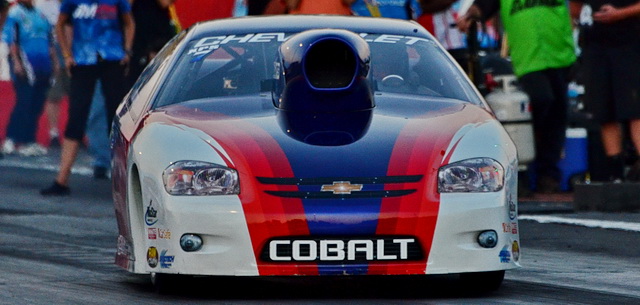 With one race left in the 2013 ADRL tour, John Montecalvo currently sits 297 points out of first place in Extreme Pro Stock. And while Elijah Morton retains a sizeable lead, Montecalvo knows that securing his third world championship is not an insurmountable task.
To be sure, Monte and team will have their work cut out for them Oct. 18-19, at the ADRL World Finals in Baytown, TX,  but he knows they are up to the task.
"I'm sure we're not the only team to question our performance this season. There have been missed opportunities by both crew and driver," Montecalvo admitted. "I guess it's the 'would of, could of, should of' time of year. The good news is that we are sitting in second place and still in the hunt."
At the last event, Dragstock X in Rockingham, NC the team had a respectable performance, but exited in round one on a hole shot loss.
"At Rockingham, we were forced to move into a spot on the track where it was difficult to see the tree in order to avoid the bald spots," Monte explained. "However, a championship is not won or lost by one race, but by a cumulative performance throughout the year."
Recognizing that his season's performance now comes down to one final event, Monte and team are well focused on the task at hand and are remaining hopeful that their championship dreams are within reach.
"If memory serves me right, there was a season in IHRA where Carl Baker was first going into the final race with Brian Gahm trailing him in second. In order for Brian to take over the lead and win the championship, Carl had to not qualify and Brian had to qualify number one and win the race. That's exactly what happened.
"Long story short, it's not over til it's over. We're going to give it our all. Elijah will have to fight hard to keep his lead."
(Photos by Ian Tocher; Click to enlarge)