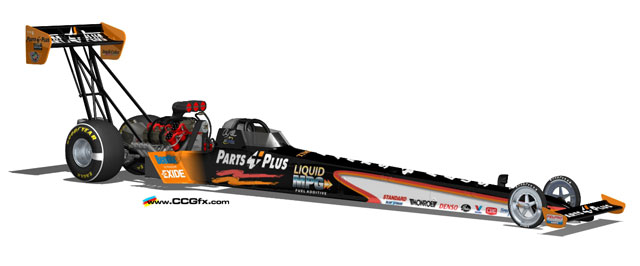 Ask Top Fuel driver Clay Millican what his favorite gift was this Christmas, and he will proudly announce it was his sponsorship from Parts Plus. The multiyear deal was finalized on Christmas Eve, just in time to be put under the tree on Christmas morning.
The start of the 2014 NHRA Mello Yello season will mark a new era in Millican's career as he joins forces with longtime team owner Dexter Tuttle and Tuttle Motorsports. The Parts Plus deal will provide funding for Millican and the team for several years, giving Tuttle the security that comes with a multi-year contract.
"I've been wanting to get back to full-time racing for a while now," Tuttle said. "We were gearing up to run a limited schedule under the Liquid MPG banner in 2014. Now with both Parts Plus and Liquid MPG as sponsors, we will be able to run the entire tour for the next several seasons."
Officially Millican will be driving the Parts Plus/Liquid MPG Top Fuel dragster, and he is equally enthusiastic about 2014 and beyond.
"This really is a great fit all the way around," Millican said. "Once the Parts Plus folks met Dexter we all knew this was the right direction for all of us to go. I can't tell you how excited I am to see what comes next.
"Dexter and I are both cut from the same cloth," Millican continued. "He loves the sport, and has raced with sponsors, and also raced when he had to foot the bill himself. As my momma always says, you got to have the 'want to' to be successful, and Dexter certainly has the 'want to' when it comes to drag racing.
That "want to" spirit can easily be seen by Tuttle's willingness to invest in his team even before he started talking to Millican or Parts Plus.
"I started buying new stuff last year," Tuttle said. "In fact, a big reason we raced Dallas with Larry [Dixon] was to start working with our new equipment and get a head start on 2014.
"Our biggest goal has been to put the car on a diet," Tuttle continued. "We shaved 9 pounds off the rear end, and we are dropping another 30 pounds with our new body. It also doesn't hurt that Clay is the lightest driver in the pits. We have state-of-the-art superchargers and cylinder heads from DSR, and both our Hadman chassis have been updated for 2014.
"The bottom line is I want to be competitive whether I'm racing one race or the whole year," Tuttle said. "It was going to take buying the latest and greatest in order to do that."
With all the parts and pieces at the shop, now it is just a matter of time to get everything ready for pre-season testing before Pomona. The team is still adding crewmembers and will be working nonstop to be ready for the start of the 2014 season. For Tuttle and Millican, they hope it is a good one.
(Story and photos courtesy NHRA.com/National Dragster)