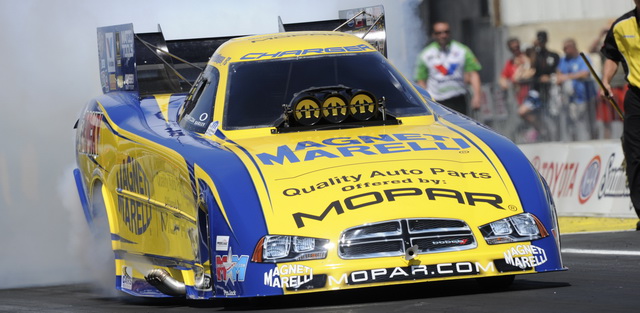 Top Fuel driver Clay Millican raced to the first No. 1 qualifying position of his NHRA career June 1, at the Toyota Summernationals at Old Bridge Township Raceway Park in Englishtown, New Jersey.
Matt Hagan (Funny Car, above), Mike Edwards (Pro Stock) and Steve Johnson (Pro Stock Motorcycle) also will lead their respective categories into Sunday's 11 a.m. eliminations as No. 1 qualifiers at the NHRA Mello Yello Drag Racing Series event.
Millican's Parts Plus team ran low E.T. of qualifying during Friday evening's session and the 3.792 second pass at 321.27 mph held up as the No. 1 qualifying position throughout Saturday's two rounds of qualifying, which were ran under warm weather conditions. It is Millican's first No. 1 qualifying position in his 156-race career.
Now the veteran driver will try to earn his career-first victory. He has raced to five career final rounds, but has yet to earn a win. His latest runner-up finish came earlier this season in Gainesville, Fla.
"The No. 1 qualifying spot is incredible," said Millican, who will race Brandon Bernstein in the opening round. "The credit goes to a combination of people that helped make this happen. I'm so proud of this whole team. It's really cool but anyone can win it doesn't matter where you qualify. Tomorrow, we got to do it one run at a time. I'm certainly going to do my best."
No one in Funny Car was able to better Hagan's Friday pass of 4.050 seconds at 315.64 mph. The Magneti Marelli/Rocky Footwear Dodge Charger will start from the No. 1 position for the second time this season and 12th time of his career. The 2011 world champ has yet to win at Englishtown and he will face fellow Virginian Blake Alexander in round one.
"I'm just tickled to death that we're sitting No. 1," Hagan said. "Sometimes, it's a curse to be No. 1. We've got to treat everyone with respect and just make sure we don't underestimate anybody. We have to be cautious of what we're doing. I'm super proud of my boys. They deserve a pat on the back for putting a No. 1 on the board this weekend."
Del Worsham was second in his DHL Toyota Camry and will race Paul Lee in the opening round, while defending world champion Jack Beckman qualified third in his Valvoline/MTS Dodge Charger and will meet rookie Chad Head in the first round.
In Pro Stock, series points leader Edwards secured the No. 1 spot as no one was able to outrun the Interstate Batteries/I Am Second Chevy Camaro's Friday evening performance of 6.545 seconds at 211.36 mph.
"It's hot but I like it hot," Edwards said. "These conditions are not normal for Englishtown. But it makes it challenging when it's hot. We hope we have all of our pieces in order to hit the Western Swing and I think we are up to the task. We've been fortunate to get the top spot in eight races. I'm going to try to ride this wave as long as I can."
This is Edward's eighth No. 1 of the season and 49th of his career. He has one win at Englishtown (2010) and two runner-up finishes (2009, 1998). Edwards will race former Stock national champion Lee Zane in the first round.
Shane Gray powered his Gray Motorsports Chevy Camaro to the No. 2 qualifying position and will meet Mark Martino, while Erica Enders-Stevens took the third spot in her Black iGuana Chevy Camaro and will face Frank Gugliotta in the opening round. In one of the most interesting first round pairings in Pro Stock, defending event champ Greg Anderson will take on his Summit Racing Chevy Camaro teammate Jason Line.
In Pro Stock Motorcycle, veteran rider Johnson claimed his first No. 1 qualifying position in three years and the third of his career with his Friday run of 6.931 seconds at 192.22 mph on his Steve Johnson Racing Suzuki.
"It's nice to qualify No. 1," said Johnson, the 2010 runner-up at this event who has five career victories in his 27-year career. "When we come to race, we look at the conditions and get an idea of where we've run good and apply all that. The rules did make it more competitive. But at the end of the day, it's all good. To come to the Toyota NHRA Summernationals in Englishtown and be No. 1 qualifier and have the chance to win a race, it's all good."
Johnson will face No. 16 qualifier Shawn Gann in the opening round of eliminations, while second qualifier Hector Arana Jr. will face his father Hector Arana Sr. Defending event winner and Englishtown native Eddie Krawiec will face Sreamin' Eagle Vance & Hines Harley-Davidson teammate Andrew Hines in the opening round.
(Photos courtesy NHRA/National Dragster; Ian Tocher; Click to enlarge)
ENGLISHTOWN, N.J. — Sunday's first-round pairings for eliminations for the 44th Toyota NHRA Summernationals at Old Bridge Township Raceway Park, the ninth of 24 events in the NHRA Mello Yello Drag Racing Series.  Pairings based on results in qualifying, which ended Saturday. DNQs listed below pairings.
Top Fuel
1. Clay Millican, 3.792 seconds, 321.27 mph  vs. 16. Brandon Bernstein, 3.978, 315.42; 2. Khalid alBalooshi, 3.803, 322.58  vs. 15. Larry Dixon, 3.943, 318.47; 3. Tony Schumacher, 3.805, 317.72  vs. 14. Sidnei Frigo, 3.931, 301.87; 4. Doug Kalitta, 3.809, 320.36  vs. 13. Brittany Force, 3.908, 315.78; 5. Spencer Massey, 3.816, 318.17  vs. 12. Morgan Lucas, 3.881, 307.16; 6. Bob Vandergriff, 3.824, 320.13  vs. 11. Antron Brown, 3.877, 308.50; 7. Steve Torrence, 3.866, 314.83  vs. 10. Dom Lagana, 3.876, 314.24; 8. Shawn Langdon, 3.870, 318.39  vs. 9. T.J. Zizzo, 3.871, 299.40.
Did Not Qualify: 17. David Grubnic, 3.979, 303.91; 18. Leah Pruett, 4.294, 248.61; 19. Terry McMillen, 6.230, 310.70.
Funny Car
1. Matt Hagan, Dodge Charger, 4.050, 315.64  vs. 16. Blake Alexander, Charger, 4.359, 292.46; 2. Del Worsham, Toyota Camry, 4.074, 312.78  vs. 15. Paul Lee, Charger, 4.325, 280.78; 3. Jack Beckman, Charger, 4.074, 308.35  vs. 14. Chad Head, Camry, 4.236, 236.05; 4. Tim Wilkerson, Ford Mustang, 4.089, 307.86  vs. 13. Alexis DeJoria, Camry, 4.222, 300.93; 5. Bob Tasca III, Mustang, 4.099, 309.42  vs. 12. Jeff Arend, Charger, 4.159, 300.46; 6. Cruz Pedregon, Camry, 4.104, 299.40  vs. 11. Ron Capps, Charger, 4.155, 300.40; 7. Robert Hight, Mustang, 4.121, 304.05 vs. 10. John Force, Mustang, 4.132, 291.63; 8. Johnny Gray, Charger, 4.121, 302.08  vs. 9. Courtney Force, Mustang, 4.125, 307.09.
Did Not Qualify: 17. Terry Haddock, 4.516, 271.57; 18. Mike Smith, 5.217, 169.55; 19. Tony Pedregon, 5.897, 131.81.
Pro Stock
1. Mike Edwards, Chevy Camaro, 6.545, 211.36  vs. 16. Lee Zane, Pontiac GXP, 6.807, 203.16; 2. Shane Gray, Camaro, 6.564, 211.76  vs. 15. Mark Martino, GXP, 6.712, 206.42; 3. Erica Enders-Stevens, Camaro, 6.569, 211.36  vs. 14. Frank Gugliotta, Ford Mustang, 6.672, 208.26; 4. Jason Line, Camaro, 6.581, 210.87  vs. 13. Greg Anderson, Camaro, 6.652, 210.08; 5. Jeg Coughlin, Dodge Avenger, 6.589, 211.13  vs. 12. Steve Kent, Camaro, 6.650, 208.78; 6. Allen Johnson, Avenger, 6.590, 211.06  vs. 11. Larry Morgan, Mustang, 6.647, 209.33; 7. Vincent Nobile, Avenger, 6.595, 210.44  vs. 10. Lewis Worden, Mustang, 6.641, 207.50; 8. Rodger Brogdon, Camaro, 6.623, 209.52  vs. 9. V. Gaines, Avenger, 6.639, 210.50.
Did Not Qualify: 17. John Gaydosh Jr, 6.927, 202.64; 18. Kenny Delco, 23.142, 205.94.
Pro Stock Motorcycle
1. Steve Johnson, Suzuki, 6.931, 192.66  vs. 16. Shawn Gann, Buell, 7.056, 189.31; 2. Hector Arana Jr, Buell, 6.933, 192.88  vs. 15. Hector Arana, Buell, 7.046, 189.95; 3. Matt Smith, Buell, 6.937, 192.77  vs. 14. Jerry Savoie, Suzuki, 7.038, 190.62; 4. Michael Ray, Buell, 6.943, 192.60  vs. 13. Mike Berry, Buell, 7.020, 190.38; 5. John Hall, Buell, 6.949, 190.83  vs. 12. Michael Phillips, Suzuki, 7.013, 191.27; 6. Jim Underdahl, Suzuki, 6.955, 194.30  vs. 11. Angie Smith, Buell, 7.011, 191.46; 7. Andrew Hines, Harley-Davidson, 6.980, 191.32 vs. 10. Eddie Krawiec, Harley-Davidson, 7.002, 189.95; 8. Adam Arana, Buell, 6.984, 190.75  vs. 9. LE Tonglet, Suzuki, 6.993, 191.70.
Did Not Qualify: 17. Wesley Wells, 7.085, 187.29; 18. Scotty Pollacheck, 7.088, 187.47; 19. Joe DeSantis, 7.099, 188.81.