It was a long climb to the top for PDRA Pro Extreme's newest champion, but the wait was well worth it. Recchia bought his first Pro Mod, a 1996 Don Ness Chevy Lumina in 2000 and raced it with the the midwest outlaw match racers, Chicago Wise Guys, winning championships there in 2000, 2001, 2002, 2003, 2005, 2007 and 2009.
He chose to continue racing locally so that his father, who lived for the races, could attend. When his father passed in 2009, Recchia knew it was time to race on a bigger scene. "We decided to travel, go down south and see if we can't run with the fastest outlaw cars in the world," Recchia explained. "Figured we take a shot at that. Took us a long time to go as fast as those guys. It always seemed like we were behind them six months or a year as far as performance. Recently we just started catching up to them. So it felt pretty good after about five years now of chasing the guys in the south, here we are today with the championship."
Recchia had never won a PDRA race until this season when he captured his first win at the East Coast Nationals at GALOT Motorsports Park. He quickly followed that up with another final round appearance at The Legendary Darlington Dragway. Two races later, Recchia, again made his way to the final round, this time in front of his home crowd and on one of the biggest stages drag racing has to offer.
"Heart and desire are really what transformed our program," continued the Illinois native. "It's a long road to go as fast as these guys. For points this season, the win at Indy is what really put us over the hump. Everybody wants to win at Indy. God-willing and my guardian angels next to me, we pulled it off. My crew, of course, gave me a great car. We had about 30 people come drive in three hours away. They came to root us on. Of course there was a big party afterwards. Doing that in front of your family and friends – you can't script it any better than that."
It seemed Recchia was nearly unstoppable. But then a catastrophic engine failure nearly cost him the championship.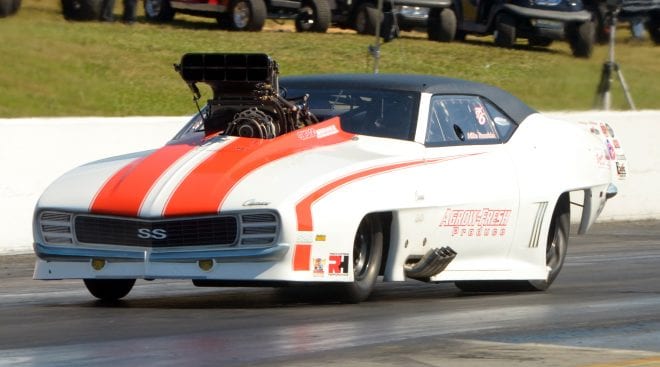 "What really hurt us was during round two of the second GALOT race, we blew the engine up so bad that it broke about everything on the car. We didn't realize there was an electrical problem with the car until the last race of the year in Virginia. So instead of testing on Thursday to get ready for the final race of the year, we spent the day wrenching, not a good way to start your weekend. We tried tuning around our problems but the car wasn't consistently responding. We hung on by the skin of our teeth. Thank God for Terry Leggett in the final. He put the number two guy on the trailer."
It was just what Recchia needed to hang on to the championship. He stayed in front of Mattias Wulcan by a scant two points. Terry Leggett finished the season in third, followed by Tommy D'Aprile in fourth and Jose Gonzales in fifth. Wesley Jones, Frankie Taylor, Jason Scruggs, John Stanley and Jay Deidrich round out the PDRA Pro Extreme top 10.
Recchia's Jerry Bickel-built '69 Camaro is going through an overhaul this winter to take care of any leftover problems from the engine carnage.
"The car is being pulled all apart basically right down to the frame rails. We pulled the suspension out of it; everything comes out of the car, including the electrical system. We have a problem with the electrical system somewhere, so we're just going to replace it all. Then it's just wash, rinse, repeat.
"I have two engine shops I deal with. One is Fowler Race Engines. The other is Legend Racing Enterprises. Everything else other than the block machining is done in house right here at our place."
Michael Recchia Jr. tunes the Agrow Fresh-backed Camaro, and, as his father confides, he's become a proficient tuner.
"We were in the midst of building him a car and he decided he didn't want to drive," Sr. explained. "He wanted to be behind the keyboards, calling all the shots. He was the student for years. The last year or so, he's been the teacher, teaching me a few things. He's really a sharp kid. I'm blessed to have him on my team. I'm glad I don't have to pay him," Recchia laughed. "He's free, he's family. My wife Michele, she's behind the scenes, doing all the managing of the team. So that's pretty cool. When I first started bracket racing, it was only my wife and kids that went to the track but today we need a little more help. Michael is obviously our crew chief and then we have Larry Abbate, Mark Tukiendorf, Tom Tukiendorf, Denny Miller, Tim Norton and Antonio Salerno.
Recchia says that without his crew and backing from Agrow Fresh Produce Co, none of this this would be possible. He and his family have paid their dues in Pro Extreme and are now ready to reap the rewards as the 2017 PDRA Pro Extreme World Champion.