The halfway point has been reached in both the Spell Paving Services Funny Car Chaos and DMP Awnings Nitro Chaos Championship series. In both, the points battles are shaping up to be nail-biters. Now more than ever, qualifying sessions and elimination rounds have become very important to the many teams chasing those precious points.
Not only are teams in a quest for the glory of a Championship, but they are also hunting their take of over $30,000 in year-end points payouts across the Top 10 finishers of Funny Car Chaos and Top 5 finishers of Nitro Chaos.
Looking deeper into the Funny Car Chaos side, four races have been completed on the eight-race points schedule. Young gun Funny Car pilot Alex Barker had led the standings through most of the first half of the season in his Oklahoma based "Back In Black" GTO-bodied alcohol burner until the most recent event at Cordova Dragway. A first round loss put Barker on the trailer early, while 2022 FCC Championship runner-up Tom Furches wheeled his Colorado-based "Made In America" Firebird to the winners circle and assumed the points lead in the current standings.
"Leading the Funny Car Chaos points at the halfway point of the season is a reminder of the goals that were set for the 2023 season. Finishing second in 2022 was good, but we know we have a car capable of winning a championship. Drag racing at Funny Car Chaos exemplifies the three 'C's' that are the backbone of the sport: camaraderie, competition and competitiveness between teams. In 2022, the 'Made In America' team was built around youth and enthusiasm. For 2023, it's more old age and treachery, and it's working!" said Furches.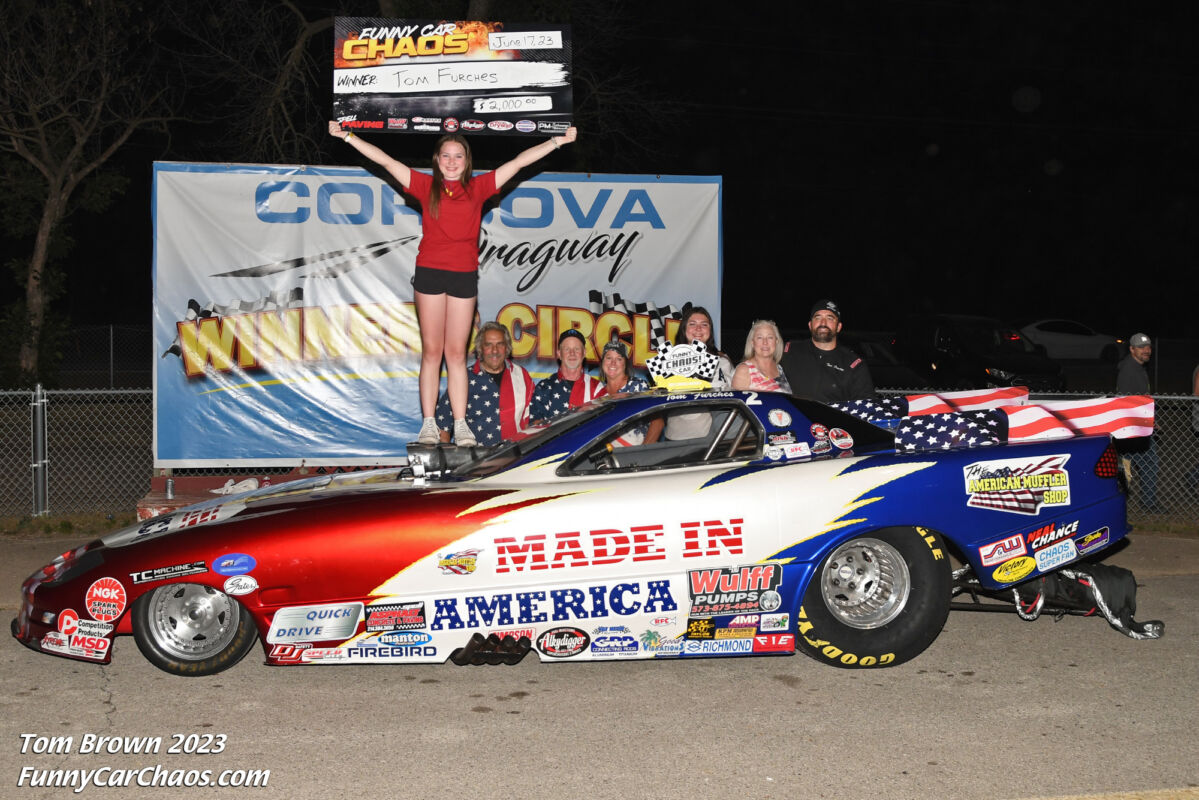 Furches isn't sitting comfortably at the top, as a mere seven points separate him from second place Barker, and twenty-two points back sits defending series Champion Kirk Williams. Just seventy-six points separate all of the Top 10 heading into the next stop on tour at Nebraska's Kearney Raceway Park. One mistake or mechanical failure can play a big role in how these drivers shuffle in the standings.
The "Dry Hop King" himself, Jordan Ballew, is included in the top five. Ballew hails from Oklahoma and handles the driving duties for the family-owned "Ballew Thunder," which has become a crowd favorite and is the only Funny Car in the entire world that has competed in all forty-two Funny Car Chaos events.
"So far our season has been pretty good. We have set career-best numbers numerous times with great tuning from my dad. We didn't think we would be here with how stout the competition is, but it is proof the Chaos formula works, and we are going to do our best to stay in contention. This series means everything to me and my family. I was just a kid with a dream of racing a Funny Car one day, and the Chaos has not only let me live out that dream but make tons of new friends and travel the country doing it. We can't thank Chris and Tera enough for giving us a place to race and for all the sponsors that support our team and the series," said Ballew.
It's going to be an exciting second half of the season for the Funny Car Chaos competitors as they head to Kearney Raceway Park on July 7-8th, Albuquerque Dragway on July 28-29th, Mo-Kan Dragway on September 1-2nd, and conclude at the new location for the FCC Championship Finals, State Capitol Raceway in Baton Rouge, Louisiana, on September 15-16th. The Funny Car Chaos series thanks the support of Spell Paving Services, Wulff Pumps, Performance Motorcoaches, Excel Drywall and Fat Tirez Apparel, which guarantees a $37,500 payout at each event and a $20,000 year-end payout to the Top 10 finishers.
Seventy-six teams have competed in Funny Car Chaos this season. Upon completion of this, the seventh season of Funny Car Chaos, over two hundred Funny Car teams are expected to have participated in the red-hot series.
The inaugural DMP Awnings Nitro Chaos Championship season has been equally exciting and a blessing for fuel burners looking for a competitive and fun place to race their ground pounders. A lighter four-race schedule has provided strong car counts and side-by-side entertainment from nitro burners of all kinds. Front engine dragsters, rear engine dragsters, Funny Cars, Fuel Altereds and even Pro Mods have competed, and thirty drivers have earned points in just the first two events, held at Ohio's Edgewater Sports Park and Iowa's Eddyville Raceway Park.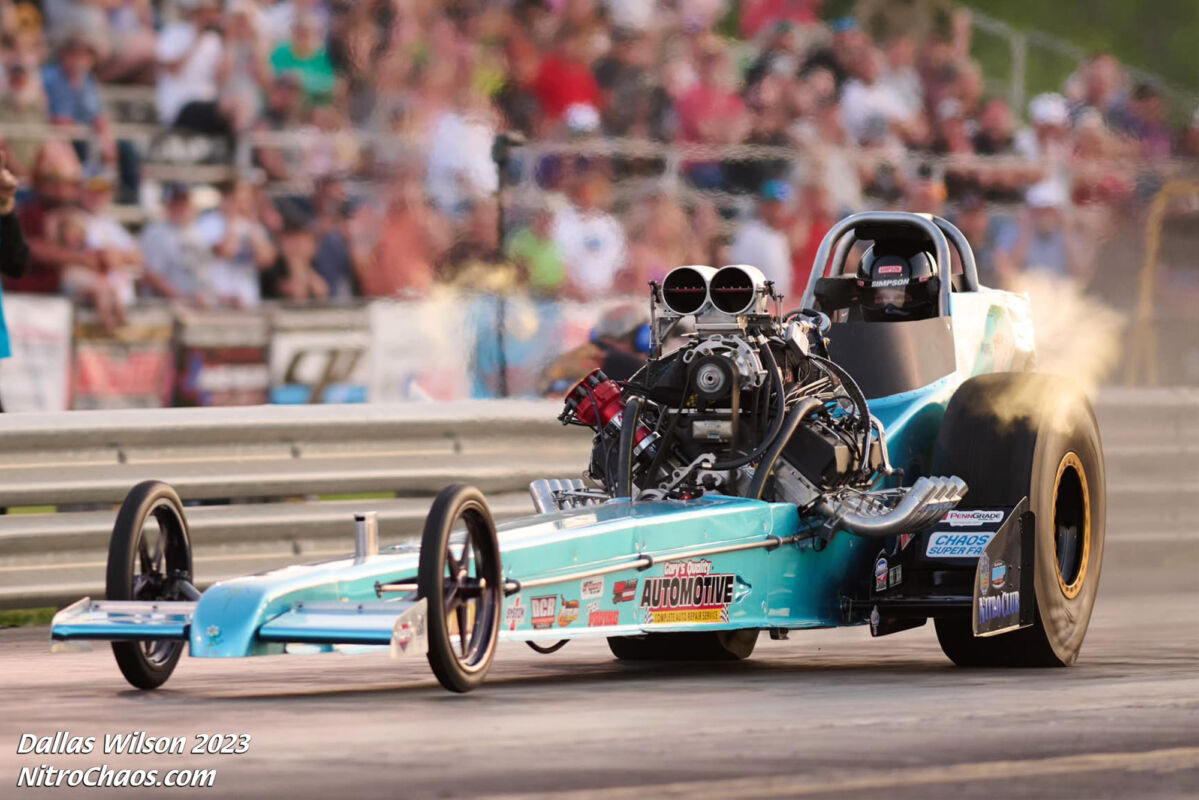 It was a last-minute decision to turn the Nitro Chaos concept into a points series, motivated by support from DMP Awnings, McKinney Motorsports and CP-Carrillo, which funded the year-end points fund and ignited a nitro frenzy. This newly formed series caught the eye of many teams across the Southwest and Midwest who wanted their own taste of the Chaos points series action seen in Funny Car Chaos. Names like World Champion Megan Meyer, who currently sits tied for first place in the Nitro Chaos standings.
"Coming into the Nitro Chaos series this year, I have my eyes set on the inaugural championship. Our Gunk team knows how to work in sync, and I have faith that the 'Nitro Queen Bee' dragster can get the job done. I'm still upset about the red light loss in Edgewater at the first race. We would probably have a strong lead if we were to win that round. But we've got to keep fighting to the finish! No matter where we end up at the end of the season, we're having so much fun competing in this new series, and I don't miss the NHRA at all," said Meyer.
Meyer, who has a win and semi-final finish in the McKinney Motorsports' A' Field, is tied for the points lead with Garry Wheeler Jr. Wheeler pilots an Oklahoma-based outlaw nostalgia top fuel dragster owned by Jon Brook and has back-to-back runner-up finishes in the CP-Carrillo' B' Field to credit for his early season success. Two racers competing in the same series, within two different fields, with two totally different style cars, with the same amount of points and the equal likelihood of a Championship – that's how the Chaos works.
"We are halfway through the inaugural season of Nitro Chaos, and it's been everything we could have expected from Chris and Tera. Our Grand Prix team started preparing for this season last winter. The first two races have been awesome, and it's going to be a fight to the very end and we want the championship just as bad as anyone. This Nitro Chaos series allows us to run the engine combination we want to run and have fun doing it. The first rule in Chaos is to have fun, and boy oh boy, are we having a blast! We're going to give it our best effort and look forward to the growth of Nitro Chaos," said Wheeler Jr.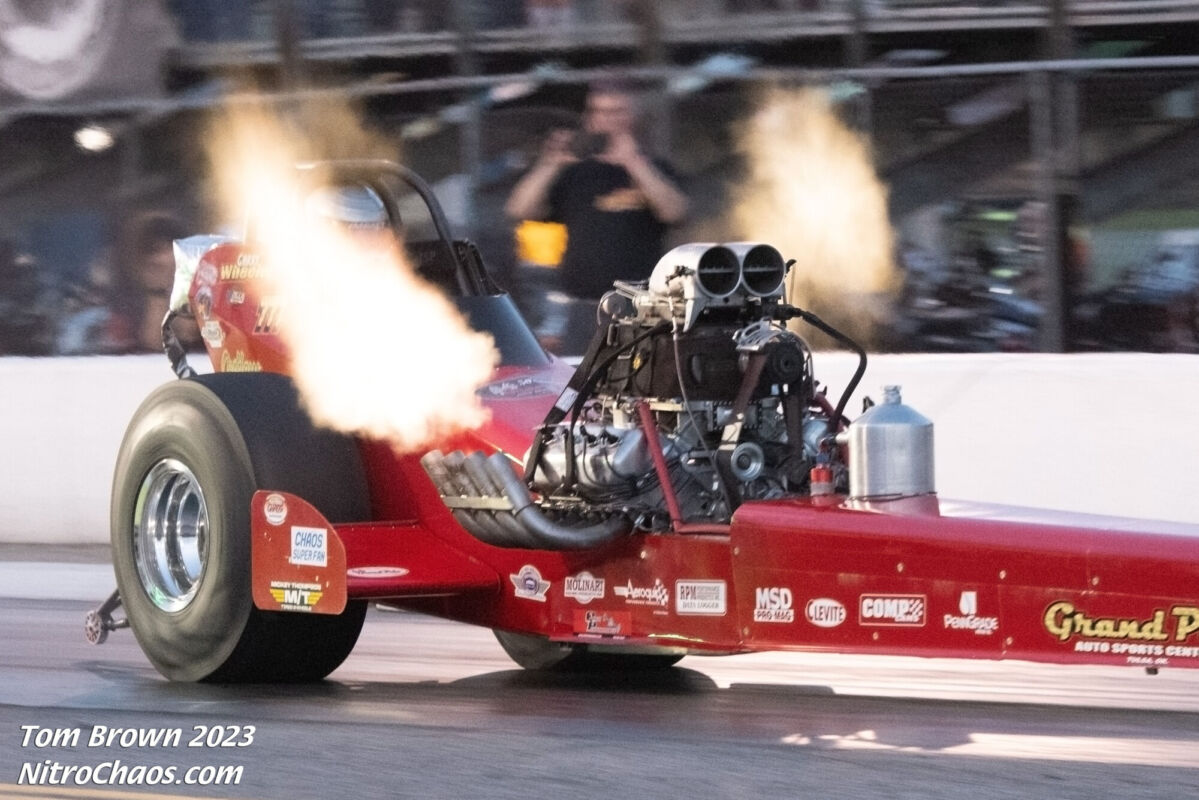 Similar to Funny Car Chaos, the Nitro Chaos standings show an entertaining points battle shaping up, which also includes Todd Bruce, Joseph Gallegos, and Jody Austin, among others, who can jump up in the
standings with a win at the next stop on tour, Mo-Kan Dragway, July 14-15 th.
The season will conclude, and the inaugural champion will be crowned on September 22-23rd at Pine Valley Raceway in Lufkin, Texas. The Chaos events pack grassroots drag strips with full fields of feature car action, jets, gassers, sportsman racing, pit area experiences and more. All of the events are available to stream with a subscription to FloRacing.com. More information, including photos, race results and the complete points standings on each series, can be found at FunnyCarChaos.com or NitroChaos.com.