"You hungry?" Melanie Salemi asks. Having just completed the four-hour drive from Cleveland to G-Force Race Car's Buffalo, New York-area shop, followed by a six-hour photoshoot, photographer Cole Rokosky and I responded to Salemi's question, nearly in unison, with a hearty "Absolutely!" The three of us clear out of the small garage space occupied by Salemi's Roots-blown '68 Firebird affectionately known as "Purple Reign", snaking through a short, narrow hallway lined with various chassis tabs and accessories before ending up back in the main chassis fabrication area. Salemi's brother-in-law Jim is performing some maintenance work on a center section. Her husband and tuner, Jon, is double-checking a shipment of parts scheduled to go out to one of his Resolution Racing Services customers on Monday. It's quittin' time here in Tonawanda, a Buffalo suburb that is, at this time in early January, as cold as it is fun to say. Jim finishes up what he's working on and heads home, while Melanie, Jon, Cole and I bundle up and prepare to brave the 2-degree weather in search of tacos and margaritas.
We pile into Jon's pickup truck, where the stereo is blasting tunes from Royal Blood's eponymous debut album. He turns down the volume as I begin to ask Melanie about her first season in the Professional Drag Racers Association's Pro Boost class in 2015. Since Salemi is embarking on a planned full season in the E3 Spark Plugs NHRA Pro Mod Series presented by J&A Service, it seems like an appropriate place to start the conversation. She earned her first Pro Boost win in just her fourth event, one race after debuting "Purple Reign". With the NHRA Gatornationals, which will be her second NHRA Pro Mod appearance, just weeks away, one must wonder if a similar early victory is possible in the shark-infested waters of the NHRA Pro Mod scene.
"Our first win (in Pro Boost) came super-fast, so it was unexpected," she says. "It took me a long time to win a Top Dragster race. Obviously, you go to every race prepared to win, but I thought it would be maybe tougher to do. But with these guys behind me, it was easy."
She's referring to Jon and Jim, the leaders of the family-based team. The brothers grew up racing together and eventually banded together with Mike Stawicki, who now provides the horsepower for Salemi's Firebird. That trio's time racing together laid the groundwork for what would become Melanie's win at PDRA Dragstock VII in Rockingham, North Carolina.
"Rockingham was kind of a crazy situation," Jon says. "We had been close a couple other times with Mike driving. We knew we had the capability. That day at Rockingham, it just all came together."
An emotional celebration followed as the Canadian-born driver and her team paraded back up the return road, basking in the cheers from the crowd that had toughed it out through a long day in the sweltering Carolina heat to witness this moment.
"People were just stopping us and stopping us," Melanie stories. "I remember Denise Tutterow stopping me, jumping up and down with me, and I said, 'Oh Denise, I have to stop; I'm getting so overheated, I'm going to pass out!' I was so excited, but it was so hot and I just remember getting that lightheaded feeling. It was a crazy feeling."
A sobering DNQ at the next race at Virginia Motorsports Park cooled down the situation like a splash of cold water. Problems plagued "Purple Reign" all weekend until the final qualifying session, when Salemi laid down a good-but-not-good-enough run, coming up just a couple thousandths short of the 16-car field.
"And it was the first race nobody had ever broken at," she laughs. "I was in the 17th spot, going around the pits like, 'Are you guys gonna race? Are you guys gonna race?' Everyone's like, 'Uhh, yeah.' Come on, come on!"
A strong sophomore season followed in 2016 as Salemi reached the final round at two PDRA races and an event at Ontario, Canada's Grand Bend Motorplex. She finished the season third in PDRA Pro Boost points, a feat she repeated in 2017 on the strength of a win at Darlington and a runner-up finish at the GALOT fall race.
As a smaller team racing in the stacked Pro Boost field, two Top 3 points finishes is a big deal. Finishing ahead of Salemi was young rookie Ty Tutterow out of the three-car GALOT Motorsports camp, who secured second place behind Jose Gonzales and the tuning-talent-rich Pro Line Racing team.
"To me, personally, it's a huge accomplishment," Jon says. "I don't want to sit here and cry about not having enough funding, because we do have enough funding to race, OK? But our funding doesn't allow us to do the R&D that we want to do, or have tons of extra parts or go out and get the next whiz-bang thing for the next race. It takes us a little bit longer to get that.
"Companies like Liberty Gears, Quick Drive and Neal Chance, then Eddie Whelan from Al-Lee Installations – all these companies and people believed in us like we believed in ourselves. Thank God, we proved ourselves like we knew we could."
The Salemis also endorse a host of performance parts manufacturers, whether it's through branding on Melanie's race car and fire suit or through Jon's Resolution Racing Services. Companies like Big Sky Motorsports, Delta Faucet, Jeff Pierce Race Car Tuning, TT Motorsports, and RS Performance, Melanie's father's business, appear on the car. Products from sponsors like FuelTech, Strange Engineering, LAT Racing Oils, Atomizer Racing Injectors, Browell Bellhousings, Ross Pistons, Motorsports Unlimited, R&R Racing Products, Flat Out Gaskets, Hoosier Tires, NGK Spark Plugs, MVM by GALOT and Kinetic Engineering can be found throughout Melanie's MSR Performance-powered Firebird, as well as many of the cars that come off the jig at G-Force Race Cars.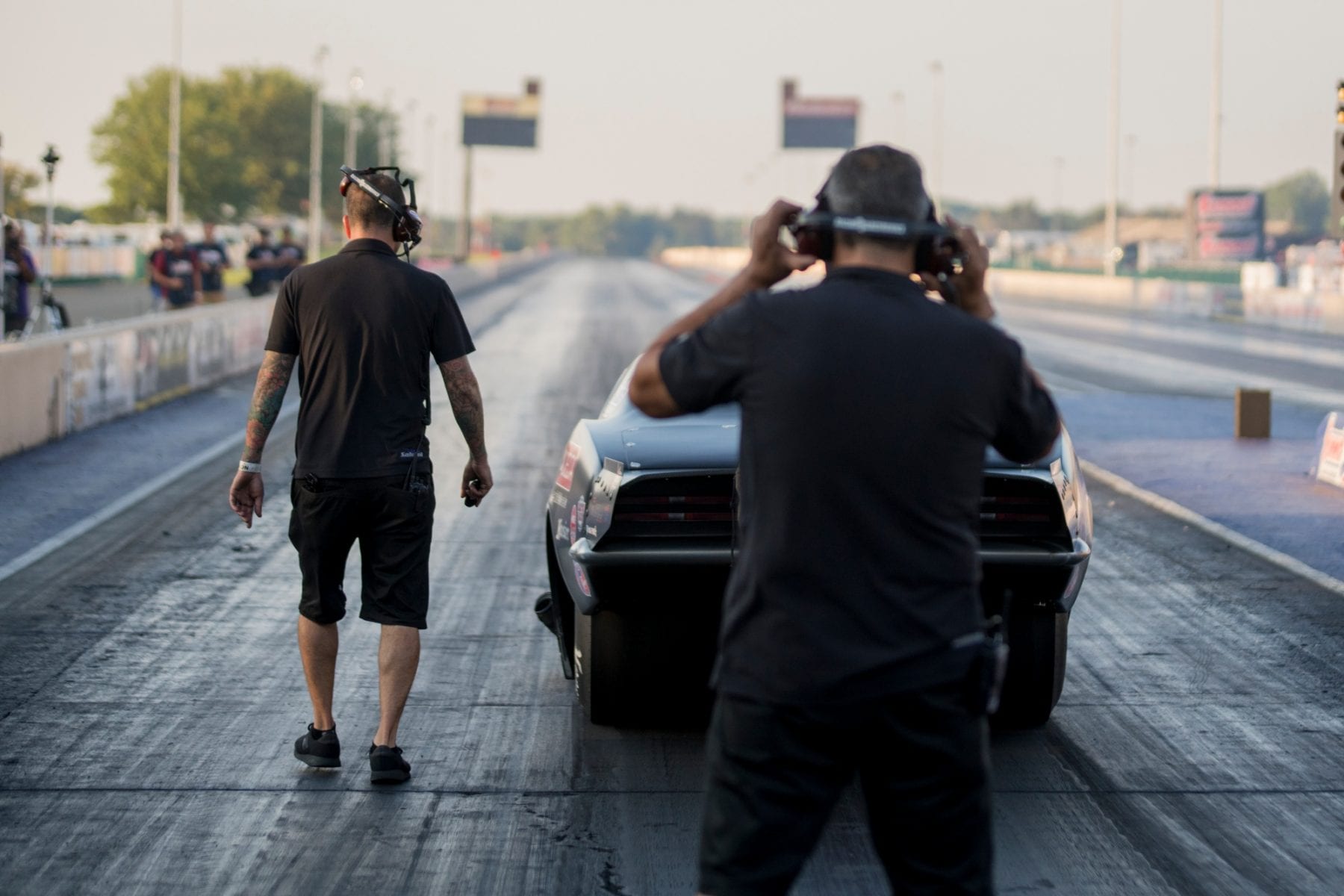 As we sit down to dinner at Gramma Mora's in Buffalo's North Park district, the conversation centers on the unique family dynamic that exists within the Salemi pits. The group gels along well now, but that wasn't always the case, as Melanie recalls a point in 2015 when going racing just wasn't fun. Tempers would flare at the track, resulting in unpleasant but necessary conversations back at the shop on Monday.
"We had to come back and have a meeting and say, 'Listen, I don't like how you're acting at the races, I don't like how you're acting at the races, and I certainly don't like how you're acting at the races. So either we have to fix this, because it's not fun for us to go, or we have to do something different.'" Melanie says. "We all do this because we're passionate about it and we love it. There's no reason why we should be going to the racetrack and not having the best time ever."
The ensuing discussion among the team members was enough turn around the morale. Lately, the atmosphere in the pit is lighthearted, as evidenced by the team's appearance on Sidetracked, an documentary-style online mini-series that follows the Salemis' adventures.
"We make it fun, even the times when it's hard," Melanie says. "You will never, ever come into our pit and see us working on the race car or having to change a piston and see people in our pit who are mad that they have to do that. That's part of it. We know that if we're pushing everything to its limits, we're going to burn a piston or we're going to break something. We very rarely ever have anybody upset that something happened, just because we know that's part of racing."
As Melanie and Jon both point out, a big part of the even-keeled team attitude is everyone knowing their roles within the team.
"Jim and I have a relationship where I look to him for comfort in the race car," Melanie says. "I know that if I
say to him, 'Jim, this is happening.' He can say to me, 'Don't worry about it, you're fine,' whereas Jon has a different relationship with me, so he might be like, 'Oh my goodness, it's my wife in there. Uh…I don't think I want you to make this run.' There's less emotion between me and Jim talking on the radio. Jon is the last person who talks to me on the radio before I make a run. Everybody has their certain roles and everybody has to be OK with other people's roles, or else it doesn't work." Jon adds, "We say it all the time: Know your role. Live up to your expectation of your role."
Melanie, Jon and Jim not only race together, they also work together daily. Jon's Resolution Racing Services tuning and consulting firm and Jim's five-person G-Force Race Cars business operate under the same roof in a shop Jim has occupied for decades. Melanie works in the office, handling the bookkeeping, social media and logistics for the businesses and race team. She also tries to organize the guys in the shop "as much as Jim allows me to," she laughs.
All of this time spent together, especially in high-pressure situations like the racetrack or the shop, could easily lead to tension, but the trio of co-working family members abides by the rule that work-related shop talk stays at the shop. The same can't be said for racing-related shop talk, which bleeds into family gatherings and outings with non-racing friends.
"We can turn off work, but we don't ever turn off racing," Jon says in between bites of his veggie quesadilla. "We just had our big Christmas party a couple weeks ago, probably 50 or 60 people at the house. At the height of the party, we stopped everything and made everybody sit around the TV and watch racing videos. This year we played the new Sidetracked year-end episode, so all of our friends and family got to see that before it was released publicly. We played the NHRA.com interview with Lewis Bloom. There's a fair contingent of old folk within the family that doesn't have Facebook or they don't go on the internet to look at this stuff, so they got to see what we did last season.
"To me, those are some of the most important parts of the year, where you can go back and see all this hard work and drive and passion and hopefully shared it with these people for five minutes of this seven-hour, double-throwdown party."
Getting the family to take a few minutes to watching racing videos isn't necessarily a challenge at a Salemi family gathering, though, as both sides of the family have deep ties to the sport. Melanie's father, Roger Simmons, raced, as did her grandfather and grandmother, who were early adopters of the straight-line sport in the '50s. Jim, the oldest of five brothers, led his siblings into the sport, first racing at Lancaster Dragway on Friday nights, almost always with an elementary-aged Jon and their mother watching in the grandstands. After years of involvement, drag racing lingo isn't only understood by the Salemi tribe, it's their native language.
"We'll be at a family function and Jim and I will be over in the corner talking about tune-ups," Jon says. "At the other side of it, our immediate family, they're all racers, so we'll be talking about Lucas and Angelo's bracket race on the snowmobiles at Lancaster on Friday night – who took the stripe, who went double-oh and who didn't. Then we'll be talking about, 'Man, it rattled through 1.2 and (John) Strickland drove by us in the second round and we lost. Or 'Man, it never set the wheels down in second gear. Did you see that?' At the end of the day, we're completely consumed and ate up by racing."
Melanie and Jon do get a brief reprieve from racing when they take part in the afterschool activities of their two children from Jon's previous marriage. Evan, 15, is an avid hockey player, while Akyra, 12, is into competitive dance. Both kids have made passes in Jr. Dragsters, and Evan attends around half of the team's races, incorporating them into his school schedule when it's possible. He helps in the shop and at the track, usually spending a couple hours working on homework in the track media center after racing is over for the day.
On the off chance there isn't a race, hockey game or dance competition, the couple will spend time catching up with local friends, but as Melanie admits, racing inevitably makes its way into those gatherings too.
"In the summer, we really enjoy going over to our one friend's house to hang out for a bit. But they have an outdoor TV on their patio, so we make them watch racing videos too," she chuckles. "So awesome."
While Melanie's friends are more than glad to watch a YouTube clip or even attend a local race to support her, it's hard to have a conversation with them about the latest torque converter or the incremental, round-by-round results of the last race. Away from the track, Melanie never really had a friend who could relate to her racing experience on a deeper level.
That changed last year, though, as she struck up a friendship with longtime Top Dragster pilot Kathy Fisher through a match race at Lancaster Dragway. The two had never spoken before the race, even though they'd regularly cross paths on the PDRA tour. The weather didn't cooperate and neither one of the two laid down stellar numbers, but they did form a bond that's continued to strengthen.
"I can actually have a conversation with her about the feeling you get when you're at the racetrack or when you're driving down the racetrack," Melanie says. "She understands that, and I've never experienced that with a friend before. That's something that's become special to me, having another girl friend who's on the same page as I am, with the same passion. That's really neat for me."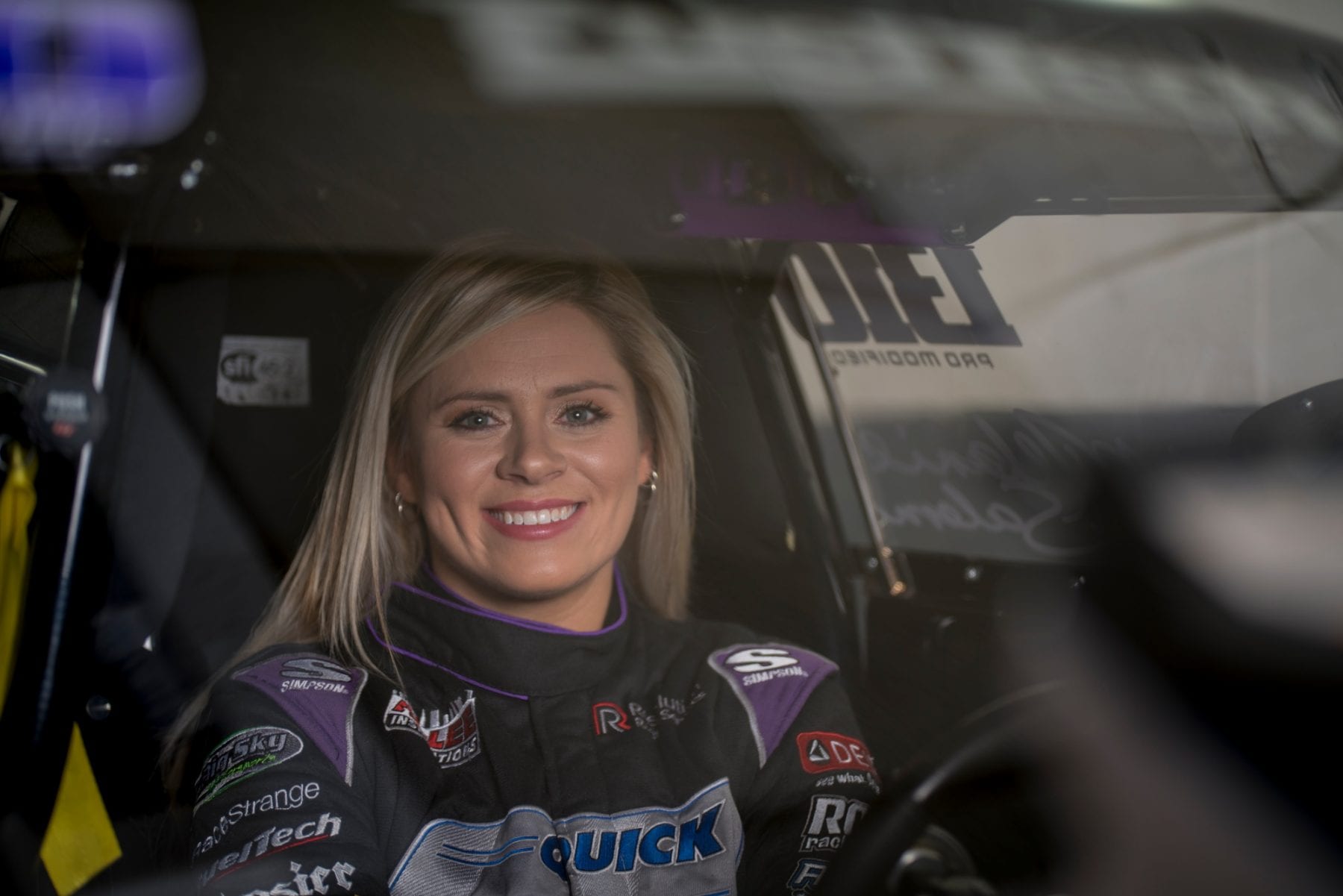 After polishing off our nachos, quesadillas and tacos, we hop back into Jon's truck to head back to the Salemis' house. He takes the scenic route, passing local landmarks like the Buffalo Zoo and famed architect Frank Lloyd Wright's Martin House. Like a proud tour guide, Jon explains the personal and historical significances of each location, reminiscing about the days when his internationally touring hardcore punk band, Snapcase, would pack local establishments before rising to success on the national level. A week after our visit, he would reunite with his bandmates for a sold-out reunion show at the Town Ballroom.
As our tour brings us by General Motors' Tonawanda Engine facility, known for the "Tonawanda 454", I bring up the reason why Melanie's name has been popping up on seemingly every drag racing news website over the winter: She's going NHRA Pro Mod racing. While she tested the waters with an entry at the NHRA Midwest Nationals in St. Louis last fall, the team has decided to dive in headfirst this season. They have a provisional entry into the season-opening Gatornationals, March 16-18, which they plan to use to earn grade points towards entering the rest of the races.
Salemi's NHRA Pro Mod debut gave her a nice sampling of what's in store both on track and in the pits. She was one of the 13 drivers who didn't make it into the field at St. Louis, but she was warmly accepted by the fans, who completely depleted the team's hero card supply, as well as NHRA announcer Brian Lohnes, who invited Salemi into the announcer's booth to provide color commentary for the first round of eliminations.
"That was a neat experience because I felt like I was still part of it," Salemi says. "More people got to listen to my story and get to know who I am. Brian knew where I came from and what I had done, but a lot of people in the stands probably didn't. They were probably thinking, 'Oh, here comes another girl who's going to drive a Pro Modified.' Well, I've been doing it for three years now and I have a pretty lengthy history in driving before that."
Salemi didn't notice any extra attention on her brought about by the fact that she's the first woman to compete in NHRA Pro Mod since Leah Pritchett drove a turbocharged entry in 2012.
"Sure, there is a new face there, so people are drawn to that a little bit," Melanie realizes. "Once I go down the racetrack and people see that my car is actually going to go down the racetrack and I can drive the race car, I think the majority of people just think that I'm a race car driver. It doesn't matter whether I'm a female or a male."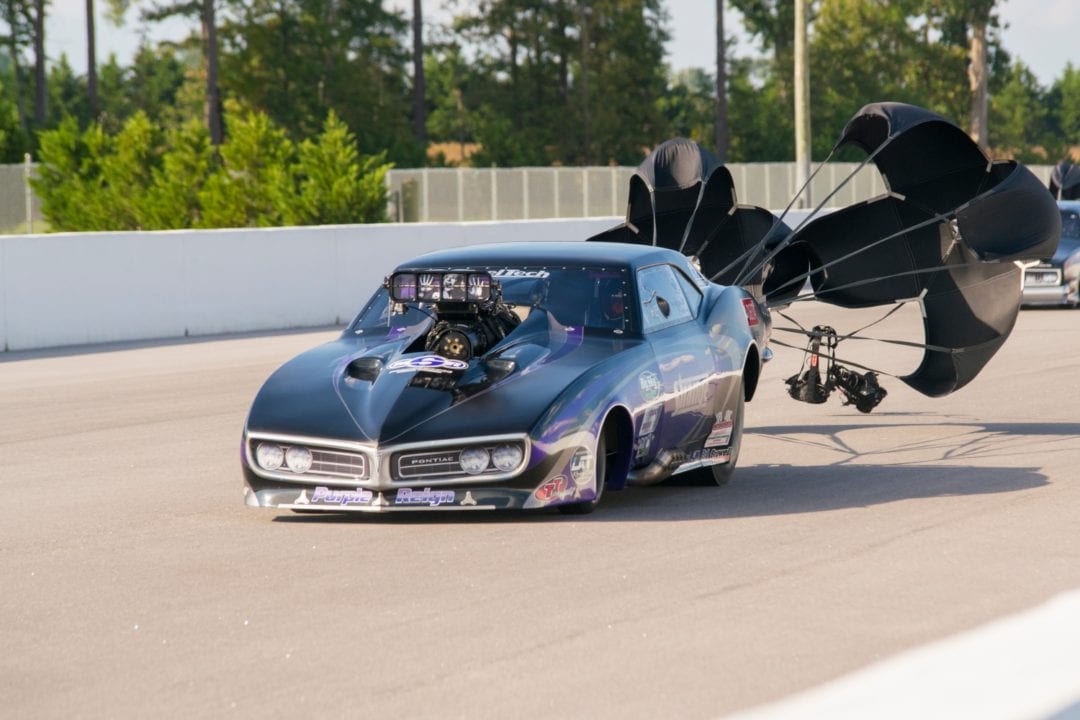 While Melanie navigates the changes that will affect her various responsibilities as a driver and brand ambassador for her sponsors, Jon is up for the challenges on his side of the team. For one, the transition from the eighth-mile PDRA to the quarter-mile NHRA forced him to make a few changes to the car, namely swapping out the 5-speed transmission and lockup converter for a 3-speed and non-lockup. And since many of the top NHRA Pro Mod teams have rigorous R&D programs, Jon and engine builder Mike Stawicki have ramped up their efforts in the dyno room.
Jon expects the move to have profound effects on the performance of the cars he tunes across the board. His customers, spread out across numerous regional series, will have his undivided attention when he's at the track with them, and the same goes for "Purple Reign", the lone car he'll tune on the NHRA tour – so far.
"Right this minute, we don't have any customers running in the NHRA, so we can solely concentrate on our car," he says. "For our customers' endeavors with PDRA, NMCA, Northeast Outlaws or any other organizations, we can go to those events with our customers and have more of a focus on their efforts because we're not so wrapped up with what our personal car is going to do. It was a huge business decision for us to make this move to also better serve our customers."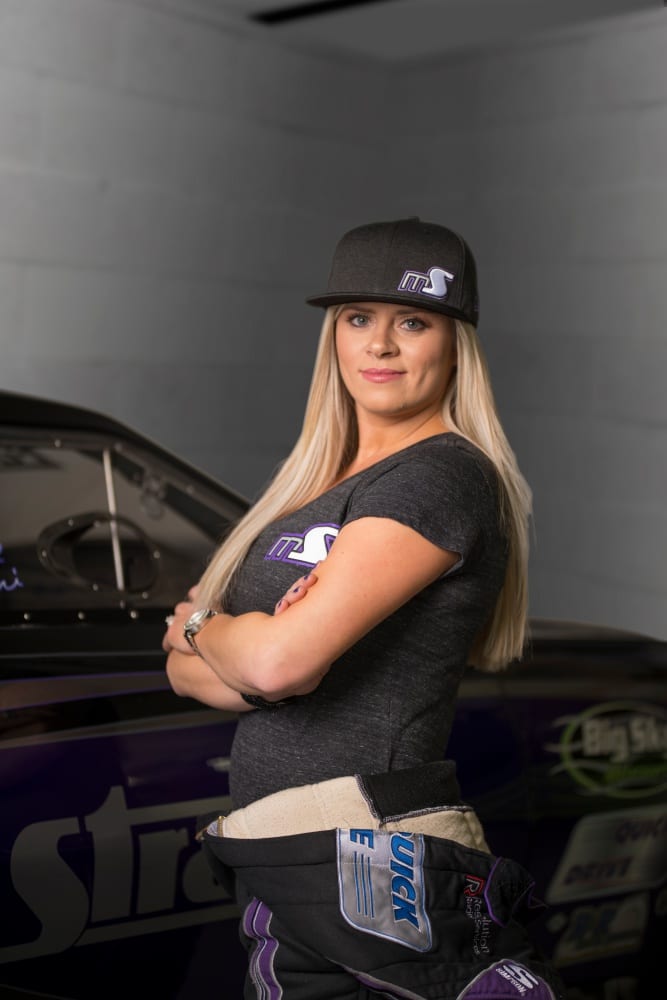 Call it a strategic business move or a way to please sponsors, but there's no denying this venture over to the prestigious NHRA big stage is about more than improving time slips or passing out more hero cards. No, this is also about the chance to compete for the coveted Wally, an 18-inch-tall, bronze-plated, walnut-base trophy known the world over as the most sought-after prize in drag racing. As NHRA Pro Stock Motorcycle rider Steve Johnson once said, "It's as real as a glass of water but as hard to get as a million dollars." Countless drivers and team owners have spent well over that figure to get their hands on a Wally. While the Salemis aren't quite prepared to go that far, they're more than ready to put in the hard work and late nights to put their beloved '68 Firebird in the winner's circle.
"It's such an undertaking to do this, it's crazy," Jon says. "Most people, our non-racing friends, just look at us like, 'You guys are crazy.' The money is one thing, to be able to afford it, but the effort dwarfs the money. If you're determined and you want it bad enough, you'll work hard enough for it."
"This is a huge effort between Jon, Jim, and Mike Stawicki, plus all of the guys at our shop and Mike's shop, the kids – they sacrifice a lot too," Melanie adds.
Salemi is also quick to point out that Stawicki made one big sacrifice at the beginning of her Pro Mod career. Rather than continue to drive the Resolution Racing Services/G-Force Race Cars/MSR Performance house car, Stawicki chose to pass on the honors to Salemi, who had just earned her Pro Mod license in Tommy Zarella's supercharged C5 Corvette. "At the end of the day," Melanie says, "Mike Stawicki believed in me."
Stawicki will soon have the chance to get behind the wheel again, as there's a brand-new chassis awaiting a '17 Camaro body on the jig at G-Force. He's set to take delivery of the car and the hit the track with it later this season. In the meantime, the Salemi gang will be doing everything in their power to showcase their abilities and reward the sacrifices of their supporters. Their mere participation in the NHRA Pro Mod Series will go a long way towards that goal, but winning? That would go a whole lot further. Plus, one of those Wallys sure would look nice in the trophy case.
"Mike took himself out of the seat and put Melanie in the seat to further this whole racing adventure, both at the track and business-wise," Jon explains. "This will be one of the final steps to make that pay off."
Photographs by Cole Rokosky
This story originally appeared in DI #130, the Hottest 2018 Issue, in February of 2018.