Megan Meyer has been surrounded by NHRA Top Alcohol racing for as long as she can remember, so it was no surprise when she made her Top Alcohol Dragster competition debut at age 22 in 2015. Since 2003 world championship tuner Randy Meyer is her father, it should have been no surprise when she went to the final round in her debut. And finishing fourth in NHRA Lucas Oil series national points in her first full year in competition? For Meyer, the only surprise there is that number isn't lower.
Meyer started helping her father in the shop at an age when most girls would rather play with Barbies and enter cheerleading competitions, not work on a clutch-dust-coated A/Fuel dragster. She envisioned someday strapping into one of those 280-mph rockets, maybe alongside her father, or even her younger sister, Rachel.
Randy never coaxed Megan or Rachel down that career path, but he was eager to show them the way when they began to show interest. The girls began the process with Junior Dragster racing at ages 10 and 8, respectively. Megan then moved up to racing at Super Comp at local bracket races and the occasional NHRA nationals and divisionals. However, she wanted to go faster, and she knew she would need to put in the additional work required to compete in the sport's quickest and fastest sportsman category.
"I knew when I hopped into my Junior Dragster that I would make my way up to Top Alcohol if that's what I really wanted," Megan says. "I knew I would have to work for it and I would have to spend weekends and late nights in the shop at home working on the cars even if I would rather be out hanging out with my friends. I didn't expect anything to be handed to me. Even when we started bracket racing, we had no experience with that. My sister and I had to learn on our own, and we built a strong relationship with our local tracks from the families that I race with every weekend. We've come a long way since those times."
The insistence to learn at every step along the way has paid dividends in Meyer's quest to become a Top Alcohol Dragster champion. The foundations picked up in the Junior Dragster and Super Comp ranks, along with accompanying her father's team to the starting line well before she would ever need to understand the process, gave Meyer a distinct advantage over other rookies who enter the class in hopes of landing a Top Fuel ride.
"I had to learn along the way. Learning to have patience, persistence and determination are all lessons that I've learned on this journey that have really helped me as a driver. I've had my fair shares of wins and defeats but I believe the best place to really grasp the entire operation is to be trackside on the starting line and working in the pits as one of the crew guys. If you can start out your career by working in the shop and helping build the car that you're going to pilot, and the major thing is to be willing to learn all the components of the race car, it just helps elevate you to become the best driver there is, and it all comes full circle. I'm just so thankful for the childhood that my sister and I had and the women that we've blossomed into today because of those efforts," Meyer says.
Having that mentality and the knowledge of how the car works helped Meyer when she made her first few passes towards getting her Top Alcohol Dragster license. She was given the opportunity to begin the licensing process in her father's car on the Monday following the 2013 Gatornationals in Gainesville, Florida. Even though the day's testing efforts went well, it would be another two years before Randy gave Megan the go-ahead to make the final runs required to finish the licensing process.
"Patience was the major thing for me because I tested for over two years until I actually got my license," Megan points out. "Yes, I could have gotten it on that first day that we tested at Gainesville back in 2013, but that wasn't really the way we wanted to go about it. I told my dad I wanted to graduate from college first. I wanted to get a degree under my belt, and I went to college with the purpose of racing in mind. The reason why I went and got a graphic design degree was because I knew I could apply what I learned in graphics and bring it to the racetrack to help out my team as well as other teams with their graphics, marketing, social media and stuff like that."
Once she became an officially licensed Top Alcohol Dragster pilot, Meyer entered her first race at the All-American Hot Rod Showdown at Gateway Motorsports Park, an NHRA North Central Region race filled with heavy hitters. She used a consistent combination of quick lights and thundering elapsed times to defeat class veterans Robin Samsel and Marty Thacker before losing a cylinder in the final round against the torque converter-equipped blown dragster of Brandon Booher.
"You have to look at it like you're racing her dad, or even a quicker-reacting version of her dad," Booher said at the time. "Randy is one of the best there is at tuning an A/Fuel car and Megan is no doubt proving herself as a driver. She's going to be a handful for a lot of people as she continues to develop as a driver."
Meyer followed up her late-round debut performance with a semifinal finish in front of her local friends and family at Heartland Park Topeka's NHRA regional event just a few weeks after the St. Louis debut.
"It was just awesome to go to Topeka and have that same kind of success, make it to the semifinals. At both races, the way the ladder was set up, I could have raced my dad, which was really cool. We still haven't had that opportunity yet, but we're still going to try for it."
In December of 2015, a few months after her competition debut, Meyer graduated from Kansas' Pittsburg State University with a degree in Print & Web Design. She immediately put her skills to use, developing marketing materials and merchandise for her 2016 season, in which she planned to run a full slate of national events and regional races to contend for the NHRA Lucas Oil Series national championship. Meyer also worked with seasoned design professionals to design the vinyl wrap and sublimated crew shirts that would eventually garner the Best Appearing Car and Best Appearing Crew awards later in the season.
Although 2016 was billed as Meyer's rookie season, she didn't feel like the term "rookie" accurately described her. Two years of testing and two regional races gave her a chance to experience a sample of everything Top Alcohol Dragster racing has to offer – tire shake, tire smoke, dropped cylinders, staging against two other combinations, and everything in between – except the pressure of racing on the grand stage of an NHRA national event. Meyer quickly moved past that challenge, though, as she pulled onto the history Gainesville Raceway quarter mile for the 2016 NHRA Gatornationals.
"Having that experience really helped set up 2016 to be a great season because I had those first-run jitters out of the way. I wasn't as nervous as I was in 2015," Meyer remembers. "Even though Gainesville was a national race, I still had those six or seven rounds of eliminations in my pocket, and so I knew what to expect. Within those few races, I lined up against the three different types of setups in our class – A/Fuel, blown cars and the converter cars. I had all this experience going into 2016 so I wasn't that much of a newbie to it."
Meyer made an immediate splash when she came close to sweeping the event, just a few numbers away from qualifying number one and winning the event. Her best friend, "Miss Mia" Tedesco, nabbed the number-one spot with a 5.215 over Meyer's 5.224, and A/Fuel veteran Rich McPhillips denied Megan her first event win with a narrow holeshot victory in a 5.567-to-5.564 race.
"Going into Gainesville, we didn't expect to be number-two qualifier and make it to the final round, but we did expect to be qualified in the top half and at least go a few rounds of eliminations," Meyer says. "It was just kind of a dream weekend and then we were able to follow that up with another final round in Belle Rose [Louisiana], which was a track that none of us have ever been to before."
After reaching the final round at the Gainesville national and Belle Rose regional, winning at least two rounds became the norm for the first half of Meyer's 2016 season.
"From Belle Rose, things never really slowed down. It was exciting to head to Charlotte, get the win, take home the Best Appearing Crew award, and then to have a semifinal finish in Houston, followed up by another runner-up at Topeka and being number-one qualifier at my home track. Everything just fell into place. It was just really the best year that we've had in a really long time for our team."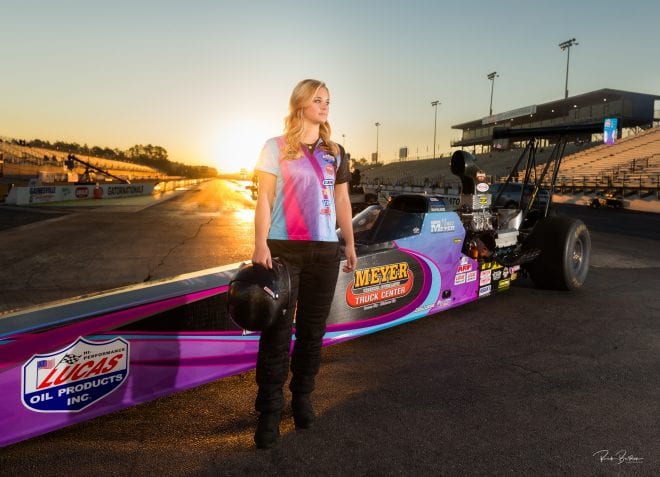 The optimistic 23-year-old can't look past the rough patch she entered toward the end of the summer. A demanding schedule with two, sometimes three, A/Fuel cars put a dent in the Randy Meyer Racing parts supply, usually stocked full of the freshest engine blocks, cylinder heads, engine components, clutch disks, tires and more. Both Megan's car and Randy's entry, driven mostly by "rent-a-ride" drivers, began to suffer by the time the Brainerd race came around.
"We were running two cars at a lot of the races at the end of the season. It took away from the opportunities as far as motors, parts, and tires. We ran into little issues with that but we tried to make the best of it. There wasn't really one thing causing it, I think it was just a bunch of little things that added up. We changed motors about five times in my car, which is kind of unheard of. I think we went through four or five cranks and oil pans this year. We got really limited on parts as the year went on. When we went on the five-week tour, we were really struggling. By that point it was too late to order new parts or go back to our inventory because we just about used everything up."
With a similarly busy schedule in mind for 2017, the Randy Meyer Racing group has bulked up their parts supply and thoroughly inspected and refreshed their Copeland dragsters with intentions of chasing the national championship and Central Region title.
"We spent a lot of time in the offseason changing a lot of stuff on both of the cars," Megan notes. "We've noticed that it's weird how my car did really well at the beginning of the season and then fell off at the end, whereas my dad's car was doing OK in the beginning and middle of the season, then it picked up quite a bit at the end of the season.
"We've made some changes to the chassis, made quite a few changes just on little stuff, plus we do our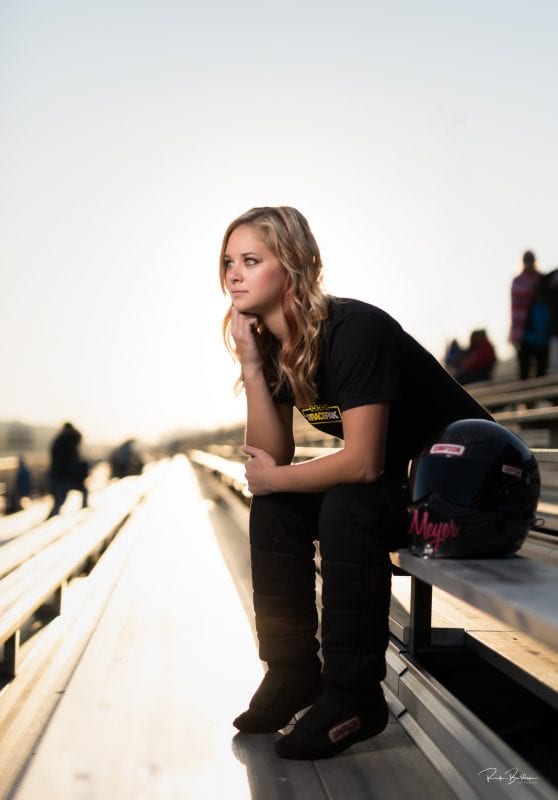 normal maintenance in the offseason. Basically we replace all of the wiring and hardware. Literally, we take off every single nut and bolt on the car and replace it with a new one. That's where our partnerships with companies like ARP Bolts, Racepak, and Taylor Cable come into play. So we've made a lot of changes in the offseason and that's why we're out here at Phoenix testing, to see if everything that we've changed is going to work in our favor."
That brings us to dusty Wild Horse Pass Motorsports Park, just outside of Phoenix. Pros like Courtney Force and Matt Hagan are making laps in preparation for the season-opening NHRA Winternationals in Pomona, California. Meyer is helping her father set up the pit area for a few days of testing before finance guru-turned-driver Bill Litton arrives to drive Megan's Copeland-built dragster. Between duties, Meyer has time to reminisce about the years she's spent on the road racing with her family, an opportunity not lost on the reserved young star.
"Working with my dad is definitely a positive but there are some downfalls, I guess you could say. We have a great relationship with our dad. I work for my parents. I still live with my parents. I see my parents 24/7. I'm on the road with them all the time, which is awesome to have that time together, especially since my dad was gone quite a bit when I was little. So to be able to get all this time with him now is awesome.
"But I do kind of get sick of him every now and then," Meyer laughs. "It's a different relationship than how most kids grow up. When we got started with the Junior Dragster racing, like I said, we had no experience with it and we would go to our local track in Kansas City every Wednesday night and test and learn as much as we could, then go out the following Saturday and race. But as soon as we turned 16, we were on our own if my dad was gone racing. We were old enough to stay home alone and if we wanted to go racing, then we would have to get the truck and trailer and take it to the track ourselves and find our own help there to have someone start us. It's a really good working experience, but there's also those periods of times where we're not together as a family. When we're working together now, sometimes it's a family relationship with us and sometimes it's a work relationship. It works both ways for us."
Racing as a family has created a driver-crew chief bond between Megan and Randy that cannot be matched by a standard combination of driver and tuner. The two can communicate openly about what needs to happen.
"I've been a driver with my dad for 13-ish years now, and so he knows what to really say to me to help me out. If I need to change how I'm doing something, he knows how to say it versus if it was someone else driving. It all works out for us and it's great to have that time with my dad and to be comfortable and just having that time out, working out in the shop and working at the track."
Even as Megan continues to improve as a driver, she also has the opportunity to mentor other up-and-coming A/Fuel drivers who didn't grow up with the same hands-on lessons. She's helping her father train Rachel, 21, as well as Justin Ashley, the 22-year-old son of former Funny Car and Pro Mod driver Mike Ashley.
"I've been able to help mentor a few drivers, and that's one of the ways I'm following in my dad's footsteps. He started the rent-a-ride program way back in the early 2000s, starting off with Alan Bradshaw and Gary Ormsby Jr. driving the cars when we won a world championship and broke the world record to be the first car to run in the teens. It's just cool to be able to follow in my dad's footsteps and be a mentor to my sister, to Justin Ashley, and to Marina Anderson, who is one of my best friends, and she is doing her part to get started in Top Alcohol. It's just a good feeling inside, to be able to give back what I've learned over the years and help someone do the same thing."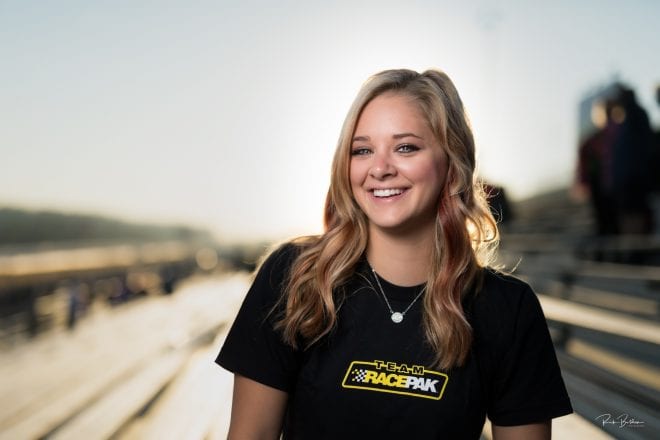 The father-daughter duo make a formidable team as trainers for the rising stars who begin their nitro racing journey at Randy Meyer Racing. Randy is able to offer input from his experience as a driver, tuner and team owner for over 30 years, while Megan's memories of starting out are still fresh enough that she can closely relate to the true beginners.
"To be able to learn from Randy and Megan is amazing," says Ashley, who plans to run a moderate schedule of races this season. "I really couldn't ask for a better situation. Megan drives and Randy drove, and they both did it at such a high level, so it's very helpful to be able to pick their brains and ask them questions because I'm very new to this whole thing, driving-wise and mechanical-wise. Getting that feedback from them is crucial. And even when Megan is in the car driving, I can go to the line and watch how she goes through the procedures. That in and of itself is a big help for me."
Meyer's eagerness to encourage and inspire fellow young drivers isn't limited to Top Alcohol Dragster. Between racing at over a dozen events around the country and maintaining an active presence on social media, Meyer comes into contact with legions of Junior Dragster drivers and fans who aspire to be in her position one day.
"It's been great to be that mentor for guys that are wanting to get into Top Alcohol but also for guys and girls who are waiting to get into Junior Dragster. It's fun having those fans come up to us and say, 'Hey, I just got a Junior Dragster. What can we do to get started?' Or someone who has no idea how to get started in racing but see the Junior Dragsters at the track and see the Super Comp dragsters and the door cars and then they see us and know that we've transitioned through those classes. It's just great to have that experience with the newer drivers, to be able to share the advice that I've learned over the years with those who are wanting to get into racing or maybe someone who's wanting to move up in classes."
Appearing on Meyer's dragster as main sponsor for 2017 is Meyer Truck Center, a builder and distributor of wreckers, rollbacks and other towing equipment. The family-owned company, with locations in Olathe, Kansas, and Oklahoma City, has been the major backer of Randy's racing operation for most of his career, though it took second stage to Racers Evolved, a fledgling racing apparel brand Megan partnered with for her rookie season. While Megan still likes the Racers Evolved products, she's chosen to return to her dad's usual program of having several associate sponsors backing the team. This allows for greater flexibility – a necessity when the team's cars are regularly rented out to several different drivers who all bring different marketing partners to the table.
"We have quite a few smaller sponsors coming on board with us this year. That's what we want to focus on. We don't really want to have one big main sponsor that we have to worry about. We like having a bunch of smaller sponsorships so that way we can just have the freedom to do whatever we want. If there's a certain event or display that we need to do, then we have the freedom to go and do that," Megan says.
Some of those associate deals are coming from the usual motorsports-centric companies like Lucas Oil and Team Racepak. Others are centered around education, a field full of potential sponsors Meyer was able to break into through her college experience. Most notably, she worked with Pitsco Education to design "fold-n-roll" dragsters, a foldable cardboard dragster cutout that educators can use to teach students about topics related to science and technology. Another education partnership will see the Randy Meyer Racing team host a vocational school student as a crew member for the weekend.
"We have a new company called Technician Academy joining us, which is a really cool company that is focused on the technicians of today and tomorrow and how we can modernize the education forum. I'll be doing a few things with them this year. I also have Pitsco Education coming on board, which is where the fold-n-roll dragsters come into play. I've done a few different appearances and speaking opportunities through that, and I expect to do more of those this year."
Meyer is clearly driven to succeed in Top Alcohol Dragster, a class considered by many to be the training ground for the Top Fuel and Funny Car ranks. After all, current and former nitro stars like Steve Torrence, Brandon Bernstein, Shawn Langdon, Melanie Troxel, and the three Force daughters all spent time in an A/Fuel car before moving up to the big leagues. Don't expect Meyer to be too eager to make that same jump anytime soon, though.
"It's a tough decision, because I would love to stay in A/Fuel for as long as I can, but there is that desire to move up to Top Fuel and to be in that competition. For me, that desire isn't as strong as some other young drivers in my class.
"You never know. [Moving up to Top Fuel] is something that has come up at the end of 2016, but it's something that we haven't really talked about. We just put it on the back burner because, like I've told everyone, I'm going to get a championship before I move up to Top Fuel. I don't want to hurry up and rush and go to Top Fuel without establishing a good history in A/Fuel. I want to be able to compete as much as I can, to have my name be one that people remember.
"To me, that means more than all the media and everything that you can get in the Top Fuel class. I mean, it's fun to be able to race something that goes that fast and to be in that kind of atmosphere with the fans and everything, but it's just…I don't know. It's just not as fun as racing A/Fuel and doing it with your family and doing it with people who you love and racing against people who are your best friends. To me, that means more than the fame of being a Top Fuel driver. But yes, I would like to run Top Fuel one day. If I did, I don't know how long it would last, but yeah. I would say I'll spend five more years in A/Fuel and then, who knows? I mean, I could get the championship this year and then be in Top Fuel next year," Meyer posits. "You never know."
It's a bold prediction, but Meyer has been accurate in calling her shots. She reiterates, though, that the glitz and glamour of racing at the sport's highest level isn't strong enough to lure her away from the familiar atmosphere offered by the class she's grown up with. The draw to Top Fuel isn't strong enough yet, anyway.
"There's not that kind of pressure in A/Fuel. There's no tension here; it's laidback and it's comfortable. And that's what I love doing. But I have been drag racing my entire life and I would like to go all the way to the top. I would say in five years, I'll be in a Top Fuel dragster."
This story originally appeared in Drag Illustrated Issue No. 118, the Hottest 2017 Issue, in March of 2017.