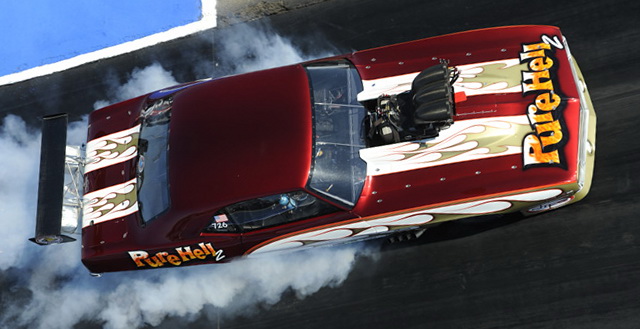 Goodguys Rod & Custom Association President Marc Meadors used racing luck and high performance to capture the Nostalgia Pro Modified title Oct. 19-21, during the NHRA California Hot Rod Reunion at historic Famoso Raceway, north of Bakersfield.
Driving the "Pure Hell2" supercharged '69 Camaro, Meadors qualified on the pole, set a track speed record and was quickest and fastest in every round of Sunday's final eliminations, though he twice caught lucky breaks helping him to win the event.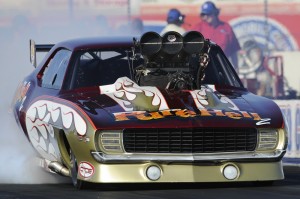 In the first round of eliminations against John Overholser's '56 Chevy, Meadors left the line early drawing a "red light" start, but Overholser lost control of his car and crossed the center line, instantly disqualifying him from the round. Unfazed by the foul start, Meadors charged down track to a 5.873 @ 248.75mph pass for the quickest Pro Mod run of the weekend.
Meadors' semi-final run of 5.901 with a speed of 249.03 in a victory over Joe Lepone Jr would hold up for top speed of the meet and establish a track record speed for Pro Mod.
Even though he was favored by most to win the Pro Mod final round against Scott Bailey's '69 Camaro, Meadors again caught a lucky break when Bailey's car broke after the burnout and couldn't back up to the starting line. Meadors simply staged his car and took the green light for his first-ever win at Famoso Raceway.
"I'd rather be lucky than good sometimes, but fortunately today we were both lucky and good; fast too," Meadors said following the race.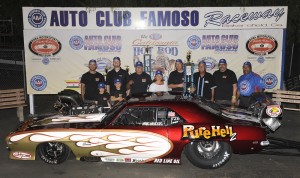 "I worked a lot of Goodguys vintage drag races here at this famous drag strip as the event director watching other guys and gals race. It was my turn to enjoy the thrill of a big win.
"Without our sponsors like Red Line Oil, DMPE, Tim McAmis Race Cars, Neal Chance Torque Converters, Andy's T Shirts, Fiber Optic Supply and Bunker Race Cars as well as my seriously dedicated crew chief Jason Bunker, Car Chief Billy Fereira, Danny Miller and Greg Lee none of this would be possible. It was a great day for the Goodguys Racing Team."
(Photos courtesy Goodguys Racing/Marc Gewertz; Click to enlarge)