After a promising early start with plenty of impressive passes in the sub-3.80 second range on the eighth-mile during both the 6 PM Shakedown and 7:30 PM First Round of eliminations, the rain eventually got the best of MDIR's War on Wheels – Last Man Standing mid-week event as the remaining Pro Mod competitors entered the staging lanes for their second round pairings just prior to 9:00 PM.
"While we are disappointed that the rain ended the event early, what the crowd saw in first round of eliminations and in the shakedown passes was quite entertaining," says MDIR Director of Marketing and Public Relations Director Rick Lindner. "We want to send a special thank you to all the racers that made the effort to come to MDIR and compete with us and we truly appreciate their support of this race. It was amazing to see that size of a field for a mid-week event like this!"
The event featured a "unique" no qualifying or ladders format where racers draw from a deck of cards for their pairing and lane assignments for eliminations. With the timing of the mid-week show, it also provides a great opportunity for in-between national/regional event series testing as was evidenced with 15 racers pre-entering the event with national tour competitors Jim Bell (Edmonton, AB), Travis Harvey (Elon, NC), Tommy Franklin (Fredericksburg, VA) and Jay Cox (Smithfield, NC) joining a strong contingent of nearly a dozen top regional competitors for a chance to claim the win and a $4,000 payday.
The 6 PM shakedown pass provided a few car casualties, taking out the Maryland-based supercharged Corvettes of Mac McAdams and Casey Stemper.
In the first round of eliminations things heated up on the track. Perhaps the most interesting pass came when the turbocharged cars of Jim Bell and Andy Jensen of Nescopeck, PA came to the strip. Bell eventually won the round with a winning 3.861 lap to Jensen's solid 3.936 effort. Although a tough loss for Jensen, the team's performance was impressive as they arrived at the track just one hour prior to eliminations, missing any attempt at a practice lap due to heavy traffic and an accident on the interstate for the team to navigate through in the DC metro on the way to the event.
In other first round pairings, Harvey's '14 Camaro eclipsed Freddy Scriba of Millersville, MD with a 3.79 ET at 195.42 MPH pass to Scriba's respectable 4.148 clip. Robert Patrick Jr., Jay Cox, Bill Meadows (Midland, VA), Tommy Gray (Baltimore, MD) were also first round winners. Steve Drummond of Laurel, DE, ran a 3.99 ET after drawing the solo pass with the odd numbered field.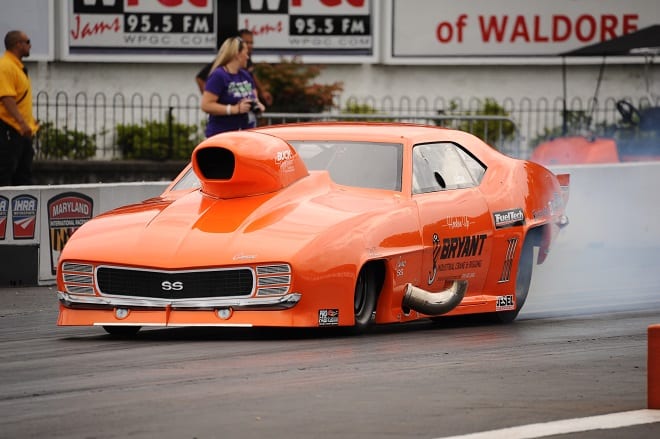 "Thank you to both racers and fans for coming out to support our War on Wheels program. The Wednesday night shows have become one of our signature series and have developed a large and loyal fan base over the years," says MDIR Vice President and General Manager Jason Miller. "Traditionally when we finish 1st round of eliminations the event is considered completed, but tonight we wanted to give back more to our loyal fans and racers. MDIR will honor racer and spectator tickets with a $10 credit to any future MDIR event. Fans are asked to keep a hold of the tickets and present them at a future MDIR event to receive a credit. Thank you everyone for your amazing support and we hope to see you all back again soon!"