J.R. Todd, an Indianapolis native, powered his DHL Toyota Camry Funny Car to victory for the second time in a row Monday at the 64th annual Chevrolet Performance U.S. Nationals, the world's biggest drag race, at Lucas Oil Raceway at Indianapolis.
Terry McMillen (Top Fuel), Tanner Gray (Pro Stock), and LE Tonglet (Pro Stock Motorcycle) were also victorious at the 18th event of 24 on the 2018 NHRA Mello Yello Drag Racing Series schedule.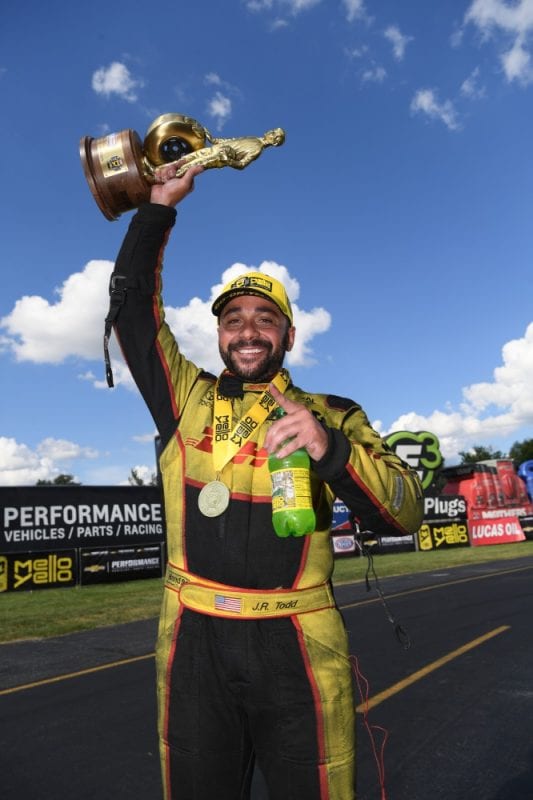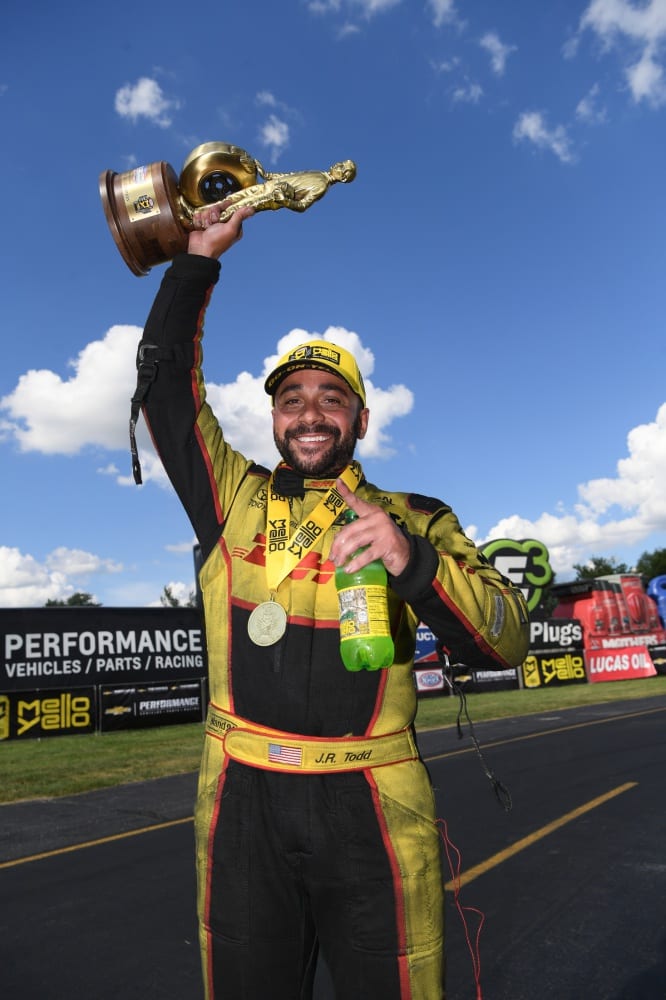 Todd raced to a 4.062-second pass at 311.70 mph to defeat Matt Hagan's pass of 4.141 at 300.60 in his Mopar Express Lane Dodge Hellcat SRT in the final round. He was the No. 1 qualifier for the event and was successful in securing his second consecutive victory at the prestigious Indianapolis race. He is the first Funny Car driver to win back-to-back Chevrolet Performance U.S. Nationals since Mike Neff in 2011 and 2012.
"This is by far a dream come true," Todd stated. "You don't know if you're ever going to win Indy let alone go back-to-back. For whatever reason this year just felt different. It felt like we had a car that could come in here and win. Last year the confidence wasn't there like it is this year."
With the win Todd moves to fifth in points heading into the NHRA Mello Yello Drag Racing Series Countdown to the Championship.
Hagan's final round appearance was the second of his career at the Chevrolet Performance U.S. Nationals. He defeated Jonnie Lindberg, points leader Courtney Force and Shawn Langdon before entering his sixth final round of the season.
McMillen powered past Doug Kalitta with a 4.037 pass at 300.66 in his AMALIE Motor Oil Xtermigator dragster to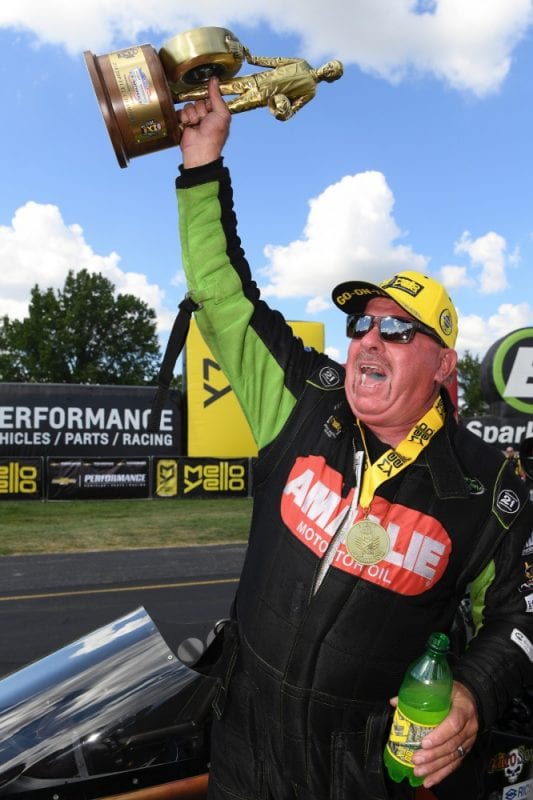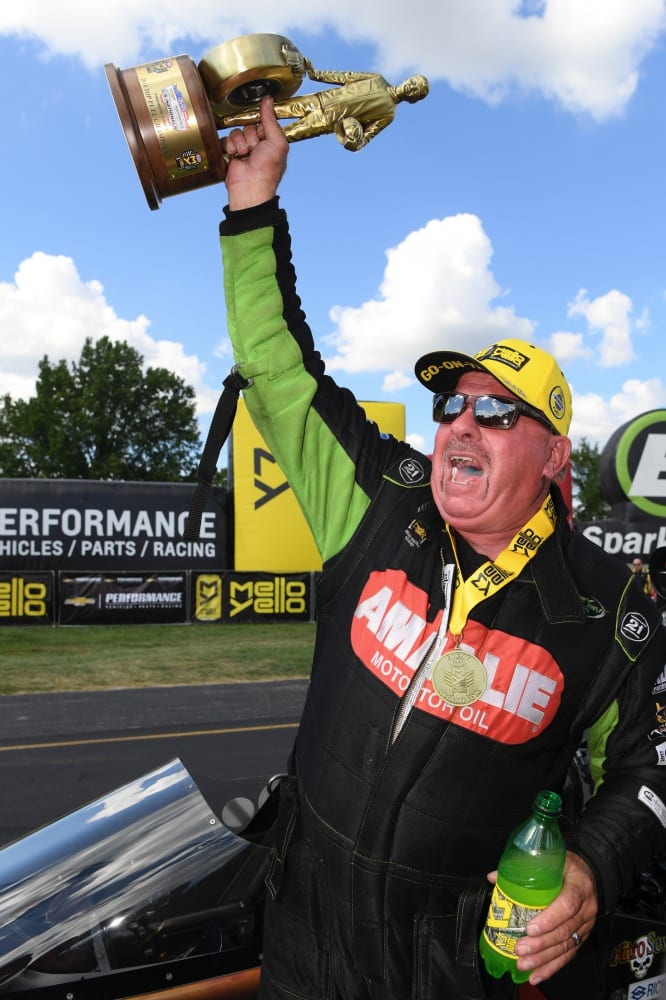 better Kalitta's 4.067 at 303.57 in his Mac Tools dragster. It is McMillen's first career win at the Chevrolet Performance U.S. Nationals and second of his career.
"You know, it's so surreal because it's one of the most prestigious races out there," McMillen said. "To have your name that you won Indy is one of the highest accomplishments you can have. I've always known that this year was going to be a good year, but I couldn't have scripted that it was going to be this good."
McMillen picked up wins against Scott Palmer, points leader Steve Torrence and Blake Alexander before taking home the Wally. He's secured the No. 7 spots heading into the Countdown to the Championship. Kalitta took out Leah Pritchett, three-time world champion Antron Brown and Billy Torrence en route to his third final round appearance at Indianapolis.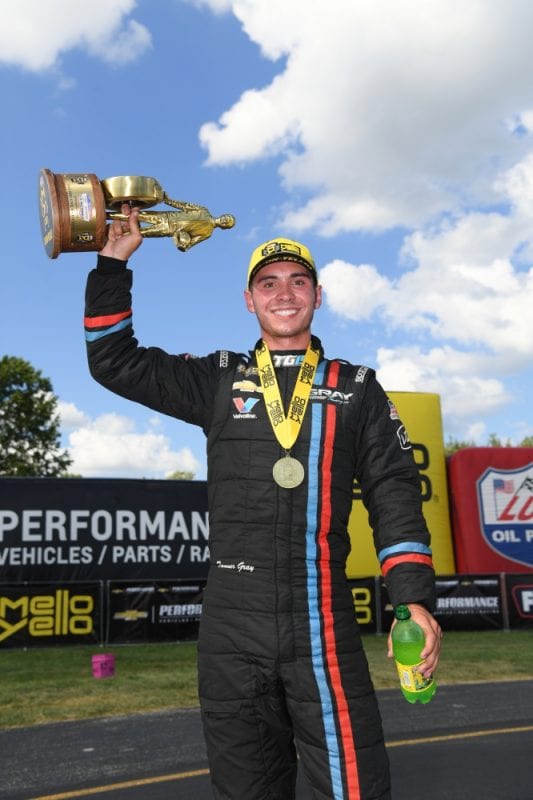 In Pro Stock, Tanner Gray ran a 6.641 pass at 208.42 in his Gray Motorsports / Valvoline Chevrolet Camaro to defeat Jeg Coughlin Jr.'s 6.639 at 206.80 in his JEGS.com/Elite Performance Chevrolet Camaro on a holeshot for his first Chevrolet Performance U.S. Nationals victory, fifth win of the season and tenth of his career. He secured the No. 1 seed leading into the Countdown to the Championship during the semifinals when veteran Greg Anderson lost in the quarterfinals.
"I guess the main thing is that I want to strive to be the best driver that I can be," Gray stated. "I continue to work and don't really settle for what I am right now. I think every driver's dream is to win Indy at least once and it's pretty cool for me to be able to do that."
On the way to victory, Gray defeated John Gaydosh Jr., Jason Line, and Drew Skillman prior to entering the finals. Coughlin, a five-time world champion and three-time Chevrolet Performance U.S. National winner, raced Alex Laughlin, Greg Anderson and reigning world champion Bo Butner before reaching the finals.
Tonglet rode to the Pro Stock Motorcycle win with his 6.864 pass at 197.10 on his Nitro Fish Racing Suzuki to defeat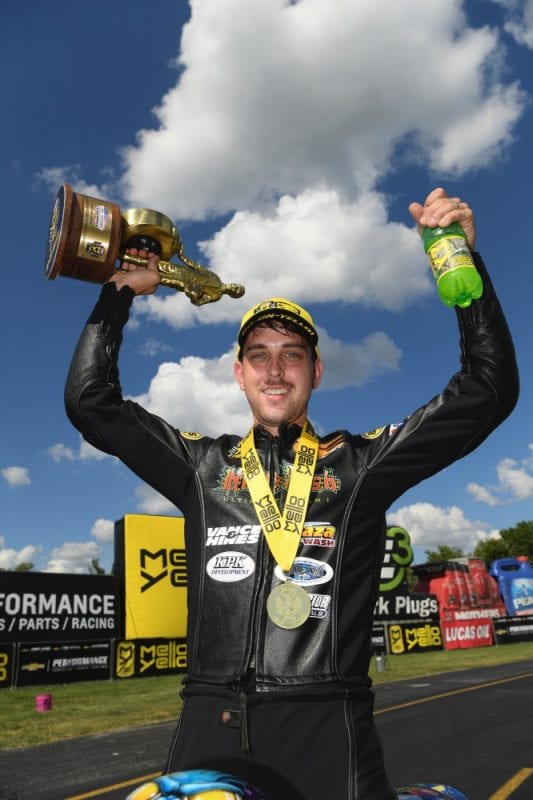 four-time world champion Eddie Krawiec and his Mello Yello Vance & Hines Harley Davidson's 6.884 pass at 197.02. This is Tonglet's second career victory at Lucas Oil Raceway, his third win on the season and 19th of his career.
"I try not to think about anything," Tonglet said. "We just go up there and try our best and whatever happens, happens. I don't lose sleep over this since this is still a hobby for us. We just come out here to have fun."
Tonglet took down Ryan Oehler, Chip Ellis and Steve Johnson before seeing Krawiec who beat Jerry Savoie, teammate Andrew Hines and Hector Arana Jr., in the finals.
The 2018 NHRA Mello Yello Drag Racing Series season continues Sept. 13-16 at Maple Grove Raceway with the 34th annual Dodge NHRA Nationals and the kickoff to the Countdown to the Championship.