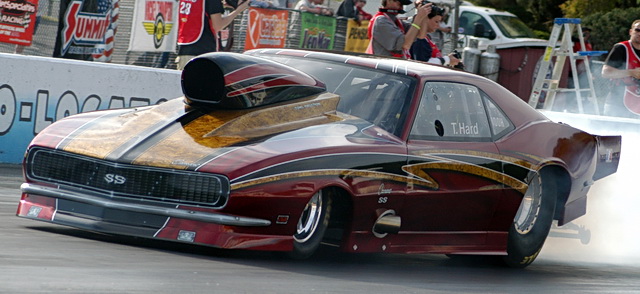 After earlier announcing its support of the new X-treme Drag League (X-DRL) in 2013, Tim McAmis Performance Parts (TMPP) has released an exciting incentive for the X-DRL's Mickey Thompson Top Sportsman class.
TMPP announced earlier this week that it will award $500 to the number-one qualifier in the Mickey Thompson Top Sportsman class for each of the nine 2013 X-DRL events. In addition to the cash prize, the top qualifier in the class at every race will receive a plaque.
"We have always been a supporter of Top Sportsman racing and we are excited to offer a low qualifier bonus for the class in the X-DRL during the 2013 season," TMPP Owner Tim McAmis said. "We believe it will lead to some remarkable racing in a class that has always provided great entertainment.
"The Top Sportsman class has also proven to be a great place for our customers to race and showcase their talents, and we are really looking forward to seeing the excitement the drivers in the class will provide during the 2013 X-DRL season."
With strong support from the likes of TMPP, there is heavy anticipation surrounding the standout racing the Top Sportsman class will provide in the X-DRL during its 2013 season, which begins Apr. 6-7, with the X-DRL Spring Nationals at Osage Casino Tulsa Raceway Park.
The TMPP trackside support transporter will be in attendance at each of the X-DRL's 9 races, offering assistance with fabrication, repairs, extra parts and other items.
(DI.com file photo by Ian Tocher)