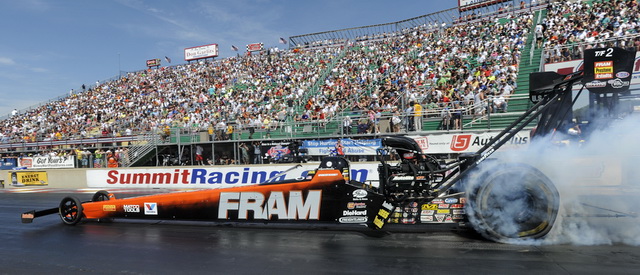 Spencer Massey raced to his fourth Top Fuel victory of the season Sunday at the Summit Racing Equipment NHRA Nationals at Summit Racing Equipment Motorsports Park. Mike Neff (Funny Car), Vincent Nobile (Pro Stock) and Andrew Hines (Pro Stock Motorcycle) also were winners at the NHRA Full Throttle Drag Racing Series event.
Massey powered his FRAM/Prestone dragster to his first Norwalk win with a quicker reaction time at the start to hold off the quicker, but losing Capco Contractors dragster of final round opponent Steve Torrence. With the victory, Massey returns to the series points lead.
"I knew the final round was going to be huge," said Massey. "Steve was running awesome all day. He's been running awesome all season, actually. I'm from Texas, he's from Texas, and we both drove Top Alcohol Dragsters in Division 4. The weather here was even hot like it is in Texas."
In Funny Car, Neff claimed his second win of the season and second at this track by defeating Tim Wilkerson in the final round. Neff drove his Castrol GTX Ford Mustang to a performance of 4.217 seconds at 298.21 to hold off Wilkerson's Levi, Ray & Shoup Mustang.
"I don't know how it all works, but Norwalk has definitely been good to me," Neff said. "We've done fairly well on the hotter racetracks. We usually do pretty well on those. And sometimes it just seems like you go some places that you just always do well at, and then there are some tracks you go to and it just seems like you can never do any good no matter how you've been doing up to that point.
"Tim Wilkerson put up a heck of a run over there. It had to be very close at the finish line, so it was just our day."
In Pro Stock, Nobile celebrated an NHRA Sweep in the winner's circle after claiming his second win of the season. In the final round, he powered his Mountain View Tire Dodge Avenger to a performance of 6.661 seconds at 208.01 mph to defeat the Summit Racing Chevy Camaro of defending world champ Jason Line. Nobile also defeated Line in the final of Saturday's K&N Horsepower Challenge.
With the victory, Nobile claimed more than $100,000 for the weekend, as he also won the $50,000 K&N Horsepower Challenge race on Saturday, claimed $25,000 for the race win and another $25,000 for an NHRA Sweep Bonus for winning both events during the weekend. He also won here in 2011.
"I never thought in a million years that things would be going like this," said Nobile. "My team supplied me with the fastest car today, and I have to give them the credit. [The semifinal win over Allen Johnson] was the coolest round I ever won in my life.
"I saw Jason Line and Shane Gray get in a pedaling match in front of me, so I mentally prepared myself for that situation. Luckily, my dad [John] taught me how to drive and told me to find fifth gear as soon as possible if I ever had to lift and saw that the other guy wasn't in front of me. I felt like Ron Capps in the car.
"The best part of the weekend was getting Peggy [Coleman], my partner in the K&N Horsepower Challenge, that Toyota Tundra. She was in a terrible situation where she lost her house, and it was great to give something back to her."
In Pro Stock Motorcycle, three-time world champ Hines claimed his third win of the season on  his Screamin' Eagle Vance & Hines Harley-Davidson with a performance of 6.929 at 193.43 in the final round against opponent Hector Arana Jr. , who rode his Lucas Oil Buell.  Hines is the first rider to win three times at Norwalk ( also 2009, 2007). It was Hines' 28th career victory.
"It was a good weekend all around for our team, and we just treated it like we did in Joliet last weekend when I got the national event win," said Hines, who remained in second place in the points standings.
"We just slowly picked way at the tune-up. Conditions changed tremendously today. The air dried out a lot, and we struggled a little bit with my bike the first couple rounds, but we learned a lot against Eddie [Krawiec, teammate] in the semifinals, and luckily I was able to get the eight-thou win against Eddie in the semifinals and learned everything we possibly could and applied that to the final.
"That was our best speed of the weekend and our best e.t. of the weekend. It was a heck of a race with Hector Jr. I beat him on a holeshot in Houston, and that was huge, and to do it again is 'ice cream' on the cake."
The NHRA Full Throttle Drag Racing Series continues July 20-22 with the Mopar Mile-High NHRA Nationals at Bandimere Speedway in Denver.
(Photos courtesy NHRA/National Dragster; Click to enlarge)
NORWALK, Ohio — Final round-by-round results from the Sixth annual Summit Racing Equipment NHRA Nationals at Summit Racing Equipment Motorsports Park, the 12th of 23 events in the NHRA Full Throttle Drag Racing Series:
TOP FUEL
ROUND ONE — Keith Murt, 3.875, 316.90 def. Doug Kalitta, 3.888, 315.05; T.J. Zizzo, 3.901, 301.27 def. Cory McClenathan, 3.947, 298.87; David Grubnic, 3.862, 317.05 def. Khalid alBalooshi, 4.080, 255.29; Steve Torrence, 3.837, 318.17 def. Brandon Bernstein, 4.570, 169.25; Antron Brown, 3.831,320.58 def. Morgan Lucas, 4.167, 244.25; Tony Schumacher, 3.950, 301.40 def. Bob Vandergriff, 4.066, 229.08; Hillary Will, 3.870, 310.13 def. Clay Millican, 3.917, 308.99; Spencer Massey, 3.841, 322.73 def. Shawn Langdon, 3.853, 316.75; QUARTERFINALS — Schumacher, 3.964, 286.98 def. Will, 9.323, 79.87; Grubnic, 3.989, 300.00 def. Zizzo, 4.575, 176.47; Torrence, 3.880, 315.42 def. Murt, 4.214, 226.39; Massey, 3.923, 306.40 def. Brown, 4.038, 273.00; SEMIFINALS — Massey, 3.951, 300.06 def. Grubnic, 9.944, 62.70; Torrence, 3.900, 312.50 def. Schumacher, 9.186, 69.74; FINAL — Massey, 3.916, 312.50 def. Torrence, 3.894, 315.71.
FUNNY CAR
ROUND ONE — Robert Hight, Ford Mustang, 5.431, 144.86 def. Johnny Gray, Dodge Charger, broke; Ron Capps, Charger, 4.102, 308.00 def. Jack Beckman, Charger, 4.158, 298.21; Mike Neff, Mustang, 4.289, 223.39 def. Bob Bode, Chevy Impala, 5.206, 234.45; Cruz Pedregon, Toyota Camry, 4.122, 297.81 def. Matt Hagan, Charger, 4.694, 187.63; Bob Tasca III, Mustang, 4.153, 305.49 def. Blake Alexander, Chevy Monte Carlo, 5.359, 133.91; Courtney Force, Mustang, 4.166, 304.80 def. Todd Lesenko, Impala, 5.023, 166.64; Jeff Arend, Camry, 4.154, 300.60 def. Daniel Wilkerson, Mustang, 4.278, 272.28; Tim Wilkerson, Mustang, 4.564, 190.57 def. John Force, Mustang, 7.154, 100.58; QUARTERFINALS — T. Wilkerson, 4.191, 297.09 def. Hight, 5.828, 134.63; Tasca III, 4.350, 279.04 def. Capps, DQ; C. Pedregon, 4.220, 298.21 def. C. Force, 4.229, 294.75; Neff, 4.229, 286.50 def. Arend, 5.452, 145.16; SEMIFINALS — Neff, 4.281, 287.90 def. C. Pedregon, 5.645, 131.45; T. Wilkerson, 4.242, 295.14 def. Tasca III, 4.237, 296.70; FINAL — Neff, 4.217, 298.21 def. T. Wilkerson, 4.244, 296.96.
PRO STOCK
ROUND ONE — Kurt Johnson, Pontiac GXP, 6.654, 207.53 def. JR Carr, Ford Mustang, 8.772, 106.04; Jeg Coughlin, Dodge Avenger, 6.649, 207.78 def. Erica Enders, Chevy Cobalt, 13.433, 63.73; V. Gaines, Avenger, 6.649, 207.02 def. Greg Stanfield, Chevy Camaro, 6.655, 207.02; Shane Gray, Camaro, 6.664, 205.69 def. Greg Anderson, Camaro, 6.640, 208.01; Jason Line, Camaro, 6.628, 207.75 def. Rodger Brogdon, GXP, 6.665, 206.76; Allen Johnson, Avenger, 6.616, 208.59 def. Ronnie Humphrey, GXP, 6.667, 206.48; Vincent Nobile, Avenger, 6.630, 208.33 def. Warren Johnson, GXP, 6.673, 207.34; Mike Edwards, GXP, 6.653, 208.10 def. Ron Krisher, GXP, 6.669, 207.56; QUARTERFINALS — Gray, 6.687, 206.51 def. Edwards, 6.709, 207.82; Nobile, 6.644, 208.10 def. Gaines, 14.463, 58.41; Line, 6.650, 207.43 def. Coughlin, foul; A. Johnson, 6.628, 208.07 def. K. Johnson, 6.686, 207.21; SEMIFINALS — Line, 8.211, 175.14 def. Gray, 9.142, 134.10; Nobile, 7.792, 192.06 def. A. Johnson, 16.885, 48.17; FINAL — Nobile, 6.661, 208.01 def. Line, 6.705, 207.88.
PRO STOCK MOTORCYCLE
ROUND ONE — Steve Johnson, Suzuki, 6.991, 189.07 def. Chip Ellis, Buell, 7.425, 141.50; Scotty Pollacheck, Buell, 7.037, 188.07 def. LE Tonglet, Suzuki, 9.195, 95.23; Eddie Krawiec, Harley-Davidson, 6.961, 192.22 def. Michael Ray, Buell, 7.063, 186.79; Karen Stoffer, Suzuki, 6.987, 191.32 def. Matt Smith, Buell, 7.063, 187.81; Hector Arana Jr, Buell, 6.957, 191.19 def. Shawn Gann, Buell, 7.044, 189.79; Andrew Hines, Harley-Davidson, 6.974, 191.43 def. Mike Berry, Buell, 10.074, 81.60; Hector Arana, Buell, 6.929, 192.06 def. Angie Smith, Buell, broke; John Hall, Buell, 6.987, 188.07 def. Jerry Savoie, Buell, 7.076, 188.36; QUARTERFINALS — Hines, 6.954, 193.02 def. Johnson, 7.020, 189.34; Krawiec, 6.955, 191.76 def. Stoffer, foul; Arana Jr, 6.955, 193.27 def. Hall, foul; Arana, 6.942, 189.87 def. Pollacheck, 7.038, 187.60; SEMIFINALS — Hines, 6.978, 192.33 def. Krawiec, 6.982, 192.82; Arana Jr, 6.960, 192.55 def. Arana, 6.947, 193.21; FINAL — Hines, 6.929, 193.43 def. Arana Jr, 6.928, 191.84.
NORWALK, Ohio — Sunday's Sportsman final results from the Sixth annual Summit Racing Equipment NHRA Nationals at Summit Racing Equipment Motorsports Park. The race is the 12th of 23 in the NHRA Full Throttle Drag Racing Series:
Top Alcohol Dragster — Bill Reichert, 5.334, 264.70 def. Dan Page, 5.436, 266.06.
Top Alcohol Funny Car — Paul Gill, Ford Mustang, 5.639, 255.92 def. Cassie Simonton, Chevy Monte Carlo, 12.598, 93.17.
Competition Eliminator — David Rampy, Bantam Roadster, 7.303, 178.85 def. Bo Butner, Chevy
Cobalt, 8.541, 158.09.
Super Stock — Chad Taylor, Chevy Camaro, 10.414, 124.80 def. Jeff Dona, Pontiac Firebird, foul.
Stock Eliminator — Larry Hill, Plymouth Baracuda, 10.538, 114.02 def. Randy Wilkes, Pontiac
Firebird, 10.443, 129.29.
Super Comp — Al Kenny, Dragster, 8.911, 163.69 def. Brad Plourd, Dragster, 8.876, 163.95.
Super Gas — Nathan Vrooman, Chevy Beretta, 9.952, 156.10 def. Steve Theodor, '27-T Ford, 9.873, 155.10.
Top Dragster — Mike Laws, Dragster, 6.729, 197.80 def. Robert Mandell, Dragster, 6.590, 202.39.
Top Sportsman — Gary Wojnowski Sr., Olds Cutlass, 6.906, 202.36 def. Jeff Sexton, Chevy Cavalier, foul.