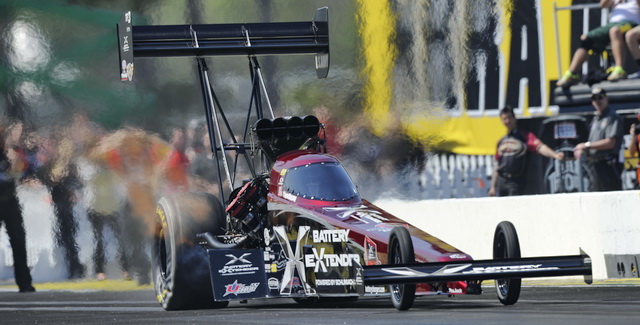 Last year at the prestigious U.S. Nationals near Indianapolis Spencer Massey lived out one of his dreams and came just one win light short of accomplishing the other.
Massey was crowned the 2012 Traxxas Nitro Shootout Top Fuel champion and earned the Battery Extender Powered by Schumacher dragster team a $100,000 bonus by defeating David Grubnic, Morgan Lucas and Steve Torrence in the eight-car event.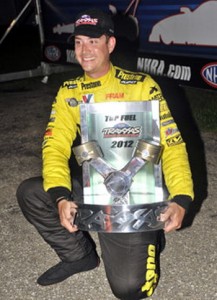 "Indy was pretty special for me last year," said Massey. "We won the Traxxas Shootout and went to the final round. But this year we want to win the Traxxas Shootout and the U.S. Nationals title. Indy is a race that everyone dreams of. It's the big one that you want to win. It's huge to have that race on your win list and that's what we're shooting for."
The Battery Extender dragster team, seeded No. 2 based on current NHRA Mello Yello Series standings, will race No. 7 Bob Vandergriff in the opening round of Saturday's Traxxas Nitro Shootout, which begins at 4 p.m. Saturday.
Last year, Massey was runner-up to Don Schumacher Racing teammate Tony Schumacher when Schumacher earned his ninth U.S. Nationals win, tying him with Don Garlits for the most Indy Top Fuel titles.
"Tony got us last year and we're going to do everything we can to not let that happen again," he said. "We had a great test session last week and we're ready for the 'Big Go.' It's looking like it's going to be a hot one, so as a driver you have to be ready for anything and I am."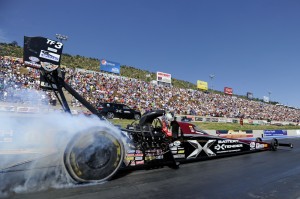 Don Schumacher Racing will kick off the U.S. Nationals Labor Day weekend with its annual Open House on Friday, Aug. 30, from 10 a.m. to 3 p.m. All DSR drivers will be participating in an autograph session at noon. All proceeds from the open house will go to Riley Hospital for Children.
"I look forward to the Open House every year," Massey said. "There's always a good crowd and it's cool to be able to show the fans around our home.
"I spend all week in Indy hanging out with my team and getting ready for the race. I'm really looking forward to getting things started on Friday and seeing if we can't get one more win light than we did last year."
(Photos courtesy NHRA/National Dragster; Click to enlarge)