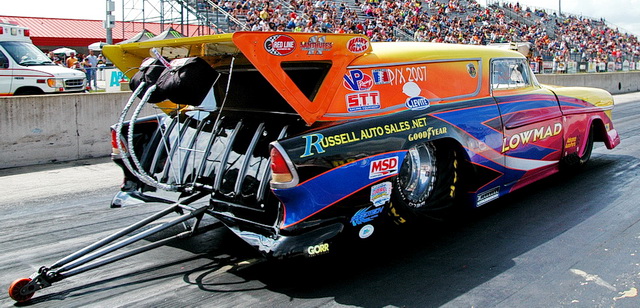 When Joey Martin suffered a first-round loss to Frankie Taylor after qualifying his fan-favorite '55 Chevy "Lowmad" 12th for the ADRL World Finals IX, it could well have been his final appearance in the all-eighth-mile series. Instead, he'll be back in 2014 as part of a two-car effort under Pro Extreme team owner Neal Wantye.
Prior to the race, Martin had informally announced his intention to quit racing altogether, so fed up was he with the levels of work, commitment and finances he and Lowmad owner David Elsberry had to expend for what little rewards were available—if they could even get paid what they'd been promised.
"It's crazy; here we show up with a million dollars invested to race for a few thousand dollars, while a pro golfer shows up with a few thousand (dollars) in golf clubs to play for a million dollars. And then when we do win a few bucks we have to go begging just to try and get paid," a clearly frustrated Martin said before ADRL Pro Extreme qualifying began at Royal Purple Raceway, near Houston. "There's just no way to justify keeping on like this."
When the Houston race was over, Elsberry took the car home to Alabama while Martin retreated to his Joey Martin Race Cars shop in Milton, Florida. He planned to start work almost immediately on a new 2013 Camaro entry for Wantye, after Martin began working with the Louisville, Kentucky-based racer in August as a tuning consultant.
"Neal called me on Monday (Oct. 21) and asked if I wanted to come work for him next year and I told him I had no interest in standing on a starting line and watching a car drive away from me as a crew chief. I told him I wouldn't mind helping him over the phone or whatever, but that was about it. So that's when he said, well, what if I had you drive one of my other cars?" Martin said. "I asked him, did he want to show up next year and hope to qualify and maybe make a round, or did he want to show up and be a real competitor? When he said he wanted to be a competitor, I told him he wasn't going to be able to do that with the cars he's got."
That's when Wantye, who has been campaigning an '08 Mustang the last couple of years, made the suggestion for Martin to build two new cars, tune both of them and drive one next season so both drivers can go after an ADRL Pro Extreme championship.
"He made it quite lucrative for me, so that's what we're going to do," Martin confirmed. "I'm going to build a pair of 2013 Camaros, both of them screw-blower cars, using the Five Star Race Cars Camaro body. One of the reasons we decided to go with the Five Star stuff is that it's flawless, so that saves a lot of time. It doesn't need any body work, no cutting or fitting, it arrives to you perfect; even the windows come cut, beveled and pre fit, you just bolt them in."
With just four months before the 2014 ADRL tour is expected to begin, saving time is critical, said Martin, who spent three months late in 2010 building the second-generation Lowmad for then-team owner Toney Russell, who passed away the following year.
"I know I'll have one ready for the first (ADRL) race next year, and Neal said he'd continue running the Mustang for the first race or two if he has to, but hopefully we'll have them both race-ready in time," Martin said. "My crew guys from the Lowmad are going to stay with me on these new cars also, and my teammate from this year, Brandon (Snider), he's going to fit in there somewhere; he's going to be involved with the team one way or another, too."
Regarding the Lowmad, one of the most popular and iconic doorslammers ever to race the eighth mile, Martin said Elsberry plans to keep the car and Martin will drive it periodically in some local races next year when it doesn't interfere with the ADRL (schedule).
"I don't believe anyone else is going to drive it; he just wants to run it three or four times next year to keep his feet wet and take in the atmosphere at the drag strip," Martin said. "For me, it'll be the best of both worlds."
(Photos by Ian Tocher; Click to enlarge)