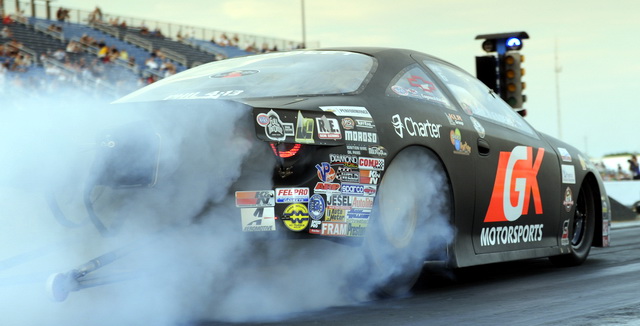 KLR Group driver Erica Enders knows the 28th annual Uni-Select Auto Plus NHRA Nationals at Maple Grove Raceway could shape up to be a great race – and what a birthday present it could be. Enders, who turns 29 on Monday, is qualified No. 2 for Reading, but she's keeping the big picture in mind, too. She came into the race in the thick of the Pro Stock title hunt as the Countdown to the Championship reached its halfway point last week at Gateway – a race Enders won.
She came to Reading 126 points – about six rounds – behind leader Allen Johnson and 17 – less than a round – behind second-place Jason Line. Johnson qualified No. 6 here and will face one of the top young drivers in the sport, Vincent Nobile, in the first round. Plus, GK Motorsports teammate Dave Connolly would meet either Johnson or Nobile in the second round should they all get that far.
"Me and Dave are not on opposite sides of the ladder this week, but we won't have to meet each other until the semis, provided we get past first and second round," Enders said of her and Connolly, who also serves as her crew chief alongside Tommy Utt. "We've all definitely got our work cut out for us, but I'm excited. I like the pressure, I like that it's crunch time. We'll see how it goes."
Enders surged to the No. 2 spot in the final qualifying session with a pass of 6.538 seconds at 211.39 mph that was .001 seconds quicker than Connolly. But she knows there's more in her Chevrolet Cobalt.
"I'm excited," Enders said. "It wasn't a killer run by any means, but we're within a hundredth or so of Jason. Tomorrow, the ladder looks OK, and we'll hope for a long day."
Enders and the rest of the Pro Stock points leaders become big Nobile fans on Sunday.
"First round, yes," Enders said. "I love Allen, but hopefully for points-sake, Vincent takes him out, and then Dave will grab Vincent second round because Vincent's right behind me. Tomorrow could be a really interesting day for points. It's definitely all got to go our way."
First, she has No. 15 qualifier Kurt Johnson, who made a top pass of 6.621 seconds at 209.36 mph to qualify for his first race since Indianapolis, where he lost in the first round to Enders.
Enders is in the midst of her best season as a professional, as she's won four of the last 10 races since winning for the first time in Pro Stock, at Chicago on July 1. She's also reached two other finals, won two No. 1 qualifiers and set two track records over that span.
(Photos courtesy NHRA/National Dragster; Click to enlarge)