Few, if any, individuals in the drag racing community are as widely adored as Susan Cunningham. Known at the track as "Mama Sue," Cunningham is the wife of longtime racer Larry Cunningham, as well as the mother of Tim and Tommy Cunningham.
Drag racing has been a part of Mama Sue's life for over 55 years. Married in 1968, Susan helped Larry as he competed in a variety of classes, but primarily NHRA Super Stock. A plethora of Wallys still adorn their mantle. And after their sons were born, racing became a family ritual.
"I packed water. I carried gas," recalls Cunningham. "And I put the water on the little red wagon, and I put Timmy with his legs around that red wagon and I pulled him, pregnant with Tommy, and we went racing. Racing is what you make of it, and we made it a family deal."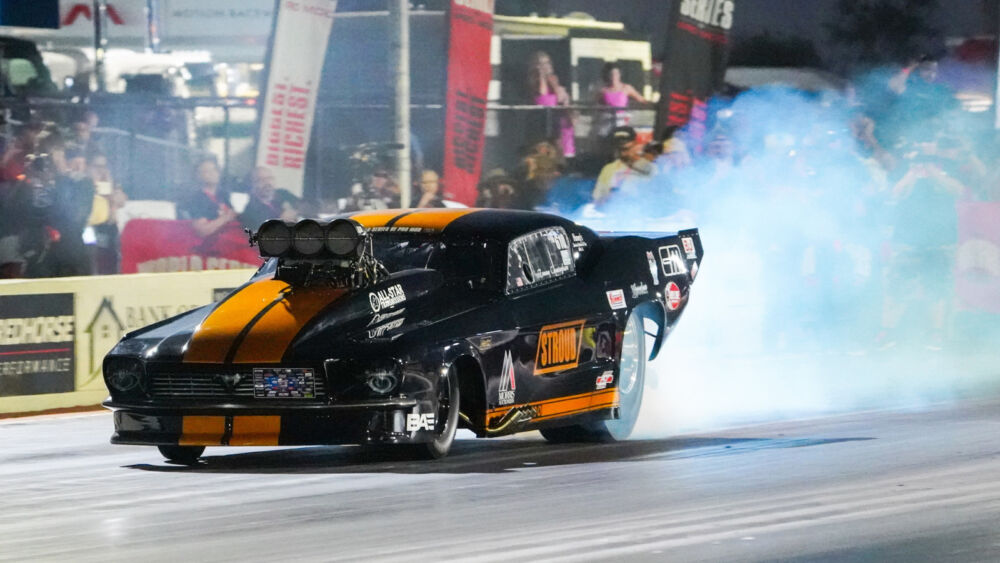 That racing tradition is carried on through their sons. Tommy is the owner of Stroud Safety, and races Pro Mod in the Midwest Drag Racing Series. Tim serves on the crew, as does Tommy's wife, Anita. Larry has taken on the role of crew chief. Although Sue admits to being nervous when Tommy first started racing, having the entire family there helps her maintain peace of mind.
"My heart feels at ease as long as my husband's there and my oldest son, and I know Tommy has got it together. And with Tommy and Anita having Stroud Safety, we look into safety for everything."
During the course of every race, Cunningham takes on numerous roles – from helping her husband and sons in the pits, recording video of every pass Tommy makes, offering water and food to track officials and event staff, and praying for every racer she sees line up, just to name a few.
But perhaps Mama Sue's biggest contribution is inspiring the youth at every track she goes to. Cunningham originally made armbands for Tommy's Pro Mod team, but soon branched out, passing them out to all the kids driving Jr. Dragsters while encouraging them to have fun and be safe. She's heard from many parents who say their children even sleep with them on.
"I'll continue doing that as long as I can," Cunningham says. "The kids need to know they're important, that they've got something to look forward to. As long as I'm racing, they're going to get an armband. And those little kids racing, they put their heart and soul in it too, just like the adults do. It just takes someone other than family to say, 'You can do it.'
Susan has garnered an immense amount of success outside of racing as well. For the past 44 years, she has served as a Cadillac Senior Sales Director at Mary Kay, earning the title of Queen and receiving the top crown in the company. She currently leads 185 of her fellow consultants. And while her career is not associated with drag racing, the drive and determination to be the best at her job, at leading a team, and working together for a common goal is something she feels can be related directly to the track and the racing team.
"I know what it takes to make it work, and I know what it takes to make an event work," says Cunningham. "You have to know how to delegate, yet how to make people feel proud and a part of it. If they feel a part of anything, they will lead it, they will cheer it on, they will make it grow so fast. And you've got to be willing to sit back and say, 'I should have done this better.'"
With such a firm foundation in both leadership and a heart for others, it's no surprise that Mama Sue is such a beloved member of the drag racing community, whether they are adults or children. It's a role she cherishes, and hopes to continue for many more years to come.
"I have a big, strong belief that if you put enough good into a lot of women, a lot of men, a lot of kids, good comes back," Cunningham says. "And I feel like I'm very blessed to be with racing. Racing is a sport, but racing is a family sport. And you know what the best part is? It's watching these kids race, enjoying it, and wanting to grow up into racing, because there's no better discipline than racing."