New Mexico philanthropist and drag racing enthusiast Terry Chandler has funded the Make-A-Wish and Infinite Hero Funny Cars at Don Schumacher Racing for the past three seasons. During that time, the teams have combined to win a remarkable 15 NHRA Mello Yello Drag Racing Series events and 16 No. 1 qualifying spots.
Chandler and her teams have just barely missed the championship in each of the past two seasons; in 2015, Jack Beckman finished No. 2 in the nation in the Infinite Hero Dodge Charger R/T Funny Car, and in 2016, it was Tommy Johnson Jr. and the Make-A-Wish Dodge team that finished the year in second place.
Those impressive statistics, however, pale to the impact Chandler's racing programs have made on countless lives through her support of Make-A-Wish and Infinite Hero.
Chandler, the 2015 recipient of the NHRA Blaine Johnson Award for her dedication to helping others, has announced with DSR owner Don Schumacher that the two race programs designed to raise awareness for foundations very dear to her heart will continue through 2017.
In 2013, Chandler and her brother, Johnny Gray, partnered to sponsor the DSR Funny Car he then drove for DSR. For his final full­ time season of driving, the pair funded the car in honor of their father, the late John R. Gray.
At the end of that season, Johnny retired from full-time driving, but he knew that his sister had found her home away from home. He encouraged her to continue as the sponsor of the team if it was in her heart, and it didn't take long for her to agree. In Gray's absence, Johnson was added to the roster as the new driver.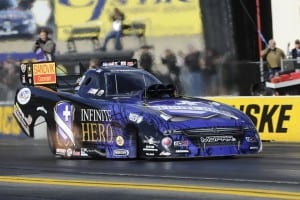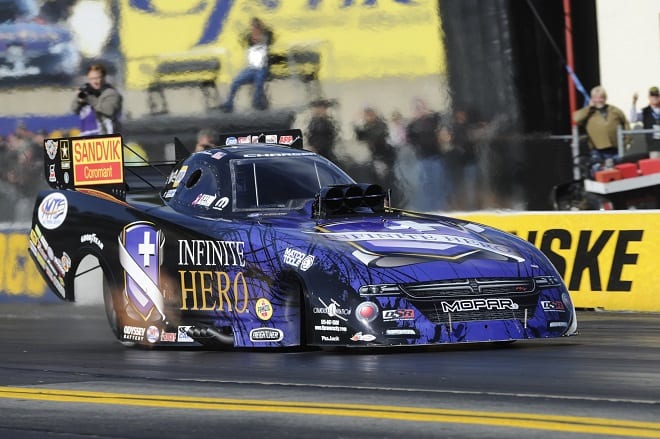 Chandler and her husband, Doug, own and operate Chandler Aviation at the Cavern City Air Terminal in Carlsbad, N.M. Instead of flying the colors of Chandler Aviation on Johnson's Dodge Charger, however, she chose to use the racecar as a platform to promote awareness for a great cause. The car was painted and the transporters were wrapped with a striking Make-A-Wish design.
Make-A-Wish provides memorable events for children with life-threatening medical conditions, and Chandler's vision was to expand on that to make a great impact. Chandler and DSR host "Wish Kids" and their families to the VIP hospitality pavilion next to the race team's pit area on Saturdays at each of the 24 Mello Yello events held in 21 markets across the country. The Make-A-Wish crew has the opportunity to engage with the children, giving them a tour of the pit area and racecar each weekend.
In 2014,Chandler's desire to give back grew even more, and she began funding a second team at DSR with 2012 Funny Car world championship driver Jack Beckman behind the wheel. The branding for the racecar was dedicated to another organization that touched Chandler's heart: the Infinite Hero Foundation, a non-profit organization that combats the most difficult front line issues – mental and physical – facing returning military heroes and their families.
In addition to exposing millions of television viewers and hundreds of thousands of Mello Yello series spectators to the worthy causes, there are other benefits.
Although she funds the operation, Chandler insists that the racecar truly belongs to each one of the Make-A-Wish children. Each weekend, she points to the Make-A-Wish Dodge and tells them, "This is YOUR racecar."
While she enjoys being part of the extraordinarily fast-paced world of drag racing,the true reward for Chandler is meeting the families and seeing the smiles of Wish Kids as they share an experience that won't soon be forgotten.
Chandler and her Infinite Hero team with Beckman, a former U.S. Air Force sergeant, have hosted scores of Americans who, through military service, gave more than anyone could have asked.
A generous amount of funds have been raised in two years through Chandler's various Infinite Hero events,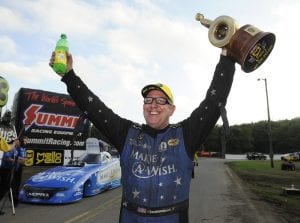 including nearly $250,000 through the Infinite Hero challenge coin program. Beckman carries Infinite Hero-themed challenge coins on each of his Funny Car passes down the racetrack during a national event, and afterwards, he autographs them and exchanges them with fans for a $100 donation to Infinite Hero.
In all, Chandler's program has raised nearly $500,000 for Infinite Hero and has brought tremendous awareness to some of the most difficult issues facing our returning military heroes and families.
In the season ahead, Chandler hopes to raise even more awareness for Make-A-Wish and the Infinite Hero foundations.