Since starting racing with the West Coast Outlaw Pro Mod Association (WCOPMA) in 2011, Mike Maggio and his Maggio Motorsports team won their sixth WCOPMA event title Mar. 23, at Auto Club Famoso Raceway in Bakersfield, California. It was the 2014  season opener for the WCOPMA, held in conjunction with the National Hot Rod Diesel Association (NHRDA).
Of Maggio's WCOPMA victories, five have been clean sweeps which included a number-one qualifying spot, event win and low ET of the event, and this latest victory was no different.
Maggio started the day by grabbing the top qualifying spot with a 5.754 on the score boards. Not too far behind was event runner up Rod Burbage in his Spec Rite Converter Racing 1969 Camaro with a 5.764-seconds pass. Jeremy Hanger and Tim "TK" Krupa rounded out the top half of the qualifying order with impressive 5.834 and 5.851 runs.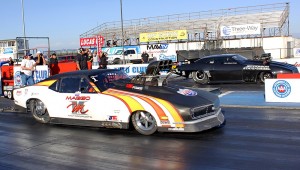 In the first round of eliminations Maggio edged out tough competitor Sean Renteria in his unique, fan-favorite 1964 Plymouth Valliant with a 5.744 to Renteria's peddling 6.034.
In his semi-final matchup Maggio was paired against his old 1970 Camaro, now campaigned by top West Coast turbo racer Scott Oksas. Maggio's crew chief Kurt Kuhnes had the ol Camaro hopped up and a new WCOPMA blower ET record of 5.694 lit up the score board for the round win. Significantly, only two race tracks in the world have seen 5.6-second passes by Pro Mod cars: Las Vegas Motor Speedway last November by John Stanley and now Auto Club Famoso Raceway with Maggio.
For the final, Maggio met up with Burbage after he earned his waythere by getting past John Durden with a 5.786 and Garrett Richards with a 5.766 pass.
In the final round Burbage had the advantage at the tree, but shortly after it was all over as he had to do a quick pedal job, allowing Maggio to thunder down the 1320 for the event win with a 5.714 to Burbage's 5.972 effort.
The next event for the WCOPMA is scheduled for June 7-8, back at Auto Club Famoso Raceway for their Super Chevy Show event.
(Photos by Racing Media Solutions; Click to enlarge)