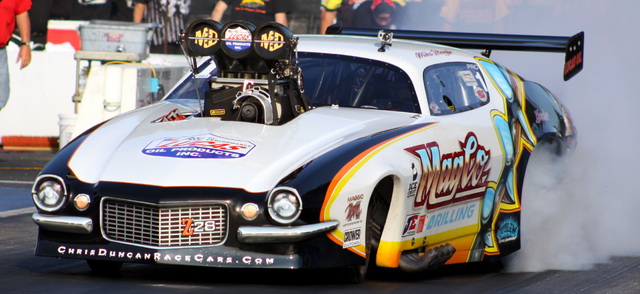 The West Coast Outlaw Pro Mod Association held its third event of the 2012 season July 7-8, at Mission Raceway Park in Mission, British Columbia, Canada, marking the first time the WCOPMA held an event outside of the United States. Mike Maggio (above) made sure it would be memorable for everyone.
Maggio and his Maggio Motorsports team ran the table in Mission, qualifying number one by setting a new WCOPMA ET record of 5.826 seconds and claiming the RBS Superchargers low-qualifier bonus, and then went on to win the event, which includes the Brad Anderson Enterprises event winner bonus. To top it all off, Maggio ran a world record 261.09 mph jn his '70 Camaro, backing it up within the required one percent with a 261.02 in the final to make it official.
Maggio led qualifying with a string of three 5-second runs, the best being a record-setting 5.826 at 253.73 to take the top spot. Not far behind was Dan Nickelson with a career-best 5.890/229.29, followed by Rod Burbage's 6.022 at 239.36 mph. Jay Syverson, Joe Delehay, Wade Sjostrom, Duane Grosart and Trevor Lowe filled out the rest of the eight-car field.
Unfortunately, Lowe suffered a top-end crash during the second qualifying session on Saturday. Thankfully he walked away from the accident with no serious injuries, but was not be able to return for eliminations, giving Maggio a single in round one. Regardless, Maggio ripped off another 5-second pass, going 5.905 at 261.09 mph, establishing a new speed for a Pro Mod-type car and stirring up a vigorous online debate in the process.
Maggio wound up being the only top-half qualifier to advance after Burbage went -.004 red against Sjostrom, Delehay ran his best pass of the weekend with a tire-shaking 6.187 at 223.10 to defeat Syverson, and Grosart picked up the round win after Nickelson went on a wild ride at about 330 feet, crossing lanes and tagging the wall. Fortunately, Nickelson also walked away with no serious injury.
In round two, Delehay knew he had to hop it up to beat the consistent 5-second car of Maggio, but he went a little too far, shaking the tires at the hit and watching Maggio run his slowest pass of the weekend with a 6.194 at 255.39 mph. Meanwhile, Sjostrom had been running in the mid-6.50 range all weekend, but got around Grosart with a 6.653/209.49 to claim a spot in the final.
Maggio was up for the challenge and ran a 5.940 at 261.02 to secure the event win and back up his previous speed for the record while Sjostrom slowed to a tire-smoking 10.116 at 176.02 mph. Without question, the Maggio Motorsports team gave everyone at Mission something to think and talk about until the next time they hit the WCOPMA track.