South central doorslammer hitters Frankie "Madman" Taylor and Keith Haney didn't go into the 3rd annual PDRA Memphis Drags planning to face off in a blown versus nitrous grudge race for $5,000 cash. Less than an hour before the third and final qualifying session was set to begin on Saturday afternoon, word circulated around the pits that Haney challenged Taylor to a grudge race. Both drivers were locked in for five grand. All they needed was approval from PDRA officials to hold the match race during the final session. That's where Drag Illustrated Editor-in-Chief Wes Buck stepped in.
"I have to admit that this started organically," starts Buck. "These two – Frankie and Keith – had gotten into it the night prior, talking trash back-and-forth about racing each other. When I caught wind of it today [the next day] and saw that they were actually serious and more than willing to put the money up and race – I knew we had to make it happen. They were willing to run each other, but they weren't sure that PDRA would let it happen. I literally ran up to the tower to find Bob Harris and told him he had to let us do it. Bob didn't even blink. He just said, 'Yes, absolutely, do it.' They'd already called cars to the lanes for Q3, so it had to happen fast if it was going to happen at all. They let us pull Frankie and Keith up in front of Pro Nitrous and start the round off with an old-school match race. It was bad ass."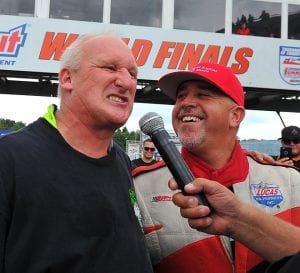 Drivers, crew members and fans flocked to the starting line after PDRA announcers Carl Robinson and Al Tucci revealed the details over the PA system. After Haney and Taylor talked some smack on the starting line for all of the fans and MotorManiaTV viewers to hear, the drivers strapped in; Haney into his "Notorious" Pro Nitrous 2015 Camaro, and Taylor into his truly notorious Pro Extreme Corvette.
Taylor's screw-blown monster roared to life and laid down a hot patch of rubber across the right lane of the Memphis International Raceway starting line, with Haney's crisp Reher-Morrison-powered entry following behind in the left lane.
"Did he make it down the track? I never saw him, so I couldn't tell," Taylor says with a laugh. "But seriously he about ran me out of gas up there. He wouldn't do nothing – just sat there. Before we even got up there he made us wait. He wanted us to crank first, we wanted him to crank first. Finally, we just fired it up and did our thing. We knew he didn't have nothing for us – he was counting on us not getting down, but that wasn't gonna' happen."
Haney nabbed the slightest starting line advantage with a .054 reaction time to Taylor's .057 light, but the Paul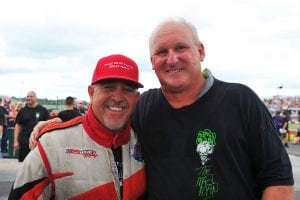 Taylor-tuned supercharged 'Vette quickly made up the difference. The scoreboards lit up with the elapsed times – Taylor's winning 3.631 to Haney's 3.862.
When asked about the possibility of another match race later in the season, the "Madman" wasn't bashful.
"Now it's just time to see who's next," concludes Taylor. "We'll run anybody. Hell, we've already run a Top Fuel car. We'll run anything."